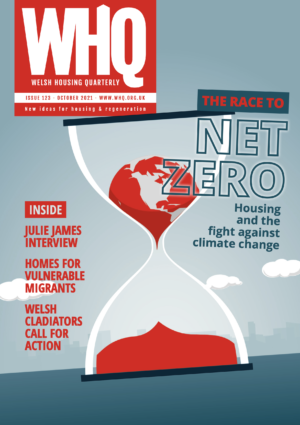 The race to net zero
Early next month representatives from more than 200 countries will gather in Glasgow for the United Nations Climate Conference COP26.
The Glasgow COP marks the point where countries will be expected to ratchet up the commitments they made to reduce their greenhouse gas emissions at Paris in 2015. With the latest UN climate assessment warning of 'code red for humanity', the stakes could hardly be higher or more immediate. All countries will have to put their money where their mouth is and produce detailed plans to reduce their emissions. That means not just decarbonising our energy supply but halving our energy consumption.
With homes responsible for around 20 per cent of greenhouse gas emissions, this special issue of WHQ focuses on housing as one of the front lines in the battle against climate change but it's already clear decarbonisation will have a huge impact that reaches beyond the physical fabric of buildings to society as a whole
We have an interview with climate change minister Julie James about her new super-ministry, where housing fits in and the actions we are likely to see on new and existing homes. We also hear from leading experts on what needs to happen and when. Chris Jofeh, chair of Welsh Government's independent advisory group on the decarbonisation of homes, gives
his assessment of progress so far and also raises the key issue of the best way of measuring the performance of our homes.
Future Generations Commissioner Sophie Howe argues that Wales needs a £15 billion investment plan for housing to take us to net zero but that decarbonisation will deliver multiple benefits. This is the crucial decade, she says.
Andy Sutton of Sero reflects on one of the lessons emerging from the Optimised Retrofit Programme, that decarbonisation must be about engaging with people living in homes as well as finance, technology and skills.
We have views from across the sector and we also hear from Anna Bullen of the Centre for Alternative Technology on the solutions that already exist, from Carole- Anne Davies of the Design Commission for Wales on the need for place-led regeneration; and from Ed Green of the Welsh School of Architecture on the potential for new homes to deliver on future generations goals.
In addition to all our regular features, look out for articles on the building safety crisis in Wales, a new project to find accommodation for destitute migrants and the latest news on the home-grown homes project.
Jules Birch, editor, WHQ