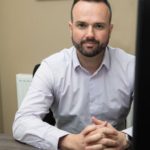 In line with the priorities set out by the Welsh Government and our own growth strategy in Creating Enterprise, we looked at new and innovative ways to not only meet the demand for affordable homes but also to build homes that are fit for purpose for future generations, tackling climate change and meeting the decarbonisation agenda head on.
Alongside its core maintenance activities,  I believe that Creating Enterprise is now building the very best in terms of high quality, innovative affordable housing. The Beattie Passive product which we build is truly revolutionary providing homes that not only offer the very best in terms of carbon savings but offer significant cost savings and health advantages to our tenants.
Alongside this, our social objective as a business is to bring local people back into employment and provide them with skills to secure a brighter future. Our commercial worksteams working alongside our Employment Academy – Creating Futures has supported 300 people into work over the last 4 years.
To date, numerous individuals who worked on these developments have gained valuable paid work experience on a construction site, giving them the confidence and new skills to move onto further training or employment. This is so important to tackle the skills gap here in North Wales in terms of modern methods of construction and new technologies to provide opportunities for local people to gain long term sustainable employment.
I am very proud of our team's achievements to date and we are now working hard to grow the company in line with national policy such as decarbonisation which will in turn provide further jobs to those furthest from the job market here in North Wales.
Adrian Johnson is managing director of commercial services for the Cartrefi Conwy Group