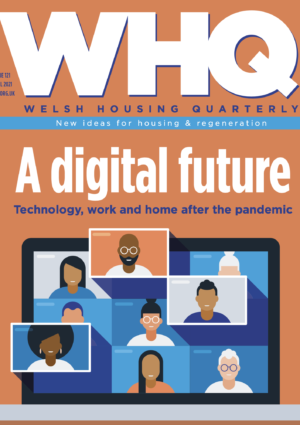 A digital future
From 'you're on mute' to not going to the office, the pandemic has dramatically accelerated the adoption of technology across the housing sector.
WHQ has felt the impact of social and economic trends that are moving online and after a discussion within the advisory board – and with you, our subscribers – we have come to the difficult decision that this will be last print issue of the magazine.
Far from this being the end of the magazine itself, we see this as the start of a new digital future. Over the next 12 months we will be having conversations with readers across the sector about what you want to see, exploring new delivery options and new funding models.
However, we can't do any of that without your continued support in terms of ideas, articles, subscriptions, advertising and sponsorship so we hope you share our vision for the future .
A special feature on technology places that decision in the context of wider changes in technology. Our contributors range far and wide across the sector and straddle the boundaries between the virtual and the real, with articles on tenant engagement, digital inclusion, independent living for older people, recruitment and management and homelessness services. Whatever the pace of technological change we need to remember that the 'Zoom class' who can choose to work from home are in a minority.
Elsewhere in this issue, ahead of the Senedd election on May 6 we look in detail at the manifestos of the major parties and what they might mean for the policies on housing and regeneration of the new Welsh Government.
Whoever does take charge in Cardiff Bay will want to take a close look at Home-Grown Homes. WHQ has traced the evolution of this exciting project since its earlier stages and Gary Newman says is now ready to play a major role in housing, the economy and the environment as Wales looks to become a 'forest nation'.
Steve Cranston reports from the first Climate Assembly held in Wales on what the citizens of Blaenau Gwent believe should be the priorities for the future.
In a timely feature for Spring, Kim Stoddart looks at how housing can connect with green spaces after the pandemic.
The latest in our series on projects from the Innovative Programme sees Joanna Davoile report on Wales & West's development of eco homes in Bridgend.
For more than 30 years WHQ has provided a platform for the best of Welsh housing. With your support, we look forward to taking that into a digital future.
Jules Birch, editor