UK
Sunak boosts Universal Credit for another six months
Chancellor Rishi Sunak extended the £20 a week uplift to Universal Credit for another six months in his Budget in March.
However, Local Housing Allowance rates were frozen again after being restored to the 30th percentile in 2020 after a four-year freeze.
The contrasting fates of the
two increases in welfare payments introduced as part of the response to the pandemic reflect the high political profile of the Universal Credit uplift. The sense was of a battle delayed until September.
There was also good news for young care leavers and homeless people, who will now be exempt from the Shared Accommodation Rate from June this year rather than 2023.
Government guarantee on high LTV mortgages
A new mortgage guarantee scheme aims to boost the availability of higher loan-to-value home loans from April to December 2021.
Like the Help to Buy mortgage guarantee introduced in 2013, the new scheme is designed to address the shortage of 91-95 per cent mortgages.
Capped at a contingent liability of £3.9 billion, the guarantee will apply down to 80 per cent of the purchase value of the guaranteed property. Lenders will pay a fee and will also take a 5 per cent share of net losses above the 80 per cent threshold.
To be eligible, loans must be a residential mortgage, and not second homes or buy to let, be on a property in the UK with a purchase value of £600,000 or less and meet standard assessments of the borrower's ability to pay.
ENGLAND
Stamp duty holiday extended
The Westminster government extended the stamp duty holiday in England for another three months and then tapered it off for another three months after that at a cost of £1.6 billion.
The original holiday was announced in the Summer Statement in July 2020 at a cost of £3.8 billion and is credited with surging transactions and house prices despite the pandemic. The extension addresses concerns that many buyers would have missed out with a hard deadline of the start of April to complete transactions.
The action in England was matched by an extension of the nil rate band for Land Transaction Tax on residential property transactions in Wales until the end of June.
Extra £3.5 billion for cladding removal
Housing secretary Robert Jenrick announced a new package of help for leaseholders and landlords in buildings with dangerous cladding.
The package includes a further £3.5 billion of government grant to pay for remediation on buildings taller than 18m plus long-term
loans with repayments capped at £50 a month for buildings below 18m. There will also be a levy on developers of high-rise buildings and an additional residential property tax that is expected to contribute £2 billion towards the cost over the next 10 years.
However, the announcement only covers cladding and not the other significant fire safety problems revealed since the scale of the crisis became evident. An all-party group of MPs estimated that the total cost of fixing fire safety problems could be £15 billion compared to a total of £5.1 billion announced by the government.
SCOTLAND
Holyrood sets goal of 100,000 more affordable homes by 2032
A new long-term housing strategy for Scotland would see 100,000 affordable homes delivered over the next decade.
Housing to 2040 outlines what the Scottish Government believes should be the priorities for housing and communities and the actions needed to get there.
Top of the list is 100,000 affordable homes, of which 70 per cent would be for social rent, by 2032. This would require total investment of £16 billion.
Other priorities are a single set of standards for housing quality and accessibility across tenures, a strategy and legislation to tackle high private rents and decarbonisation.
Communities secretary Aileen Campbell said: 'We have already delivered almost 100,000 affordable homes since 2007, and before the pandemic we were on track to meet our target of 50,000 during this parliament. The pandemic interrupted the housing sector's ability to hit this target, but we are committed to meeting it as soon as it is safe to do so. From there, we will start our new ambition to deliver a further 100,000 affordable homes by 2032.'
NORTHERN IRELAND
Executive gains Corporation Tax exemption
Communities minister Deirdre Hargey has welcomed news that the Northern Ireland Housing Executive will be exempted from Corporation Tax.
The exemption is a longstanding issue and it ends the anomaly whereby the Housing Executive was unique among social landlords in being liable for the tax. It should mean millions of pounds a year in additional investment.
The minister said: 'Since 2014, the Housing Executive has paid almost £58 million in Corporation Tax. This is money that could have been invested in their homes for the benefit of their tenants.
'Its exemption from paying Corporation Tax has been an integral part of my revitalisation agenda as it will provide the Housing Executive with much needed additional income to help address its investment challenge.'
The Executive celebrated the 50th anniversary of its establishment in February.
WELSH GOVERNMENT
Budget boost for social housing investment
Social Housing Grant (SHG) will rise by an additional £50 million under the final Welsh Budget for 2021/22.
Plans confirmed by finance minister Rebecca Evans will see total SHG investment rise to £250 million, almost four times the amount allocated in the Budget in 2016.
This is part of extra capital funding of £224.5 million to support Welsh Government's reconstruction efforts and stimulate demand and jobs. Draft Budget plans for a £40 million increase in Housing Support Grant were also confirmed
Background Budget documents say investment in social housing programmes will rise by a total of £100 million next year and support jobs and training opportunities for Welsh companies and localised supply chains.
That includes increasing investment in the Optimised Retrofit Programme to £50 million next year to continue the development of new skills, supply chains and procurement frameworks.
Other elements of the Budget include £12 million in Physical Adaptations Grant and additional financial transactions capital of £10 million for the Land for Housing Scheme, £15 million for the Property Development Fund and Wales Stalled Sites Fund and £10 million for Help to Buy Wales.
Help to Buy Wales extended until 2023
Help to Buy Wales will run for another 12 months until the end of March 2023. This confirms hopes expressed by housing minister Julie James in September when the scheme was extended by 12 months from April 2021 and follows confirmation of funding. Up to the end of December, the scheme had delivered 8,503 homes.
The minister said she would use Help to Buy Wales as a lever to drive best practice and phase 3 will restrict ground rents for homes sold through the scheme to a peppercorn.
She also set out an ambition for the market homes of the future to meet the same space standards as social housing, explaining that: 'Setting equal standards will not only ensure everyone has the space to flourish but also open up further opportunities for collaboration between social housing providers and market builders and support the development of truly mixed tenure communities.'
Building regulations to drive 'step change' on energy efficiency
New homes will be expected to deliver a 37 per cent reduction in carbon emissions from 2022 under changes to the building regulations. This is expected to save home owners £180 a year in energy bills based on a semi- detached home.
This will be a stepping stone to the next changes to the rules on energy efficiency, with new homes expected to produce a minimum reduction of 75 per cent in carbon emissions on current levels by 2025.
Housing minister Julie James said: 'If Wales is to meet its climate targets, our building stock must produce close to zero emissions by 2050. This will require a substantial change in how buildings are heated and powered in the future. The demand for energy used in buildings will have to be significantly lower and the energy needed delivered through low carbon and renewable sources.'
Minister lays out next steps on leasehold reform
Housing minister Julie James announced a series of reforms to leasehold following publication of research for Welsh Government into the tenure that accounts for 16 per cent of homes in Wales.
The research (available at gov. wales/research-sale-and-use- leaseholds-wales) found that leasehold legislation is complex and that leaseholders do not fully understand its implications and that, even where they do understand the law, this does not fully prepare them for the reality.
The minister confirmed her intentions to:
Restrict future ground rents to zero for leasehold properties in the third phase of Help to Buy Wales (see above)
Move towards a permanent restriction of future ground rents to zero at the earliest legislative opportunity by seeking to include Wales in upcoming legislation at Westminster
Work with UK Government to enact Law Commission recommendations for further reform.
She said: 'Clearly it is not for me to fetter the decision making of any future Senedd, and so it will be for the next administration to consider the merits of taking forward the ground rents legislation in respect of Wales through the legislative consent process. Similarly, it will be for the Government of the time to assess the relative merits of legislation enacting the recommendations of
the Law Commission, prior to the consideration of legislative consent.
But these steps will ensure that the opportunity to pursue such an approach to major changes to leasehold on a joint basis remains open, especially where they are considered to be in the best interests of leaseholders in Wales.'
Plan sets out 20-year vision for development
A new national spatial strategy (gov.wales/future-wales-national- plan-2040) set out a vision for development in Wales up to 2040.
The plan:
Focuses on growing existing urban areas and ensuring that homes, jobs and services are located in the same area
Identifies Wrexham and Deeside; Cardiff, Newport and the Valleys, and Swansea Bay and Llanelli as nationally significant areas for growth
Gives councils stronger tools to refuse planning permission for new out of town retail parks and other developments that would be better located in town centres
Sets out new priority areas for large-scale wind and solar energy development to replace Tan 8.
Housing and local government minister Julie James said: 'This plan sets out our priorities for growth in employment and housing, in particular affordable housing. It sets out a vision for our villages, towns and cities developing at a walkable scale, with homes, local facilities, green spaces and public transport within easy reach.
'This work predates the COVID-19 pandemic but living through it has brought home for everyone how important liveable communities are to our health and wellbeing.'
WALES
Call to fill gaps in homelessness safety net
Welsh political parties are being urged to change homelessness legislation that Crisis says is leaving people stuck in a cycle of homelessness for longer, pushed further from support and more likely to experience multiple forms of homelessness.
New research from the homelessness charity says this is because of legal tests that mean they cannot access vital assistance from local councils.
The No One Left Out report shows that since 2015 one in eight people (9,261) who went to their local council for help to end their homelessness were unable to access further support. In the last year alone, this meant 1,773 people remained homeless.
The impact of being refused support can be not just people being forced to become homeless in the first place before seeking help, but them being pushed further from support, stuck in a cycle of homelessness, with issues such as debt, mental health and substance misuse exacerbated.
Crisis says the Housing (Wales) Act 2014 was a landmark piece of legislation which placed a legal duty on councils to prevent homelessness from happening in the first place and to help people out of it when it does. Since the legislation was introduced,
it has seen huge success with 66 per cent households being prevented from becoming homeless and 42 per cent having their homelessness relieved.
But the new research shows that the Act does not work for everyone. Where efforts to prevent or relieve someone's homelessness are not successful, their homelessness is often prolonged because of the tests they must pass before they can access support. These tests include whether someone falls within a 'priority need' category, such as whether they have dependent children, whether they have a connection to the local area and whether they can prove they have not become homeless intentionally.
Crisis chief executive Jon Sparkes said: 'The current law in Wales has broken ground in ensuring that thousands of people have been prevented from losing their homes and helped back onto their feet quickly when homelessness has happened. But there are still hundreds of people left stuck in a cycle of homelessness for months, sometimes years, because of who they are, where they live or how they became homeless.
'While these legal tests remain in place, we cannot end homelessness completely in Wales. A change in legislation will be a strong, bold first step towards ensuring we can end homelessness for everyone in Wales.'
Optimised Retrofit surveys go live
The first surveys have been carried out in an ambitious pathfinder project to decarbonise social housing across Wales.
The Optimised Retrofit project, supported by Welsh Government, is now live, with whole home surveys being delivered across Wales by more than 100 trained industry professionals.
The collaboration of 68 partners, including 26 social housing providers, and managed by Sero, will see the decarbonisation of more than 1,750 Pathfinder homes to enable the creation and refinement of the tools required to roll out the large-scale decarbonisation of homes across Wales and beyond.
The project has now moved from the drawing board to delivering results, with the first whole home surveys being conducted by the social housing teams as they begin to assess the pilot homes that will be retrofitted as part of the project.
The project has received £13 million funding through the Welsh Government's Optimised Retrofit Programme, part of the Innovative Housing Programme, established to help reduce the carbon footprint of existing social housing in Wales, make energy bills more manageable for residents and provide new job and training opportunities.
Following a rapid period of development of the whole home survey app by Sero, a first version of the digital tool has now been launched and is being put into action. More than 100 industry professionals having been trained in how to use the app tool to enable them to begin assessing the pathway homes.
The app involves entering a range of detailed information about the property using a tablet. This information will then be processed
by a second digital tool that will be launched shortly, Pathways to Zero, that will identify a phased approach to reducing the carbon footprint of the property to the lowest possible level.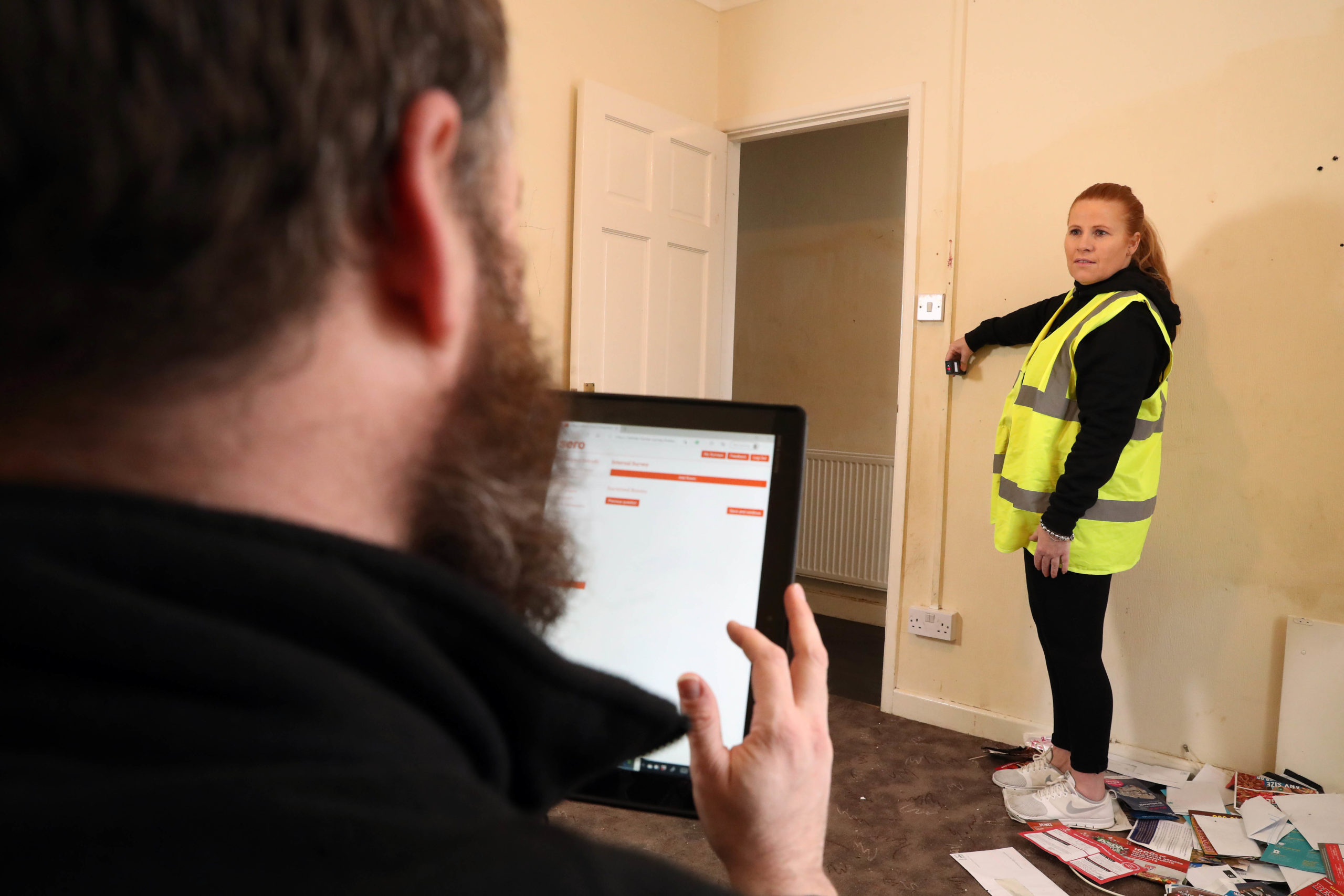 MHA secures first direct housing investment by Pension Protection Fund
Monmouthshire Housing Association (MHA) has struck an £85 million deal to refinance its entire loan portfolio, securing £65 million from the Pension Protection Fund (PPF) in its first direct investment into the UK social housing sector.
The PPF's funding is for 40 years and sits alongside £20 million of flexible finance provided by existing lender Barclays.
The funding package, delivered with advice from Savills Financial Consultants, allows MHA to release significant financial capacity, giving a substantial boost to its ambitious development programme.
The deal – which has attracted one of the lowest all-in interest rates through a private placement for a UK housing association in the past 12 months – also supports the delivery of MHA's wider Environmental, Social and Governance (ESG) aims. As well as increasing affordable housing provision, it is committed to a range of ESG targets – including cutting carbon by a further 10 per cent by 2024 and helping 30 tenants into work each year. The PPF and Barclays are both keen to support these important goals as part of their own responsible investment priorities.
John Keegan, chief executive of MHA, said: 'We are delighted to have concluded this important deal with our funding partners to support our delivery for tenants. It is especially pleasing to be working with the Pension Protection Fund on its first direct placement in the UK social housing sector.'
Consultations
Open consultations of interest to WHQ readers include:
• Local authority power to trade – responses by 11 June
Renting Homes (Wales) Act 2016 draft regulations – responses by 16 June
Consultations are available at gov.wales/consultations
PUBLICATIONS 10 TO LOOK OUT FOR
Working together to end homelessness from social housing
Shelter Cymru, March 2021
sheltercymru.org.uk/policy_and_research/end-homelessness-from-social-housing/
Resilience in the housing system
UK Collaborative Centre for Housing Evidence (CaCHE), March 2021
housingevidence.ac.uk/publications/resilience-in-the-housing-system/
UK Housing Review 2021
Chartered Institute of Housing, University of Glasgow, March 2021
www.cih.org/bookshop/uk-housing-review-2021
Research into the sale and use of leaseholds in Wales
Welsh Government Social Research, March 2021
gov.wales/sites/default/files/statistics-and-research/2021-03/research-into-the-sale-and-use-of-leaseholds-in-wales.pdf
A fair housing market for all
All-Party Parliamentary Group for Housing Market and Housing Delivery, March 2021
appghousing.org.uk/a-fair-housing-market-for-all/
Impact Report 2020
Centre for Homelessness Impact, January 2021
www.homelessnessimpact.org/downloads – publications
Helping Generation Rent become Generation Buy 
Policy Exchange, February 2021
policyexchange.org.uk/publication/helping-generation-rent-become-generation-buy/
Transforming how we build homes
Advanced Industrial Methods for the Construction of Homes (AMICH), March 2021
www.aimch.co.uk/images/docs/AIMCH_Annual_report_3.pdf
The COVID-19 crisis response to homelessness in Great Britain
UK Collaborative Centre for Housing Evidence (CaCHE), February 2021
housingevidence.ac.uk/publications/the-covid-19-crisis-response-to-homelessness-in-great-britain/
Older and Wiser – A practical guide for developing, commissioning and operating age-friendly homes
The Housing Forum, January 2021
housingforum.org.uk/reports/report-housing-supply-and-delivery/older-and-wiser/