A Welsh Labour Government will continue to build homes for the future – well-built climate-secure homes, which families want and can afford to rent or buy.
The manifesto features six Welsh Labour pledges with the thousands of jobs created in a 'low carbon house building revolution' featuring heavily in the sixth pledge of 'new jobs for Wales'.
The party highlights its achievements in government of:
Investing £2 billion in housing over the last five years, implementing the Welsh Housing Quality Standard and starting the Optimised Retrofit Programme. 'Despite the coronavirus pandemic, we have delivered on our promise to build 20,000 affordable homes across Wales,' it says.
Meeting challenges including pressing housing need, fuel poverty, climate change and demographic change through the £140m four-year Innovative Housing Programme for new and innovative housing designs – and delivering 1,900 homes.
Making renting a home in Wales simpler and fairer via the Renting Homes (2016) Act and making security of tenure in Wales 'greater than elsewhere in the UK' via the Renting Homes (Amendment) (Wales)
Housing record numbers of homeless people throughout the pandemic.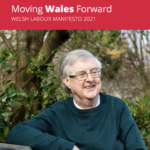 Looking to the future, the party is promising to build 20,000 new, low carbon social homes for rent and support cooperative housing, community-led initiatives and community land trusts. It will also continue to improve existing homes, helping to tackle fuel poverty and create jobs and training opportunities and supply chains.
In terms of construction, Labour promises to 'build in the right way' using materials with low levels of embodied carbon, such as timber. This would be part of a 'timber-based industrial strategy' designed to develop and sustain high-value production and processing of Welsh wood, again helping to tackle fuel poverty, create sustainable jobs and provide research and training opportunities.
There would be support for business to work co-operatively to support local supply chains, including local delivery and logistics services.
The party would keep the 1 per cent increase in Land Transaction Tax on second home purchases but also 'work with local communities to explore and develop effective tax, planning and housing measures' that could include higher local rates of LTT to ensure 'the interests of local people are protected'.
Labour promises to improve building safety 'so that people feel safe and secure in their homes'. Alongside this, it would also 'develop a fire safety fund for existing buildings'.
It would legislate to enact Law Commission recommendations on leasehold and ensure that estate charges for public open spaces and facilities are 'paid for in a way that is safe'.
On renting, the party would develop a national scheme to restrict rents to local housing allowance levels for families and young people who are homeless or who are at risk of homelessness. It would also ensure that Rent Smart Wales landlords respond quickly to complaints of racism and hate crime and offer appropriate support.
Labour would strengthen local government and explore where services and contacts can 'sustainably and affordably' be brought back into a strengthened public sector and work to reduce the administrative burden on local authorities, including by changing the performance framework to better enable innovation, transparency and local ownership.
The manifesto does not mention the right to housing but it does promise to develop a set of Codes of Welsh law to make it easier for people to access and understand their legal rights. A code for housing would be one of these.
Elsewhere in the manifesto, investment in integrated care would include support for innovative housing development to meet care needs, including extra care.
Labour would create a Welsh language Communities Housing Plan to strengthen Welsh language communities. A Labour government would work with partners in these communities to support young people in securing affordable homes and work to protect Welsh place names.
See movingforward.wales/ for more details.