The manifesto promises action on 'fixing our broken housing system'.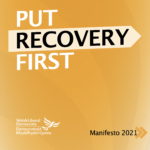 The Welsh Liberal Democrats say a vicious cycle of low pay, inadequate childcare and rising housing costs has afflicted Wales and argue that poverty is overwhelmingly in-work poverty, with work no longer providing the prospect of a route out of poverty that it once did.
The party is committed to trialling a Universal Basic Income, believing that UBI not only reduces inequalities and increases wellbeing, but that it strengthens local economies. It would work with the UK Government to pilot a nationwide UBI, alongside reform to create a coherent 'Welsh Benefits System', bringing together existing funds and devolved benefits. 'We will seek further devolution of the benefits system to bring Wales into line with Scotland,' it says.
The manifesto argues that the pandemic has highlighted the disadvantages faced by people in inadequate housing or who are facing homeless or a choice between heating and eating. Pressure from high bills, low incomes, furlough and lay-offs mean the housing system is under serious strain and has been for years – 'but it doesn't have to be this way'.
The Lib Dems say 'we can and will' end homelessness, ensure young people have affordable homes and build new homes 'to ensure that everyone's basic need for a place to call home is met'. The party promises to:
Build 30,000 new social homes for rent, ensuring that people on low incomes or with experience of homelessness can access a safe and secure home.
Invest record sums in retrofitting housing to be accessible, greener, and more energy efficient
Continue the Rent to Own scheme that has helped people to own their own home for the first time
Commit to ending homelessness, by adopting a wide range of policies including increasing the Housing Support Grant.
On the right to housing, the manifesto says that 'everyone has the right to feel safe, warm and able to stay in their home' and to a stable place to live. 'We will legislate to make sure that this right is enshrined in law so that it guides all our decision making.'
Reforms are also promised to protect people living in high-rise buildings in the wake of the cladding scandal and to protect them 'from facing the unfair costs of correcting a life-threatening mistake that isn't of their making'.
There would be a minimum standard for private rented housing, including energy standards, within a firm timescale. This would include accessibility for people with disabilities, with an initial target of 10 per cent of homes with wheelchair access across tenures by the end of the Senedd term and legislation to require private landlords to make their homes accessible by 2030. A single fund for housing adaptations would support landlords in making the necessary changes.
On homelessness, the party says highlights action to help people off the streets during the pandemic. It says homelessness is caused by the rising cost of living, unaffordable action and a lack of support and says it will change the way services and community partners work together to help people before they end up on the streets. A cross-government and cross-public services plan would be introduced to deliver systemic change.
There would be heavy investment in Housing First, including increasing Housing Support Grant by £25 million over the Senedd term. Private sector leasing would be rolled out more widely and a new Housing Act would ensure people are not left out of support 'because of who they are, where they're from or how they became homeless'.
Greener and warmer homes are promised to lift people out of fuel poverty, create more energy efficient, self-generating smart homes and move towards zero carbon homes. 'Our "Homes as Power Stations" approach will go further than just saving energy,' says the manifesto. It claims that the average household could save over £600 a year if homes were designed to generate, store and release their own solar energy and heat pump technology.
The commitment to build social homes would be part of a wider programme of housebuilding that would be accompanied by changes to planning laws that ensure community interests are protected and housing demand is met, drawing on the principles enshrined in the Wellbeing of Future Generations Act.  The Future Generations Commissioner would get powers to scrutinise and challenge planning decisions that go against these principles. Provisions in law to ensure that planning decisions do not have a detrimental effect on the Welsh language would be strengthened. The party would also change planning law so that all decisions draw on the principle of a 20-minute community close to leisure, recreation, employment and transport facilities.
On rural housing, legislation would requires local authorities 'to set council tax at the maximum possible level for all homes other than someone's primary residence'. Loopholes that allow people to designate second homes as businesses would be closed to ensure that they pay their way to support the communities locally. The party promises to get more 'connected, high quality homes built' and would support farmers in replacing industrial farm buildings with small, rural housing developments.
See www.welshlibdems.wales/ for more details