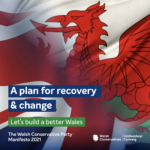 The pandemic has dramatically highlighted how important our homes are, and how more needs to be done to ensure that people have homes that are fit for purpose, say the Welsh Conservatives.
Publication of the manifesto was put back a week as this issue of WHQ went to press, meaning that we could not cover the party's plans for housing in the same detail as those of the other parties in the print issue of the magazine. This online version has been updated to include more details from the manifesto.
The Conservatives say they want to use housing 'to give the Welsh economy a shot in the arm' as part of their plan to build a better Wales. They would work with local people 'to ensure that homes are built in the right places, in keeping with the community, built with the environment in mind and that there is affordable housing for everyone who needs it.
Home ownership is at the centre of the party's plans for housing and the manifesto argues that: 'Owning your own home is a dream for many people and we will help people achieve it by reversing Labour's attack on aspiration through restoring the Right-to-Buy in Wales, and ending the tax on opportunity to help people onto the housing ladder.'
The manifesto pledges to:
Launch an 'ambitious target to build 100,000 homes over the next 10 years, 'whilst ensuring enough affordable housing in our local communities, including 40,000 social homes'.
Restore the Right to Buy in Wales, 'reinvesting sale proceeds into more social housing and protecting homes from sale for 10 years'.
Extend the Help to Buy scheme to empty properties in need of renovation.
Explore options to make it easier for tenants to move home, including the introduction of deposit passporting.
Reform leasehold including implementing a ban on the sale of new leasehold homes, with appropriate exceptions, and establishing a redress system for leaseholders.
Establish a Fire Safety Fund to compensate leaseholders for fire safety works and the scourge of tackling unsafe cladding, guaranteeing any Barnett consequentials from the UK Government to the fund.
Commit to achieving and maintaining the Welsh Housing Quality Standard and introduce a Student Accommodation Quality Standard for halls of residence.
Ensure housing standards are fit for purpose, future proofed with improved accessibility for all.
Have a real strategy for utilising developer contributions, simplifying Section 106 funding to speed up house building.
Overhaul the Welsh planning process, with new technology and cutting red tape whilst putting communities first.
On tax, the Conservatives would 'give security for local people and council services' by enabling a council tax freeze in the first two years of the next Senedd term, with the ambition of freezing for the full term. The party would cut Land Transaction Tax (to help more families and hard-working people to get onto the housing ladder, by raising the purchase price threshold to £250,000 and scrapping it for first time buyers.
On homelessness, the manifesto promises to:
Introduce a Housing First model for supporting homeless people
Appoint a Homelessness Commissioner, ideally someone who has experienced homelessness to work with stakeholders to tackle rough sleeping and its causes in Wales by 2026
Immediately bring 150 empty social housing properties back into use specifically for people who are at risk of homelessness
Ringfence the funding for the Housing Support Grant for a period of three years
See www.conservatives.wales/ for more details