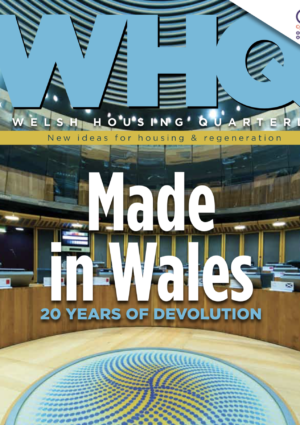 Made in Wales
This Spring issue of WHQ celebrates the 20th anniversary of devolution and the first Assembly elections.
Hard as it may seem to imagine now, before May 1999 housing policy was not devolved to Wales and the ministers setting it were sometimes not even Welsh MPs. In his spell as secretary of state for Wales, the Wokingham MP John Redwood famously mimed the words of the national anthem but also used this country as a crucible for Thatcherite ideas in housing.
That began to change with the election of the first Assembly and we trace the development of the devolution settlement and its impact on housing in this issue in articles by Gareth Hughes, Daran Hill and Matt Dicks. We also have political perspectives from Mike Hedges of Welsh Labour, David Melding of the Welsh Conservatives and Leanne Wood of Plaid Cymru. And we have a wider perspective from Auriol Miller on what a devolved energy policy might look like and what role housing and regeneration could play.
The issue also arrives at what could be a key moment in the development of future housing policy, with publication of the independent review of affordable housing supply chaired by Lynn Pamment due at the start of May. We'll have full coverage of that on the WHQ website with much more analysis to follow in the next print issue but for now we take a look back to the last independent review of affordable housing – the Essex review in 2008.
Our other major feature looks at another product of devolved policy, the Innovative Housing Programme, as Gayna Jones assesses progress and lessons learned and we take a look at some of the schemes that are taking shape around the country.
We also have several articles on homelessness, as Pat McArdle reflects on Mayday Trust's transformation as an organisation, Katie Dalton looks at preparations for the new Housing Support Grant, Alex Osmond identifies the elephant in the room for Housing First and Joy Williams and Bill Rowlands update us on the work of the Housing Networks.
We focus on housing associations, with articles on Living Rents and the proposed merger between Mid-Wales and Tai Ceredigion, and local authorities, as we continue to celebrate 100 years of council housing with a report from Denbighshire.
Last, and definitely not least, an April issue of WHQ means that TAI is just around the corner. This issue includes a nine-page guide to the main conference, the exhibition, the housing festival and the development. Maybe we'll even know what's happening with Brexit by then too. Hope to see you there.