The Can Do Toolkits revolutionised the way the housing sector used investment to get jobs, training and other benefits for local communities. Ten years on there is more interest than ever in adopting this approach across Welsh Government, says Keith Edwards.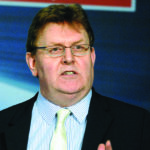 Newsflash: the cavalry aren't coming to save the Welsh economy. The days of massive inward investment bringing thousands of jobs are a distant memory. In fact, holding on to big company employers – from Tata to Ford – is the priority. If you add in Brexit uncertainty and lingering austerity, how can we possibly counter this daunting array of economic woes?
According to Lee Waters, deputy minister for the economy, we need to start by looking much closer to home than in the past. One of the priorities of the government's new economic strategy is to nurture and grow the foundational economy– the industries and firms that are present in every community. This includes food, energy, care and of course, housing. Each provide basic services that everyone relies on. According to government, when you add it all up this accounts for 40 per cent of Welsh jobs and £1 in every three spent. What's more, as the minister points out'in some parts of Wales this basic foundational economy is the economy'.
Housing anticipated this new agenda a decade ago through the i2i Can Do Toolkits supportedby Chartered Institute of Housing Cymru. The toolkits revolutionised the way we did procurement by delivering local jobs and training. This meant challenging the conservative procurement orthodoxy at the time that said you couldn't do this without falling foul of European and UK regulations. They were wrong.
Ten years on and government itself is embracing this bolder, more radical approach using all the levers available locally to address chronic problems. Central to this are 'anchor' organisations – like housing associations and mutuals – resilient local businesses that are in it for the long term. They not only employ tens of thousands of people across Wales, but their investment is important to the survival and, crucially for the new policy, the potential growth of many small businesses and social enterprises.
Housing is leading the way on the ground, turning foundational economy ambitions into hard outcomes. One of the two areas piloting this approach is Blaenau Gwent where local housing associations are collaborating with the council and Cardiff University to maximise the impact of £4 million worth of contracts on the local economy. The other pilot, focussing on Morriston in Swansea, is led by Coastal Housing, using an asset based community development (ABCD) approach which champions community strengths rather than concentrating on their perceived weaknesses.
The potential is huge. Future generations commissioner Sophie Howe points out that over the next decade, Welsh public services will spend over £60 billion in procuring goods, services and works. In her words:
'If this money was being spent to buy things and improve the economic, social, environmental and cultural well-being of people and communities in Wales – imagine what would that mean? Wales has a great opportunity now to think about how and where to spend that money in the interests of future generations'
Little surprise therefore that the commissioner and the minister are strong supporters of the Can Do Toolkits and see the potential to embed this approach far wider than housing. As Lee Waters said recently, the foundational economy:
'Builds on work pioneered in Wales a decade ago. The Can Do Toolkit was an early initiative in this area to help public sector officers build community benefits into procurement'.
At an event in July the originators, early adopters and champions of the toolkit will come together to mark the ten years since it was launched. The i2i team and CIH Cymru will be joined by politicians and practitioners on a day that aims to recognise progress but also set the Can Do approach in a modern context to address the economic challenges and opportunities we face now and will face in an uncertain future. There are three central themes:
Celebrate
The first five years of i2i saw 5,130 new jobs and training opportunities created by, for example, making targeted recruitment and training a core requirement of contracts. Since then housing has continued to lead the way. The event will bring together Sophie Howe, Lee Waters and Leighton Andrews, the minister who helped set i2i up, to celebrate the impact of the toolkits over the past ten years.
Organise
Adopting the Can Do Toolkit approach across government will be a challenge. We will explore the policy and practice levers we have to embrace heath, education and other public service area in this new agenda. We will start the process of developing new, sharper tools to deliver in an expanding and more complex set of circumstances
Innovate
We will celebrate champions and innovators across Wales including radical approaches to local employment and training, exacting community benefits for service contracts and initiatives in health, education and the private sector. We will develop an agenda for action on the day that embraces high level policy and grassroots activism.
So watch this space as we reinvigorate one of housing's great success stories. It's time to take the Can Do Toolkits to the next level
The Can Do Toolkit 10th anniversary event is on July 8 at Techniquest in Cardiff. For further information contact [email protected]
Keith Edwards is a former director of CIH Cymru and the i2i project. He now works as a freelance specialising in stakeholder engagement and community benefits