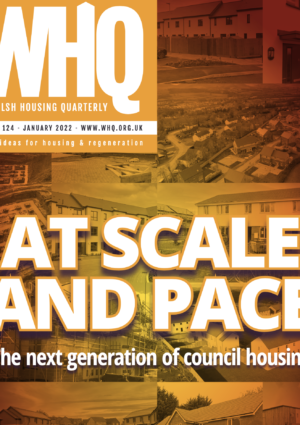 At scale and pace
This issue of WHQ takes supply as its theme and there is some good news and some bad news.
The positive things to report are new investment in the draft budget for the next three years and evidence that local authorities are re-engaging as developers of new homes. Simon Inkson and Robin Staines report on the first results from the Council House Building at Scale and Pace Project while Mike Ingram and Andrew Freegard tell us about Vale of Glamorgan's plans for the future.
The negative factors that have emerged in the last few months are the supply chain challenges that risk undermining ambitions for new homes and improvements to the existing stock alike. Matt Kennedy reports on a survey by Tyfu Tai Cymru while Claire Shiland and Kath Webb tell us about the impacts at Grŵp Cynefin and Caerphilly Homes.
In reality, of course, these issues are wrapped up together. Matt Dicks considers the draft budget in the context of the competing priorities of new supply and decarbonisation, while Sarah Prescott looks at the different funding strategies involved in each in her latest finance update.
The major political news in the last quarter has been the signing of the Co-operation Agreement between Welsh Labour and Plaid Cymru. We have an interview with Plaid housing spokesperson Mabon ap Gwynfor on what he sees as the priorities ahead.
Action on second homes and, linked to that, protection for Welsh language communities, are important elements in that agreement. Shan Lloyd Williams considers the issues on the Llŷn Peninsula and sees a key role for social landlords.
We also have articles on two of the major issues facing home owners in Wales. There has been some potential good news for leaseholders in flats affected by the building safety crisis recently but Mark Thomas of Welsh Cladiators says a Welsh Government plan to buy back the homes of seriously distressed victims will not work.
Meanwhile, Mark Tami MP writes for us on the wider leasehold scandal that he argues has revived the spirit of Rachmanism. Only a radical response will do, he says.
As we (hopefully) start to emerge from the pandemic, we also consider how Wales is doing on one of the key issues it highlighted. Nick Morris reports on the latest assessment of progress on tackling homelessness from Crisis.
All of that, plus all our regular features, makes for a busy Winter issue of WHQ that we hope has something of interest for everyone.
Jules Birch, editor, WHQ