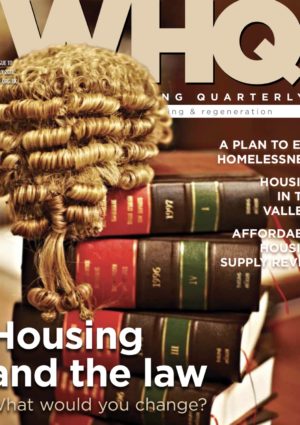 Editorial: Housing and the law
From homelessness to fire safety, allocations to accessibility and welfare reform to governance, the law affects everything about housing.
This Summer issue of WHQ takes housing and the law as its theme, taking the law in its broadest sense to mean legislation, regulations and implementation whether they come from Cardiff Bay, Westminster or Brussels.
We kick off with feature in which WHQ readers say what they would change about the law in relation to housing. Candidates include not just primary legislation and more obvious ideas like scrapping the bedroom tax but existing laws that could be implemented better and a simple idea to make life easier for housing associations.
Speaking of which, Jamie Saunders looks at what happens in possession hearings for rent arrears. Why are they over so quickly – and are social landlords doing enough to ensure that they are doing the right thing? Meanwhile Catherine Simpson and Nick Blair ask what legal changes to deregulate associations will mean.
Amanda Stubbs and Tola Balogun examine the law on the health and safety and look at changes on the way not just in the wake of the Grenfell Tower fire but also in legislation on its way from Westminster and the imminent implementation of the Renting Homes (Wales) Act.
Two articles look in detail at recent case law on homelessness. Helen Taylor and Jed Meers look at developments in assessing the vulnerability of applicants and argue that recent developments leave Welsh legislation in an anomalous position, while Rebecca
Rees looks at the issues concerning temporary housing.
Elsewhere in this issue, Crisis recently published its plan to end homelessness in Britain. Nick Morris looks at the legal changes that will be needed in Wales.
What do you do when social housing is no longer affordable for many social tenants? Ian Wilson returns to the issue of how best to house people on low incomes in the Valleys with a look at the final recommendations of a major new report.
We also hear from Lynn Pamment, chair of the independent review of affordable housing supply, and she gives WHQ some insights into what to expect.
With further articles on housing and poverty, the role of housing associations in regeneration and housing in Scandinavia, plus all our regular features, we hope there will be something for everyone in this issue of WHQ.
Jules Birch, Editor, WHQ