Sioned Hughes surveys the housing scene in Wales – with and without legislation.
With this edition of WHQ focusing on legislation, I'm particularly looking forward to reading which pieces of legislation people in the sector want to see disappear.  There may be some surprises as individuals attempt to avoid referring to the obvious Welfare Reform Act 2012. Some may suggest new legislation, others may want to see legislation disappear as soon as it's arrived.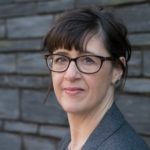 I asked my Altair colleagues what legislation they would like to see repealed. The Welfare Reform Act 2012 was the obvious one. Other examples included introducing legislation to ease up green belt development:'oh, but of course that doesn't apply in Wales and you're abolishing the Housing Act 1985 Right to Buy (RTB) legislation for HAs and the Housing and Planning Act 2016 RTB legislation for housing associations in January next year, so that's not relevant either.'
Having joined Altair in May, I was in danger of feeling rather smug on the west side of Offa's Dyke until I realised that the one piece of legislation we agreed we would really want to see repealed is Schedule 1, paragraph 2 of Schedule 1 to the Housing Act 1996. You can read exactly why on elsewhere un this issue. This piece of legislation feels outdated and unnecessary given the mature relationship that has developed between housing associations and Welsh Government; a stark contrast to what I now see first hand when working with registered providers in England.
Only last month we saw the Registered Social Landlords Bill, which protects the independence of housing associations in Wales, gain Royal Assent.
In June we also saw Rebecca Evans, minister for housing and regeneration, introduce the Renting Homes (Fees etc) (Wales) Bill. The aim is to reduce the barrier to entry for prospective tenants into the private rented sector by allowing agents and landlords to charge fees only relating to rent, security deposits, holding deposits or when a tenant breaches a contract. In Scotland, letting agents' fees were banned in 2012 and AMs from all parties have called on the Welsh Government to follow suit. There are differences of opinion and it's not just the Residential Landlords Association that opposes the Bill as drafted, stating that it will increase costs to tenants. There are concerns across the sector about the complexity of implementation and the unforeseen consequences. We shall wait to see.
While legislation can be transformational in its impact on behaviour, (how many of us take our own bags to the supermarket or, even more telling, attempt to carry our 'quick shop' in our arms to avoid paying the 5p charge -or is that just me?). The reality is we all can do so much more in Wales without the need for legislation because we are committed to working together.
It is for that reason that I feel there is a duty to ensure that the recently announced affordable housing supply review, and its independent panel led by its chair, Lynn Pamment, fulfils its potential.  Given the ever-increasing demand for housing and the continued squeeze on resources, it is more important than ever that we work together to meet need, exceed expectations, improve the quality of our homes and services, and secure value for money in its broadest sense.
The ten workstreams agreed by the independent panel may not be new, but the need to overcome the barriers of the past to find solutions which ensure that current investment is maximised has never been more acute. Releasing public land for housing, developing a new rent policy, reviewing standards/DQR, to name but a few, have proved difficult in the past, but I am hopeful that all of us will work to achieve the target of 20,000 affordable homes within this term of government, and secure similar funding beyond 2021.
We must also look to areas where we can make changes without legislation. Our work with JRF (see pxx) proposes measures that can be introduced by housing associations and local authorities to alleviate housing related poverty. The suggestions included in the article demonstrate the positive impact that can be made by thinking differently in how we design and deliver services.
Wales leads the way in bringing in innovative legislation, for example the ambitious Wellbeing of Future-Generations (Wales) Act 2015. However, we should not forget the power and responsibility we hold to change the way we do things and improve the lives of people and communities in Wales through whatever means we can.
Sioned Hughes is principal consultant at Altair. She can be contacted on [email protected] and 07887 791381