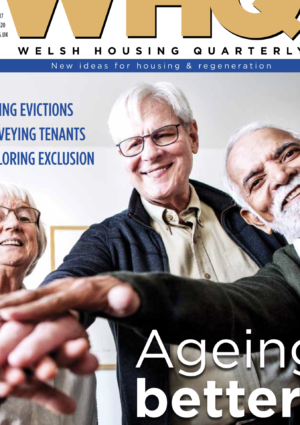 Welsh Government will soon publish its Strategy for an Ageing Society – and this Winter issue of WHQ takes housing and older people as its theme.
There is growing recognition of the crucial role that housing must play alongside other public services if we are to achieve the ambition of making Wales the best country in the world to grow older. But, as Older People's Commissioner Heléna Herklots argues, housing issues are still not given enough attention, especially at a UK level.
Meanwhile the evidence suggests that housing provision has still not caught up with demographics.
And if the priorities for an age- friendly housing policy are clear, David Robinson reports on detailed research in one area of northern England that suggests a worrying gap between them and the actual housing options  available to older people on the ground.
However, housing providers in Wales are working hard to bridge that gap with new projects and new ideas. Rebecca Mollart and Chris Thomas explore good practice on support for LGBT+ older people in sheltered and retirement housing, Angela Stacey explains how Trivallis went about refurbishing its outdated sheltered housing and Richard Sheahan looks at how assistive technology is delivering benefits for older people in extra care and sheltered housing in Blaenau Gwent).
Finally, Chris Jones reports on Care & Repair Cymru's work in supporting over 30,000 older people to live independently in their homes, while Bill Rowlands looks at a new project to help people living with dementia in Cwm Taf.
Away from our central theme, Clare  Budden reports on how ClwydAlyn is working towards its long-term goal of zero evictions while Jenny Preece looks at the latest evidence on how and why people get excluded from housing.
We also have a regulation update from Doug Elliott plus Ceri Victory- Rowe writes about developing the new model for housing association governance.
And Jocelle Lovell outlines the findings of new research into the benefits of co-operative and community-led housing.
With all that, full details of all the winners in the Welsh Housing Awards and all our regular features, this issue marks the start to what will be a busy 2020.
Jules Birch, editor, WHQ