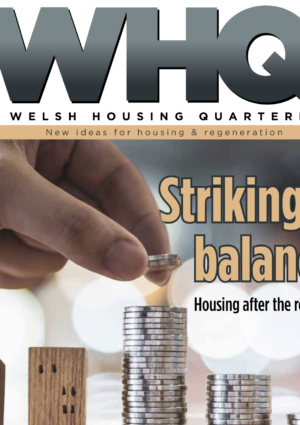 Striking a balance
This Summer issue of WHQ follows of the busiest periods for policy that I can remember in Welsh housing.
Each week between the publication of the independent review of affordable housing supply on May 1 and the Summer recess on July 22 seemed to bring a new announcement, consultation or review outcome. All this against the backdrop of events outside of Wales that will impact on everything we do: the race to become the new prime minister at Westminster and the wait to see what he will do about the latest Brexit deadline on October 31.
Most of that is reflected in a wider- ranging interview with housing and local government minister Julie James that took place just before the recess. We ask her about everything from evictions to Housing First and rents to decarbonisation and it should make interesting reading wherever you work in housing.
The focus elsewhere is on the outcome of two independent reviews. WHQ caught up with Chris Jofeh, chair of Welsh Government's review on decarbonising Welsh homes, on the day of the launch of a report that is set to form the backdrop to everything that happens in housing for decades to come.
And we look in detail at the affordable housing review. After months of hard work by the panel members, what are the prospects for their recommendations and their implementation? As well as the response from Welsh Government, we have reactions from Cllr Andrea Lewis of the Welsh Local Government Association, Stuart Ropke of Community Housing Cymru and Ross Thomas of Tai Pawb, Bonnie Navarra of the Office of the Future Generations Commissioner put the review in broader perspective. And Peter Williams draws some lessons from the Essex Review of 2008, the last review of affordable housing in Wales.
Elsewhere in this issue, we hear from Bob Smith of the Regulatory Board for Wales on its work on hearing the tenants' voice and what it is now expecting from landlords.
Ceri Breeze looks in detail at the benefits that joint working between housing, health and social care can deliver, while Jenny Preece takes stock of the complex relationship between housing insecurity and mental health.
Meanwhile, as Wales consults on extending the notice period for no-fault evictions, Natasha Miller reports on the Scottish experience of reforming the private rented sector.
Our regular features include the latest in our series on the Innovative Housing Programme, John Puzey on ending priority need and Tamsin Stirling on Wales as a nation of sanctuary.
We'll be back in October with a big focus on housing and the foundational economy but I'm sure there will be much more to come on this Summer's rush of announcements.
Jules Birch, Editor, WHQ