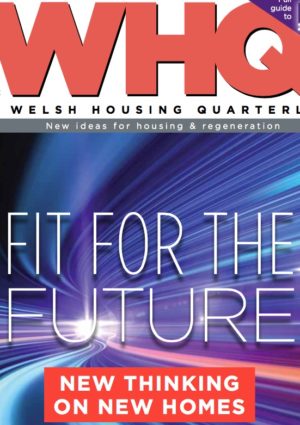 Wales needs more homes to meet demand – but what kind of homes should they be and who are they for?
In the three years since WHQ last looked in depth at the supply of new homes the issue has grown in the public consciousness and as a political and policy issue. As articles in this issue demonstrate, housebuilders and social landlords are making progress around the country and there is no lack of ideas and innovation. Welsh Government's target of 20,000 affordable homes – including 6,000 for sale supported by Help to Buy Wales 
– is already concentrating attention on what needs to happen.
But bridging the gap between the current supply of homes and future demand for them remains a huge challenge. But it is just part of a bigger issue that will require new thinking and will mean not just building more homes, but better homes. Our supply feature includes perspectives from a range of different contributors.
Robin Staines finds some good news in the progress made on new homes in the three years since the ministerial task force that he chaired published its report. He concludes that concerted action is still needed across the board.
Mark Harris of the Home Builders Federation says current output is still woefully short of what's needed and argues that action is needed to reform planning and regulation and increase skills.
Ed Green, one of the authors of a recent study for Welsh Government, looks to the longer term and the needs of future, as well as current, generations. He argues that established methods of housebuilding are unlikely to deliver the homes
 we need but that alternative design approaches are already proving their worth.
One new model that already has official banking is Rent to Own. Hayley MacNamara looks at the prospects 
for a scheme that is set to offer 1,000 households an escape from Generation Rent.
Elsewhere in this issue, and looking beyond Wales, Tamsin Stirling reports on the tiny house movement in the USA and her visit to a project in Detroit aimed at people who are homeless or on low incomes.
We also look at the rise in rough sleeping in Wales. Mia Rees analyses the reasons why and what needs to happen next and Sarah McGill explains Cardiff's No First Night Out strategy.
WHQ is published just before TAI 2017. We have a sneak preview of some of the conference sessions but this issue also includes the full conference timetable and exhibition guide. I hope to see many of you there.
Jules Birch, editor, WHQ