Out now in print and online, the Summer issue of WHQ features the independent reviews of affordable housing and decarbonisation, links between housing, health and social care, reform of private renting and much more besides.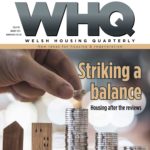 After a flurry of policy announcements in the run-up to the Summer recess, we have an interview with housing and local government minister Julie James that makes her priorities clear.
And we also talk to decarbonisation expert Chris Jofeh about the issue that is set to dominate the housing agenda for social landlords over the next decade and for housing as a whole up to 2050.
Our central theme is the independent review of affordable housing supply, with in-depth coverage of the recommendations and the response from Welsh Government plus reaction from across the sector.
The Regulatory Board for Wales has just set out a new vision for tenant involvement in housing associations. Bob Smith outlines the aims of a model designed to hear the tenants' voice.
Looking to housing's wider role, Ceri Breeze reports on a new study highlighting examples of the benefits that joint working can deliver for health and social care, while Jenny Preece assesses the complex relationship between housing insecurity and mental health.
As Wales prepares to extend the notice period for no-fault evictions, Natasha Miller looks at the impact of reforms to the private rented sector in Scotland.
And in our latest article featuring projects from the Innovative Housing Programme, we look at Monmouthshire Housing Association's focus on homes for the under-35s and over-55s.
Articles from this issue are available to non-subscribers for a limited time. However, with all that on offer, plus all our regular features, there's never been a better time to subscribe to WHQ, the only magazine focussing exclusively on housing and regeneration in Wales. For full details about subscribing go here.