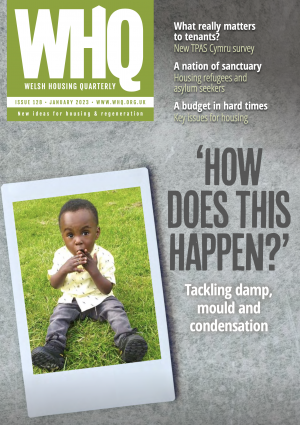 A defining moment
'How does this happen?' asked the coroner in November after the inquest into the tragic death of two-year-old Awaab Ishak. Awaab died in 2020 as a result of a severe respiratory condition linked to prolonged exposure to mould in his housing association flat in Rochdale.
This issue of WHQ has repairs and maintenance as its main theme and our cover story focuses on what the coroner said it should be 'a defining moment' in terms of increasing awareness and understanding surrounding the issue that led to the death of the little boy now familiar from pictures released by his family.
As Duncan Forbes argues, the finding that mould causes ill-health has been known for decades, just like the familiar refrain that 'it's not damp, it's condensation' and the tendency to blame it on tenants' 'lifestyle'. He explains the challenges that social landlords will now have to tackle an issue and why that will mean rethinking how they operate.
We also have the results of TPAS Cymru's Second Annual All Wales Tenant Survey of Tenant Perceptions. As David Wilton explains, awareness and dissatisfaction about damp and mould feature on the list of concerns raised by tenants but in what he calls 'an inter-linked trinity' alongside energy efficiency and a well-maintained home. In results that should concern everyone in housing, fewer than half of respondents felt that they had a well- maintained home (41 per cent), that their home was free from damp and mould (40 per cent) and that it was energy efficient (22 per cent).
Another major issue featured in this issue is housing for refugees and asylum seekers. Romy Wood reflects on the Homes for Ukraine scheme and its impact on hosting projects for refugees. Gareth Lynn Montes argues that the UK system for accommodating asylum seekers is a recipe for disaster. And Nick Taylor-Williams reports on the impact of both on Welsh local authorities.
Looking to the future, Sophie Howe reflects on her time as Future Generations Commissioner and argues that a legal right to housing is one of the biggest gifts we could give to generations yet to come. Suzanne Fitzpatrick explains the work of the Expert Review Panel she chairs and what she says will be an exciting opportunity to make recommendations to help end homelessness. Finally, Steve Wilson previews an emergency housing conference that will bring grassroots campaigners together to debate radical new solutions.
Elsewhere in this Winter issue of WHQ, you'll find the latest on the building safety crisis, reaction to the Welsh Government's Draft Budget, decarbonisation, community transport and much, much more.
Jules Birch, editor, WHQ