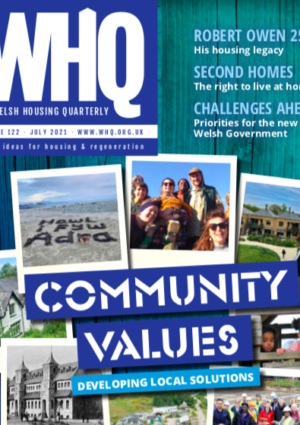 Community values
This issue of WHQ takes community as its theme and reflects the links between homes and communities in their broadest sense.
In our lead article, Tom Archer charts the ebbs and flows of community-led housing around the UK. The rise of community land trusts in England, new powers for communities to acquire estates in Scotland and a focus on housing co-operatives and other forms of community-led housing in Wales are part of a new resurgence for the sector but there are still significant barriers to progress.
This year marks the 250th anniversary of the birth of Robert Owen in Newtown. Chris Coates tells the fascinating story of housing projects that were inspirational but often ended in failure argues that the industrialist and great social reformer left an enigmatic legacy. Meanwhile Allan Shepherd argues for the importance of innovation through participation rather than paternalism.
Across Wales, communities are coming to together to tackle the issue of unaffordable housing in their locality. Adam Land outlines the hopes and aims of a project on the Gower.
We also explore the flipside of the link with homes as Shan Lloyd Williams addresses the threat to the Welsh language, culture and communities posed by second homes in North Wales. She asks what central local government and housing associations can do to address the issue.
Housing also links directly to communities via the foundational economy. Alix Howells outline how Trivallis is developing the approach across its business while Keith Edwards argues that it offers a chance for housing organisations to play a leading role in the recovery.
Placemaking is all about building community into development and regeneration and we hear about some inspirational examples from Carole-Anne Davies of the Design Commission for Wales.
We also cover fire safety, as Welsh Government announces the first phase of the Welsh Building Safety Fund amid continuing uncertainty over consequentials from the funding announcement made months ago in England.
Our latest article on projects stemming from the Innovative Housing Programme looks at plans for the UK's first biophilic building in Swansea.
With other articles on ESG investing, empty homes and achieving net zero, plus all our regular features, we hope you'll find lots to interest you in this first digital-only issue of WHQ. Available online and now in two different digital formats, we'll continue to bring you the best in Welsh housing and regeneration.