The Coronavirus pandemic has laid bare the importance of home and highlighted the inequalities faced by people living in poor quality housing. Where we live has never been more important to how we live. At Community Housing Cymru, we believe that the route to a better nation for all of us starts at home.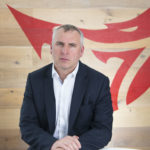 The Welsh Parliament election next year offers us the chance to engage in robust debate, take a fresh look at old challenges, raise our ambitions for Wales and map out a shared course to deliver greater prosperity and health for the next generation.
In 2017, we laid out our vision of a Wales where good housing is a basic right for all.  We have not wavered from our view that good housing, with the right support where it is needed, is crucial for every person and family whatever their circumstances.
As we launch Home, Community Housing Cymru's manifesto for the 2021 Senedd election, housing associations in Wales have considered the tools at their disposal to build a better Wales, as well as the actions we need from the next Welsh Government.
We are calling for a five year £1.5bn social housing grant programme to enable 20,000 new energy-efficient social homes to be built, alongside a £4bn stimulus package of public investment working alongside private finance to retrofit social homes to the highest environmental standard by 2030.  Alongside that capital investment, a four-year inflation-linked indicative funding settlement for support activities to prevent homelessness through the Housing Support Grant is desperately required if we are to build on social gains already made.
To support local economies to become more resilient, housing associations will do even more to invest locally, using procurement processes to support local businesses. Working with education and training providers, Welsh SMEs and social enterprises, they can help create and support the skilled, secured jobs that communities across the nation are crying out for. The housing association sector will also take the concrete steps required to be recognised as a low carbon sector, and play their part in mitigating climate change.
At a time when public finances will be under incredible pressure, we will make public money go further by matching every £1 invested in building new social housing.  Housing associations have already leveraged public investment to provide £3bn of private investment spent in some of the most deprived communities in Wales – they plan to increase that investment by a further £1bn over the next Senedd term.
We know that we don't hold all the answers and that an effective response to this challenge relies on every partner in Wales – communities, third and private sectors, public sector partners and governments – committing to make this a reality.  To make these collective actions count – the next Welsh Government must take concrete action and support others to do the same.
I firmly believe that, if implemented, these ideas can foster a recovery from the trauma of the pandemic that prioritises a decent and affordable home as the starting point for successful lives and places.
See the full manifesto here: https://hereforhomes.org.uk/.
Stuart Ropke is chief executive of Community Housing Cymru