Good homes should be the heart of a Welsh recovery plan from COVID-19, says a manifesto published today by Homes for All Cymru, a coalition of the key housing organisations in Wales.
It argues that the pandemic has demonstrated the centrality of a good home to:
Public health
Physical and mental well-being
Working from home
Education and development of children and young people.
A good home is defined as one that is safe, affordable, secure and stable and accessible to disabled people as well as having sufficient space, being in a good condition inside and out, connected to services and culturally adequate.
But the crisis has also exposed massive inequalities between households and communities in homelessness, overcrowding and flats with no access to gardens and shown that for some people home is not a safe space.
The inadequacy of temporary and emergency accommodation compared with homes is clear, it says, and there is lack of investment in sufficient social housing and repair/upgrade of existing homes of all tenures.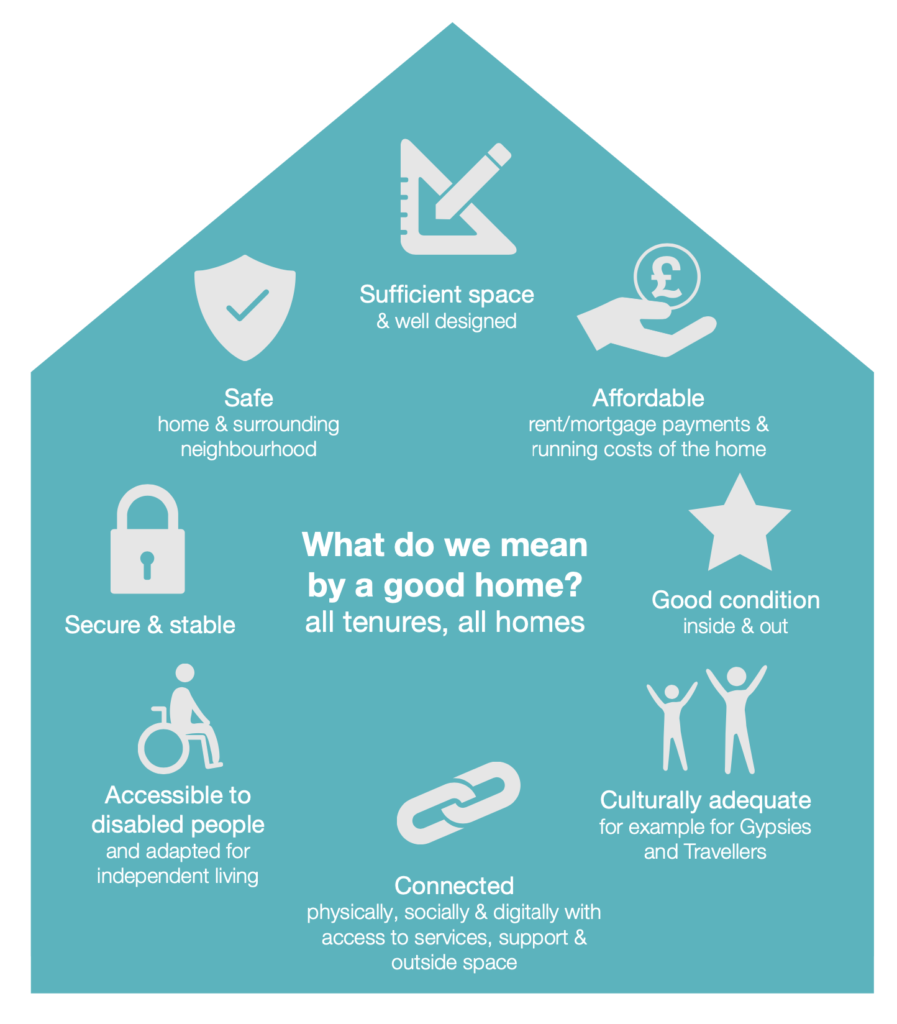 By putting good homes at the core of the recovery plan, Homes for All Cymru argues that Welsh Government can:
Demonstrate how Future Generations legislation can be put into action
Reduce pressures on socal care and the NHS
Reduce persistent structural inequalities
Support public health
Make the right to adequate housing and children's rights a reality
Generate significant economic benefits
Enable a fairer and more resilient economy
Support the move to zero carbon.
And it says action and investment by Welsh Government during the lockdown to house rough sleepers and homeless people is a great example of focused action on part of the housing system.
The manifesto says that what is needed now is Investment. Increases in capital and revenue investment in housing and regeneration need to reflect both housing need and costs associated with decarbonisation of existing homes.
Funding the development and acquisition of 20,000 social sector homes in the next Senedd term would require £1.5-£2 billion.
The coalition is arranging a meeting of Members of the Senedd  on Friday August 14 , where members of the coalition will be asking MSs to be persistent and vocal champions for housing.
All parties for the 2021 elections are urged to:
Prioritise investment in new social housing and in retrofitting of existing homes across tenures.
Use this investment as a stimulus for jobs, apprenticeships and training opportunities and supporting Welsh supply chains.
Commit to action that will end homelessness in Wales as set out in the March 2020 report from the Homelessness Action Group.
Commit to increased funding for support.
Homes for All Cymru also urges them to make the right to adequate housing a legal and practical reality in Wales.
Actions should include incorporating the UK-enshrined right into Welsh law, ensuring that homes are genuinely affordable, with people spending no more than 30 per cent of their income on housing costs, and ensuring that citizens have a voice in housing policy making.
Homes for All Cymru comprises: Age Cymru, The Bevan Foundation, Care and Repair Cymru, Chartered Institute of Housing Cymru, Community Housing Cymru, Crisis, Cymorth Cymru, Disability Wales, Gypsies and Travellers Wales, Home Builders Federation, Housing Justice Cymru,The National Residential Landlords Association,  Royal Institution of Chartered Surveyors, Shelter Cymru, Tai Pawb, TPAS Cymru, Wales Cooperative Centre, The Wallich, Welsh Women's Aid.