Rough sleeping in Wales is up 17 per cent on a year ago, according to the latest Welsh Government count.
Local authorities estimated that 405 people were sleeping rough in a two-week period in October 2019. That was an increase of 58 people on October 2018.
A one-night snapshot count found 176 people sleeping rough on one night in November, an increase of 11 per cent on last year.
Councils also reported 210 emergency bed spaces across Wales, an increase of 14 per cent on last year. However, despite the increase, the proportion of bed spaces that were unoccupied and available on the night of the count was lower in 2019 (8 per cent) than in the previous two years.
As the chart shows, the count based on the two-week estimate saw Caerphilly, Newport, Ceredigion, Conwy and Pemborkeshire record some of the biggest increases in rough sleeping.
Cardiff again had the highest overall number of rough sleepers (92) but that was down slightly on the 100 recorded in 2018.
There were 42 rough sleepers in Wrexham, down from 57 in 2018 and Gwynedd also recorded  a fall.
Carmarthenshire and Blaeuau Gwent were the two areas with no rough sleepers recorded in 2019.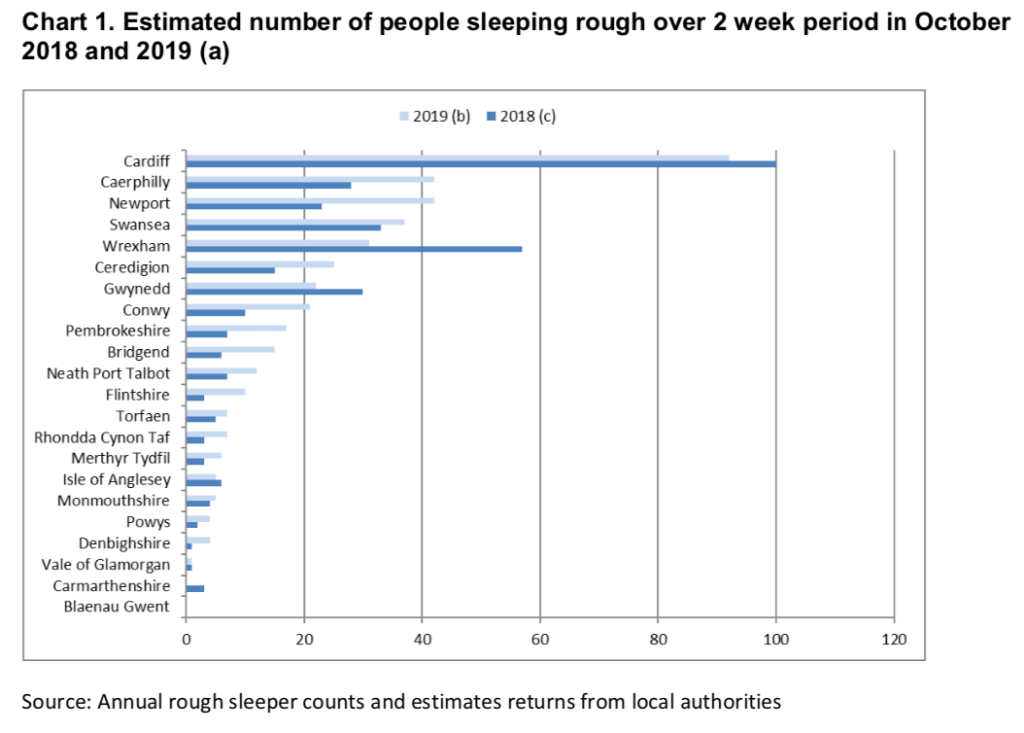 Community Housing Cymru is working with Cymorth Cymru and Welsh Women's Aid to campaign for an increase in the Housing Support Grant which funds essential homeless prevention services.
Clarissa Corbisiero, director of policy and deputy chief executive of Community Housing Cymru said:
'We know that more people than ever need support for increasingly complex, co-occurring problems and experiences of trauma, and the Housing Support Grant is essential in funding these services which help people to manage their tenancies and prevent homelessness.

'We share the Welsh Government's ambition to eradicate homelessness in Wales, and today's figures show there is still more to be done. That's why we are calling on Welsh Government to increase funding for the Housing Support Grant so that we can deliver vital services at the scale needed to end homelessness and keep people in their homes.'
Cymorth Cymru Director Katie Dalton said:
'Although this data has its limitations, it is nevertheless concerning to see the largest year on year increase in rough sleeping since the two week count began.

'We are heartened by the Welsh Government's response to the recent Homelessness Action Group report on rough sleeping and hope that sustained efforts locally and nationally will see the figures reduce in future years.

'However, we urge ministers to take action this month and increase the Housing Support Grant in their final budget for 2020/21. Services are working incredibly hard to support people experiencing homelessness but have faced real term cuts of more than £37million since 2012.

'With the next Homelessness Action Group report due in the coming weeks, the Welsh Government must show strong leadership in devolved areas, increase funding for housing and support services in their final budget on 25th February, and deliver bold cross-government action to prevent and end homelessness.'
Lindsay Cordery-Bruce, chief executive of The Wallich, said:
'Everyone is disappointed and no-one is surprised, from decision makers to people on the ground, and this is unacceptable. We should be surprised; we should be shocked, and we should be outraged at the continual year on year increase in the number of people sleeping rough across Wales.  This figure should be a rallying cry to all of us that we need to do better. We cannot allow year-on-year increases in homelessness to become normalised – this is when we fail.

'The government figures also show a huge increase in areas where there is less investment in outreach provision, such as Caerphilly and Conwy where the number of people sleeping rough has almost doubled between 2018 and 2019. The people sleeping rough in these areas are as valuable and worthy of help as those in our larger cities.

'Welsh Government has tasked the Homelessness Action Group to think afresh and do things differently, utilising the expertise available to achieve the change required.  We are part of this group and whilst we have seen some tangible outcomes from our discussions, we need urgent action and for Welsh Government to rapidly implement the group's recommendations, including a serious financial commitment.'
Jon Sparkes, chief executive of Crisis and chair of the Homelessness Action Group, said:
'No one in our society should be forced to sleep rough. It's simply inhumane that more people across Wales are known to be on the street, where they are at greater risk of damage to their health, being attacked, and even dying at a younger age.

'It's no way for people to have to live and there are clearly some short-term actions needed to stop the situation getting any worse. But the only way to end rough sleeping is prevent it happening in the first place and ensure people can be quickly rehoused if they lose their home.

'There are promising signs in some local council areas that better outreach and offering multi-agency support can help. By dealing with the root causes of homelessness and rough sleeping and helping people into accommodation governments, charities and public services can work together to end rough sleeping and homelessness.  While there are no shortcuts, we know with the right measures in place it can be done.'