New to the job is a feature where we meet people from across the sector who have taken on a new role. If you want to take part email [email protected]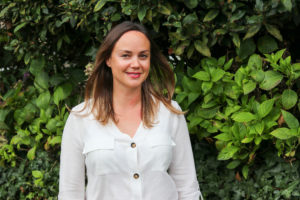 What is your name?
Stacey Anastasi
Where do you work and what do you do?
I work for Cadwyn Housing Association as a Neighbourhood Housing Manager; overseeing the Neighbourhood Officers, Lettings & Allocations staff, Progress Coach and our Grounds Maintenance team. As you've probably already heard hundreds of times before; no two days are the same!
Why did you choose a career in housing?
I can't pretend to have consciously chosen a career in housing, more so, like a lot of people, I fell into it. Although I've always had a keen interest in housing, after living in 48 addresses to date (just my UK addresses!) I feel equipped to critique housing on many levels. Thinking about it, many, many moons ago, more than two decades (ouch) – I completed my Geography GCSE coursework on the rise and fall of affordable housing and my childhood home was a social housing home provided by Newydd HA.
What is the most important thing you have you learned since starting your career in housing?
We all have valid points; tenants, colleagues, family, friends; sometimes we don't say it in the right way but with the right support we can articulate it to make sense! Look for the point; look for the good in people!
What advice would you give someone applying for a job in housing?
Do as much volunteering as possible in different spheres, don't be scared to put yourself out there and ask for help or explanations of why we do what we do, and the way that we do it – you probably have a better way and just haven't realised it yet! Don't judge a person by their behaviour.
Don't speak for the sake of it.
If you've got a concern or belief, be brave and be bold and stand by it with conviction!
Where would you be working, if not in housing?
My love, apart from interior design, which is likely classed as some type of housing career, is horses. My idea of career heaven would be in the countryside, surrounded by horses and living an equestrian yard life.
What motivates you?
Fairness, equality, family, money, learning new things and helping others to learn, challenging concepts, identifying issues- addressing and resolving them, having my voice heard (Ha – unfortunately for some!).
What do you do to relax?
Don't even know what the word means! Relax…..socialise, care for my family, walk, renovate, daily visits to the beach, cook, eat, drink wine and repeat.
Proudest moment?
My youngest children attend a mainstream school that caters for special needs kids; my ten-year-old daughter and school work don't mix too well and I am probably the overbearing mother that makes her do the work that just doesn't give her any joy.
When I was told by a parent of a little girl severely affected by cerebral palsy using a wheelchair that she felt the need to tell me how kind my daughter was, she continued to explain: "I've asked Tilly every day for the last 6 years her favourite part of the day – continuously every day for 3 months Tilly replied that Josie-Rose had played with her and made her smile."
It was at that point my heart beamed with pride and reaffirmed the 'really' important things in life; not just exam results and achievements but how we treat one another and the kindness we show to those less fortunate.
Most embarrassing moment?
There have been plenty! Just where to start!
My chiropodist asked for my number; I told him I was courting; he said it was for the file! Oh the shame…….
What was the last film you watched and how did you rate it?
Spider-Man: Far from Home – loved it.