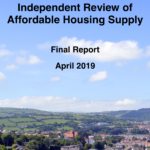 Wales can produce more affordable housing with the same level of resources if it tackles 'considerable weaknesses' in the current system, says the report of the Independent Review of Affordable Housing Supply published this morning (May 1).
The panel chaired by Lynn Pamment calls for changes to housing needs assessments, quality standards, rent policy, financing of new homes and the funding of council housing and stock transfer housing associations. It also wants a bigger role for Modern Methods of Construction, more partnership working between local authorities and housing associations and better use of public land for housing.
Thinking beyond the short term is a key theme of the report as the panel recommends that 'the affordable housing regime adopt longer term horizons bringing greater certainty to the system and enhancing the opportunities for more efficient and effective supply planning, expenditure and processes'. This will provide 'a better framework for collaboration between providers, local authorities and Welsh Government'.
Though the brief was to find ways to increase supply from the resources available, the panel says it has also put affordability and striking a balance between the interests of providers and tenants high on its agenda.
Among the review's key recommendations are that Welsh Government should:
Consolidate and simplify standards for all new build affordable homes
Stipulate that new affordable homes should be built to EPC 'A' standard from 2021 and all new builds by 2025
Implement a five-year rent policy from 2020-21, providing stability for tenants and landlords
Commission an independent financial review of Welsh large scale voluntary transfers in receipt of Dowry and the Housing Revenue Accounts of local authorities in receipt of Major Repairs Allowance
Require Welsh Large Scale Voluntary Transfers and local authorities to invest in the decarbonisation of existing homes in return for an ongoing commitment to Dowry and Major Repairs Allowance
Establish an arms-length body to act as a hub for public sector land management and professional services, to speed up the development of public land for affordable housing
Replace Social Housing Grant with a five-year grant partnership model focused on results, fairness, quality, transparency and value for money.
However, the panel acknowledges that meeting all unmet housing need in Wales will require greater investment beyond current levels of public subsidy. It also accepts that the new system will have upfront transitional costs but argues that the benefits delivered will outweigh them.
Carried out over the last 12 months, the review engaged extensively with people from across the housing sector, as well as with tenants and their representatives. Ten different work streams covered all aspects of affordable housing policy and the recommendations are designed to increase the delivery of affordable homes and improve the analysis of local housing need in communities across Wales.
Summaries of the chapters of the review on quality standards, rents, the role of local authorities, financing and the Dowry and Major Repairs Allowance are available on the WHQ website.
'We have put the needs of tenants and affordability at the heart of our recommendations. This review offers Wales a unique opportunity to make ground-breaking improvements to the supply and quality of affordable housing, recommending longer-term certainty for local authorities and housing associations, whilst balancing the continuing pressures on the public spending available to support house building. Importantly, it also offers flexibility and a greater level of self-determination for ambitious organisations.'

'I am grateful to all of the Panel members and to the housing sector for their productive input into this work. I hope this report will play a significant part in efforts to increase the supply of affordable housing in Wales.'
Housing and Local Government Minister Julie James said:
'I want to thank Lynn and the panel for their constructive work. I will consider this report carefully as we look to build on our ambitions to dramatically increase affordable housing in Wales.'
The panel members were (left to right):

Roisin Willmott, director for the Royal Town Planning Institute in Wales and Northern Ireland.
Peter Williams, independent consultant on housing and mortgage markets and housing policy and attached to the Department of Land Economy at the University of Cambridge
Helen Collins, head of housing consultancy at Savills


Phil Jenkins, managing director of Centrus, the corporate finance advisor to the affordable housing sector

Lynn Pamment (chair), Cardiff office senior partner at PwC,

Kevin Morgan, professor of governance and development in the School of Geography and Planning at Cardiff University