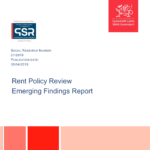 A review of rent policy for Welsh Government concludes that the current system is meeting its objectives, is accepted by a range of stakeholders and should be retained.
Emerging findings from a team led by Heriot-Watt University say there is little to be gained from revisiting the underlying principles of rent-setting via a new Essex Review but that elements of the design and operation of the policy should be kept under review and improved.
Ahead of the report, there had been calls for housing associations to be allowed to set their own rents. However, the report goes on:
'This means that we reject the view of some landlords that they should have full autonomy in rent setting. It is difficult to see how consistency in rent setting, which is widely regarded as being a key component of 'fairness', can be achieved without some co-ordination.'

'Moreover, rent setting at the individual landlord level cannot be separated from wider public policy, particularly in relation to objectives of new affordable supply, investment for minimum quality standards, and the complex interaction between rents, social security benefits and the block grant. The approach of providing flexibility within an overall framework is the right one.'
The report argues that rent policy needs to balance concerns about affordability, landlord viability and what is 'fair' and identifies seven key issues that need further consideration.
First up is the level of the annual uplift in rents. This is seen as 'fundamentally a political choice' but the report points to the impact of the additional £2 per week provisions in increasing rents 1% higher than the standard uplift policy. That means any policy uplift of more than CPI plus 0.5% would see Welsh rents exceed those in the north and midlands of England, while even CPI-only increases would see rents continue to move ahead of earnings.
With the Affordable Housing Supply Review considering the wider issues of rent policy, the report says there is a case for setting a new policy for no more than two years so that it can be revisited to take the review's findings into account.
The report goes on:
'Should the Welsh Government opt for an initial annual uplift policy of CPI only or CPI + 0.5%, there is a case for flexible application, for example considering requests for a higher increase on a case-by-case basis, and considering how rent increases interact with the distribution of grant.'
The other key issues are:
Lack of fit between rent policy and grant rates policy for new development – especially in low demand areas. The report says it is more logical to review the grant rate policy than create anomalies between new and existing stock.
Annual variations in the locational index within the rent matrix – there is a case for introducing an annual limit of, say, 1% in the extent of variation for any area within any one year.
Whether there is a sufficiently compelling case for a higher upward differential for bungalows, relative to flats, than the 10% provision that is currently part of the policy.
The extent to which some landlords do not appear to understand the policy, and the flexibility it already provides them with – plus related concerns about the complexity of the policy and problems explaining it to tenants. It would be helpful if Welsh Government provided some case study examples.
More meaningful engagement with tenants – which is said to be 'currently often at the lower end of engagement suggested in the guidance'.
A greater focus on value for money – tenants who were less satisfied with the rent charged were those who had problems with the condition of their home or the quality of repairs and improvements carried out. That might involve more specific monitoring of standards, as is done in England through its Value for Money Standard, which does not explicitly link rents to value for money or the quality of individual properties but encourages landlords 'to demonstrate economy, efficiency and effectiveness'.
The Affordable Housing Supply Review is due to be published on Wednesday (May 1). The review of rent policy is available here.