Let's take action and work for a housing system that does not enable exploitation, says Tamsin Stirling.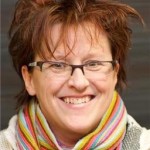 In November I watched the BBC drama Doing Money. It is about sex trafficking and modern day slavery in Britain and is extremely difficult to watch. It got me thinking about exploitation in our communities; everything from child sexual exploitation, cuckooing, county lines, grooming and even the way that our economy works to extract wealth out of some communities and exploit individuals who work in the gig economy.
A couple of days later, I watched Leilani Farhi's amazing speech to the Canadian Alliance to End Homelessness conference. Leilani is the UN Rapporteur on the Right to Housing. In her speech, she eloquently makes the case for a right to housing in the context of the financialisation of housing (housing being treated as a financial instrument/commodity/ asset rather than a home or a social good).
As she put it: 'Housing is used as a mega-profit generator… making uber profits for some, driving up rents and reducing the availability of affordable homes for many.' In calling for governments at all levels to 'turn up' and put in place rights-based housing strategies, Leilani is drawing on her experience of seeing housing crises across the world and the horrendous impacts on many, many individuals and communities.
Sex for rent is an example of where the potential for exploitation meets the housing crisis. People who have somewhere to live 'offering' reduced or no rent in exchange for sex. People who are desperate for somewhere to live, but who have little money, feeling that they have no alternative.
Due to the campaigning over the past months by women such as Housing Women Cymru's Katie Howells, we are aware that sex for rent is part of our housing landscape in Wales. It doesn't take much time browsing around Craig's List to find advertisements for such 'arrangements', some explicit, some less so.
And much will be less visible. When I tweeted about sex for rent a few weeks ago, a woman replied that it had happened to her daughter. A single parent at the time studying for a degree, her landlord suggested sex as an alternative to increasing the rent. She said no and was given notice to leave. And how much might be going on in social housing through sub-letting?
I am very glad to see Housing Women Cymru take action on sex for rent. It's an example of how the way our housing system currently works can compound inequality and the potential for exploitation by those with power of those with little power.
In finishing her November 2018 speech, Leilani Farhi called on conference delegates to 'find their outrage' about homelessness, housing crises and the lack of attention to housing as a human right by governments around the world.
We should most definitely find our outrage about sex for rent. In taking action, we need to work to ensure that people have alternatives which brings us straight back to our housing system and the housing crisis which seems to have been with us for a very long time.
Tamsin Stirling is a Housing Women Cymru member
For more on Sex for Rent, see our first blog from Julie Nicholas and coverage of the campaign launch.