Julie Nicholas explains why Housing Women Cymru is supporting campaigns on issues that take place behind the closed doors of housing.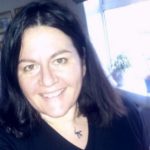 Housing Women Cymru officially launched in 2013. The aim was to bring together housing professionals and activists from across the social housing industry to provide opportunities for networking and learning.
The network has expanded and changed over the past five years, with more than 400 women signed up to one of our platforms, 20+ amazing speakers and a dozen events under our belt so far. We have organised ourselves into selecting a steering group, have a network co-coordinator (Joy Kent) and a chair (me), all of us volunteers working to ensure the network stays relevant, fresh and free of charge to everyone who wishes to join.
Our most recent event featured speaker, Alison Inman MBE, activist and 2017/18 president of the Chartered Institute of Housing, who shared a platform with our very own network member and young housing professional Katie Howells of Merthyr Valley Homes. Alison talked about her presidential theme of tackling domestic abuse through her Make A Stand pledge, whilst Katie spoke about her fight to end sex for rent.
Both of these incredible housing women's campaigns have something in common; women are disproportionately affected by these two criminal activities, and both I would argue are forms of male violence against women, enabled by continuing sexual, economic and social inequality.
For this reason the Housing Women Cymru network is proud to lend its support to the launch of the End sex for rent campaign, whereby unscrupulous men advertise housing in exchange for sex from those in housing need. Such sexual exploitation is illegal, and just like domestic abuse, housing looms large in the context of sex for rent crimes. Our homes should be places of safety, yet under these circumstances houses are transformed into a place of fear by perpetrators of violence and exploitation, who hold power and control over those experiencing their abuse.
As housing professionals and as women this is our problem, these two issues take place behind the closed doors of housing, and we can seek to act and influence on both a political and professional level. Some members of the Housing Women Cymru network sit on the End Sex for Rent campaign group with Katie, along with Assembly Member Dawn Bowden, but all network members are invited to participate in the week long campaign. Of you couldn't attend the launch event you can still talk about campaign information in your real and virtual conversations, and sharing posts on social media using the hashtags #notalandlord and #endsexforrent.
The network looks forward to lending its support for the first time to this new campaign, and growing our membership to support future campaigns led by our members that are important to our profession. If you would like to learn more about Housing Women Cymru please join the network by joining our mailing list, following us on twitter or sending a join request to our 'Housing Women Cymru' Facebook group.
Julie Nicholas is chair of Housing Women Cymru