So how is Wales doing on homelessness? Statistics released this week show what happened in the first year of the new system. Here are some of the highlights.
The homelessness provisions by the Housing Act (Wales) 2014, including a legal right to homelessness prevention, came into force on 27 April, 2015. Stats released by Welsh Government on Wednesday cover 2015/16 and so almost the first 12 months of the Act.
Some caution is needed in interpreting the data. It is not directly comparable with previous years because of differences in the way cases of homelessness and threatened homelessness are assessed and recorded and the system is still bedding down. However, the indications from the first year are positive.
The headline numbers are that:
7,128 households were assessed as threatened with homelessness within 56 days in 2015/16. Homelessness was successfully prevented for at least six months for 4,599 of them (65%).
6,891 households were assessed as homeless and owed a duty to help secure accommodation. Of those, 3,108 (45%) were successfully relieved of their homelessness and helped to secure accommodation likely to last for at least six months.
1,563 households were assessed to be unintentionally homeless and in priority need and qualified for the duty to have accommodation secured for them. Of those, 1,245 were 'positively discharged' and accepted an offer of permanent accommodation.
1,875 households were in temporary accommodation at the end of March 2016, down 8.5% on 2015. Of those 108 were in bed and breakfast (down 45%) and three of those were families with children.
Looking at the figures in a bit more detail, homelessness prevention was unsuccessful in 1,119 cases (16%) and 670 households were assessed to have 'unreasonably failed to cooperate'. This second figure is a concern for homelessness organisations.
This map shows the number of households found to be eligible and threatened with homelessness within 56 days, expressed as a rate per 10,000 households. The rate was highest in Blaenau Gwent and lowest in Merthyr Tydfil: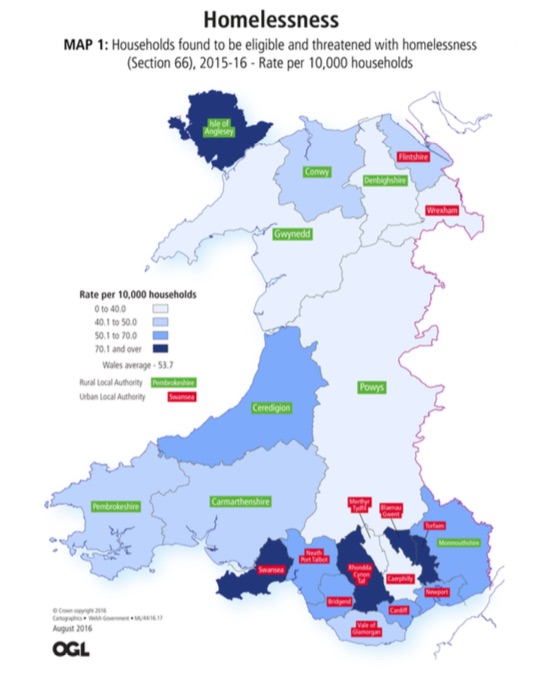 This map shows the rates of successful homelessness prevention across Wales (a national indicator under the Well-being of Future Generations Act 2015). The rate was highest in Swansea and lowest in Merthyr Tydfil: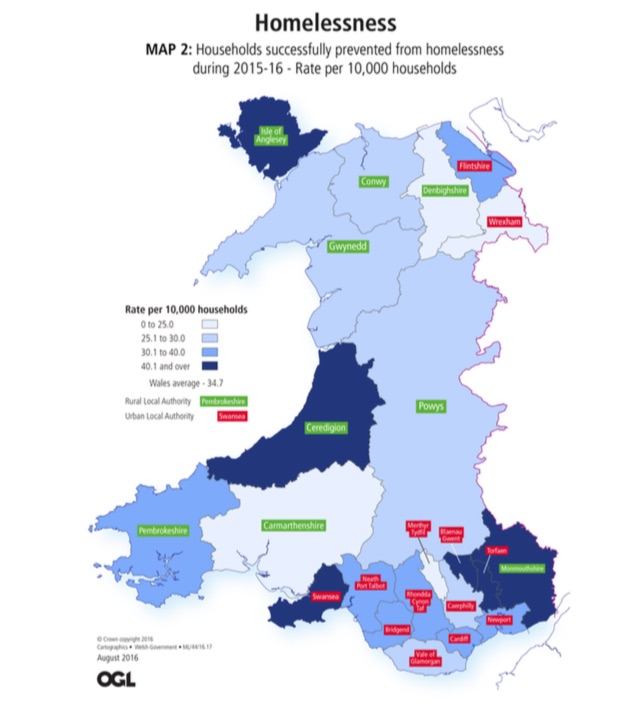 Most people helped under homelessness prevention (3,534 households or 77%) were assisted into alternative accommodation by their local authority. Of those, 49% went into the private rented sector and 38% went into the social rented sector.
Of the 3,108 households whose homelessness was successfully relieved, 35% went into private renting, 30% into social housing and 20% into supported accommodation.
Finally this map shows the number of households assessed as homelessness, again expressed as a rate per 10,000 households. The highest rate (88.0) was in Neath Port Talbot closely followed by Cardiff and Newport. Lowest rates were in Anglesey and Monmouthshire.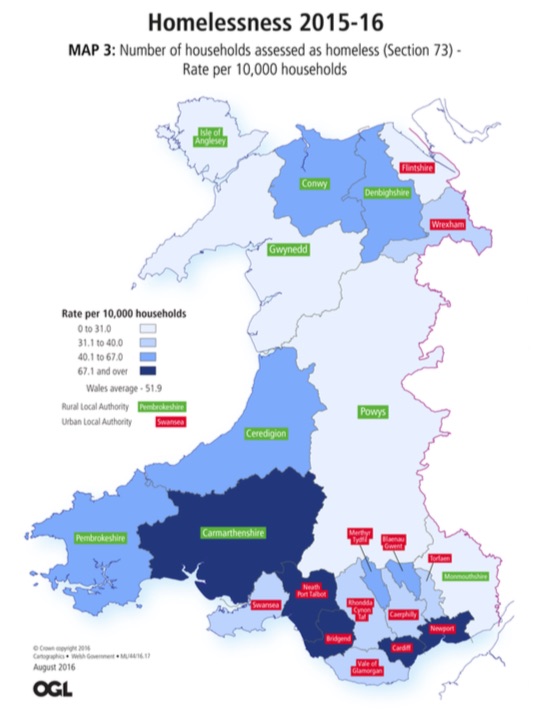 For more detailed commentary on the stats and the trends behind them, see this blog on eight things we learned from the Welsh homelessness figures by Jennie Bibbings of Shelter Cymru.
The full data including detailed breakdowns by outcomes, by local authority area and by type of households is available on the Welsh Government website.
The Welsh approach to homelessness prevention is being watched closely in the rest of the UK and especially in England where a private member's Bill with all-party backing aims to introduce a similar system.