Most people remember Corlan Housing Association for its collapse in 1990 but when Antonia Forte met ex-colleagues they looked back on the positive impact of an organisation committed to public service
Last week I met up with nine terrific 'housing' women to mark 26 years since we all worked together. There was a lot of laughter and catching up – but much of the conversation was the shared memories of working at Corlan.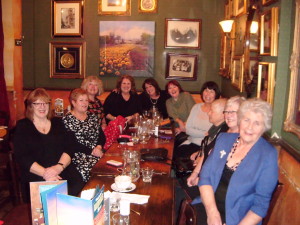 A lot has been said about the events of 1990 – most of it speculative by those who weren't involved – but our conversation wasn't about what went wrong: it was about the value of working at an organisation with a clear objective of providing as good a public service as was possible, in an era when social housing was regarded as essential as the NHS – and how this experience had shaped the rest of our working lives.
The conversation started with light hearted anecdotes about my good grammar fetish – something that my ex-colleagues at Cynon Taf will recognised! The inappropriate use of the apostrophe (your hard work/you're hard work) together with its use where the plural is meant are two of my particular irritations – and I'm sure will form part of any obituary. But such banter underlines the fact that good grammar is really about the importance of clear and concise communication – and that is important in any line of work that involves communicating with people – irrespective of whether the communication is written or oral – or tweeted.
The second point we all agreed about was that promoting a 'good service' ethos is essential. Putting yourself in the 'shoes' of applicants or tenants doesn't mean you have to always agree with them – but it does help to understand why someone is behaving in the way they are, which in turn can moderate the way in which a service is delivered – to achieve the original goal. Wanting to make a real difference to the lives of those who turn to our service is an attitude – not a skill – and that can't be learnt. Those who didn't share this, or who paid mere lip service at interview didn't last long, as I recall.
I remember Ashley Williams from TPAS once explaining to me that for many of residents, housing officers were the most powerful persons they may ever speak to on a regular basis – and that when/if they said 'no' to a request (for a move/transfer/improvement) that was seen as being because they didn't want to help, not because they couldn't. I recall speaking to tenants about the changes that happened in 1987/8 when housing costs were taken out of DSS payments and treated as a separate source of income – and being accused of personally making these changes in order to complicate their lives.
But perhaps our overwhelming recollection was that our commitment to service delivery was encouraged and supported by an organisation that promoted good staff welfare – in terms, not of high salaries, but of involvement in service development, encouragement to make decisions, backing if those decisions were the wrong ones (better to make a bad decision for the right reason than a good decision for the wrong one) – in effect, offering staff the same opportunities as tenants to be hear and to contribute. And we all agreed that these three aspects had influenced the careers that we had all pursued after Corlan ceased to exist – whether in housing, supporting carers, Care and Repair, the voluntary sector, local government – or even glamping!
None of this should suggest that other associations were not and are not equally committed to these principles – well, maybe not so fanatical about grammar – but to remember Corlan solely for the way in which it collapsed is to deny the real and beneficial impact that it had on at least this group of terrific 'housing' women.
Antonia Forte is chair of the WHQ Advisory Board and was deputy chief executive of Corlan