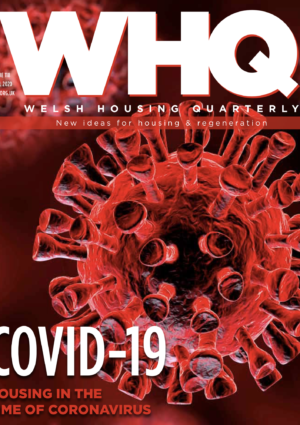 A month, which seems like a decade, ago this issue of WHQ was going to focus on one of the fundamentals of housing: rents.
And then the Coronavirus changed everything. For landlords, tenants, local authorities, homelessness organisations and everyone working in Welsh housing, the outbreak has meant having to get used to new ways of living and working at breakneck speed.
At the same time a home has become the first line of defence against Covid-19 as governments push their message to stay safe  – but the crisis has shone a new light on inequalities that were already rife in our society.
In the labour market, some people can work from home while others are forced to travel to work and still others find themselves on the front line of the outbreak in hospitals, care homes and supermarkets.
Some can benefit from the furlough schemes available to employees and the self-employed, while others fell through the cracks in the support system and became one of the million new applicants for Universal Credit in the last two weeks of March.
In the housing system, some have ample space and spare bedrooms in which to work from home or self-isolate and can escape from the lockdown into their garden.
Others were struggling for space even before the crisis, lacking an internet connection or a garden for the kids or paying the bedroom tax on rooms that the government deemed to be 'spare'.
And still others have no home where they can stay safe, just a shop doorway or a bed in a hostel or a room in overcrowded temporary accommodation.
This special issue of WHQ reflects all of that and more as the housing sector across Wales reacts to the Coronavirus crisis.
We hear from South Wales on the drive to secure accommodation for homeless people, from North Wales on keeping extra care residents safe and from all points in between on the race to reorganise offices and services to tenants.
Home working, virtual meetings, no-contact lettings, repairs advice over the phone, exercise classes on Facebook Live and pulling together to ensure that food gets to the most vulnerable have become part of daily working life.
And for organisations like Crisis, CIH Cymru, CHC, Shelter Cymru, Cymorth Cymru and Erosh the crisis has meant rapidly coming up to speed with the latest government guidance and emergency legislation to offer interpretation, guidance and support across the sector.
Meanwhile TPAS Cymru was surveying tenants and finding some important messages for landlords now and in the future.
As we went to press at the start of April, there was a real sense of people pulling together and rising to the multiple challenges posed by Coronavirus.
However, we also take a step back from the immediate crisis, as Tamsin Stirling reflects on what the outbreak has revealed about our society and why values will be so important in the months ahead.
And we look to the future too. Shane Perkins asks what the new normal will look like for housing once the pandemic is over, Alicja Zalesinska argues that the right to housing is now even more important and Keith Edwards reflects on what will be required in the longer term.
Emergency legislation and temporary fixes to the safety net may have averted an immediate crisis but what will things look like in a few months' time as millions struggle to pay their rent and mortgage and businesses find that temporary closures have become permanent?
And that brings us back to the original focus of this issue: rents. In the wake of the five-year settlement agreed by Welsh Government we look at what landlords across Wales are doing to make what they charge genuinely affordable for tenants and to balance that with other priorities like building new homes.
We also hear from Jon Sparkes about plans to end homelessness that were agreed in principle by Welsh Government just before the crisis began and from Andy Sutton about plans to create one of the world's first genuinely zero carbon communities in Pontardawe.
The fundamentals of housing – a decent home for everyone at a price they can afford – will be even more important in a post-Corona and post-recession world.
We hope this Spring issue of WHQ can bring a little inspiration in such challenging times. Stay safe.
Jules Birch, editor, WHQ