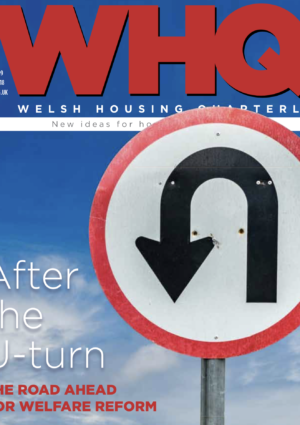 This Winter issue of WHQ returns yet again to the issue that has topped the housing agenda throughout this decade: welfare reform.
The end of 2017 brought some
rare good news on this front. The
UK government's U-turn on the
Local Housing Allowance (LHA) cap removes an existential threat to social and supported housing in Wales while concessions on Universal Credit do not go far enough but are welcome all the same.
Our special feature starts with overviews by me and by Hayley MacNamara on the latest situation in the UK and Wales.
That's followed by articles by Jen Griffths, Ceri Doyle, Claire Pearce-Crawford, John Doyle and Ian Simpson on the roll-out of full service Universal Credit in different parts of Wales.
It's not all bad news but the general picture is one of rising rent arrears, poverty and food bank use and a system that is still not geared up to cope despite ample warnings about the potential problems ahead.
Meanwhile, Jennifer Ellis reminds
 us that problems with LHA are about much more than just the cap. How
is the four-year freeze on LHA rates affecting work with the private rented sector and on homelessness prevention in Rhondda Cynon Taf?
Welfare reform is also part of the background to two of our other main features.
Ian Wilson reveals the findings of a new analysis of the issues facing providers of homes for people on low incomes in the Valleys. What price social housing that is not affordable to social tenants?
Douglas Haig argues that what's happening to LHA is just one of a series of contradictory government policies on the private rented sector that will mean fewer private rented homes for people most in need.
Elsewhere in this issue, we carry features ranging from analysis of the Bill deregulating housing associations to the launch of the Wales Hub of the new UK Collaborative Centre for Housing Evidence and a new approach to tenant engagement in Monmouthshire.
And we celebrate the winners
 in the two big end-of-year awards ceremonies: the Welsh Housing Awards and Promoting Independence Awards.
But this issue would not be complete without taking a moment to reflect on the shocking news that has so deeply affected everyone in Welsh housing and beyond by remembering Carl Sargeant and his legacy as minister.
Jules Birch, Editor, WHQ