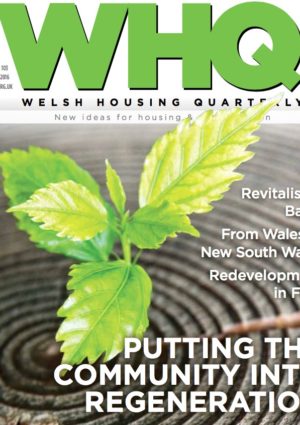 This Summer issue of WHQ is book-ended by two votes: the May national Assembly elections and the June referendum on the European Union.
On the first, it's as you were. 
Labour will continue to run the Welsh Government but has a Progressive Agreement with the Liberal Democrats that sees Kirsty Williams join the cabinet.
The post-election reshuffle also brought a familiar face back to the housing brief as Carl Sargeant was appointed cabinet secretary for communities and children. He sets out his priorities for housing on p15 including the commitment to 20,000 affordable homes over the next five years and – in due course – a Bill to end the Right to Buy.
However, housing and regeneration are just part of a much bigger portfolio that also includes communities and children and early years. The minister also has his eyes fixed on housing's links with a wider policy agenda, including the Well-Being of Future Generations Act, sustainability and energy efficiency and health and social care.
The outcome of the EU referendum was still in the balance as WHQ went to press. While a Remain vote looked more likely, the reverberations of a Leave vote would be felt for years 
to come. Among the issues raised at a WHQ debate on the EU at TAI was the crucial question of what would happen to European social and regeneration funding in Wales after a Brexit.
And regeneration is very much the focus of much of this issue. Introducing a series of articles, Duncan
Forbes outlines his vision for the future of CREW and its role in community regeneration. We also have articles on regeneration in Barry, Flint and Caerau while former CREW chief executive Dave Adamson looks compares approaches in Wales and New South Wales.
The Welsh approach to homelessness prevention is attracting attention from all over the UK and from England in particular. With the new system just over a year old, Jennie Bibbings looks at what Wales should do next.
In a photo essay on her part of Cardiff, Tamsin Stirling considers the impact of student housing and finds an 18-bed – yes, an 18-bed house – for sale.
Gayna Jones explains why the Design Commission for Wales sees housing as one of its priorities, Brett Sadler explains the latest steps in North Wales Housing's digital journey and Julie Nicholas reveals her hopes for housing in the Fifth Assembly as she leaves CIH Cymru.
Jules Birch
Editor, WHQ