Cabinet secretary for communities and children Carl Sargeant outlines his priorities for housing and the rest of his new portfolio.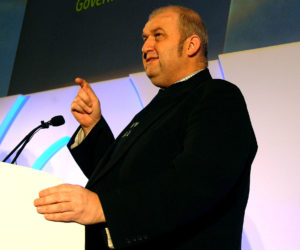 I am pleased to have this opportunity to share some of my thoughts very early in this new term of Government which I know will, through Welsh Housing Quarterly, reach many people inside and outside the field of housing.
I am delighted to return to the housing scene, which is an important part of my much bigger portfolio featuring regeneration, community safety, Communities First, and support programmes such as Families First and Flying Start. Significantly, my portfolio also includes responsibility for children and early years. I am committed to doing more to give people the best possible start in life, which includes ensuring people have a safe and secure home, preventing homelessness, tackling domestic violence, and helping adults who suffer with mental health and substance misuse issues. Experiencing these issues in childhood can have a serious impact on future life and can result in families being affected for generations, which is why I am so keen to tackle them.
Having taken the Well-Being of Future Generations Act through the Assembly in the last term, I am committed to ensuring its effective implementation. I am struck by the way my portfolio contributes to its principles, such as acting to prevent problems occurring or getting worse, but also to its more specific goals of a More Prosperous Wales, a Wales of Cohesive Communities and a Healthier Wales. One of my priorities is to start considering how our programmes can be delivered in a more integrated way to achieve the outcomes I want to see which will make a positive difference to people's lives and to their communities.
I am impressed by the progress which has been made since I was last responsible for housing. This includes increasing housing supply and meeting our ambitious affordable homes target, the implementation of the various elements of Housing (Wales) Act 2014, particularly homelessness prevention, improving the private rented sector, and the exit of the Housing Revenue Account Subsidy system, which allows local authorities to build council housing once again. The successful passage of the Renting Homes (Wales) Act 2016 is also notable as is the success of specific programmes such as Houses into Homes and Help to Buy and the Supporting People programme, which has demonstrated a reduction in the use of health services by people who have received its support.
Much has already been done but we all know there is much more we need to do to meet the challenges ahead. While these are the early days of this new Government, I am already considering what needs to be done to deliver against our key commitments, such as delivering 20,000 affordable homes over the next five years. Joint working with partners including RSLs, local authorities and house builders is essential, as is freeing up land sites for development for all tenures of housing.
Having started the process when I was the minister for housing and regeneration, I am particularly looking forward to introducing, in due course, a Bill to end the Right to Buy. There are also a number of major commitments that are ongoing, such as ensuring all social landlords meet the Welsh Housing Quality Standard by 2020 and maintain it thereafter. I want to see the development of sustainable, energy efficient homes which reduce fuel bills and support our low carbon agenda. Developing more integrated services with health and social services is also high on my agenda in line with our commitment to a healthier, wealthier Wales.
Much of what has already been delivered to date could not have been done without a strong partnership approach between the Welsh Government, local authorities, housing associations and other third sector organisations. I have always been impressed by the strength of joint working and I am looking to maintain it, if not develop it even further in future, extending it to health and social care.
I look forward to working with you all.