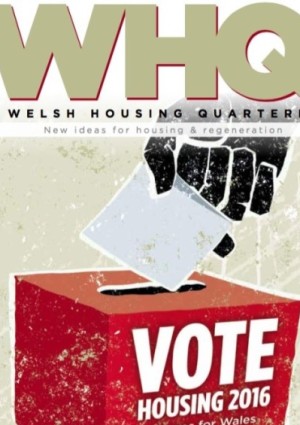 This issue of Welsh housing Quarterly reflects on what will be a crucial election year for housing in Wales – and beyond.
Our special feature on Election 2016  includes details of Homes for Wales, a joint campaign to put housing where it belongs on the political agenda plus articles by two
of housing's biggest supporters in the Assembly. Jocelyn Davies and Sandy Mewies are both standing down at this election but they have some personal reflections on what's been achieved
up to now and some advice for future AMs. Also in this issue of WHQ, Aaron Hill analyses changes to the devolution settlement that could affect our ability to make housing policy in Wales.
Whoever wins the election faces the challenge of delivering more new homes than for 20 years, according to research conducted by the late Alan Holmans.
It's not just Wales that will be electing new leaders. Scotland also goes to the polls on May 5 and housing campaigners there have already had huge success. Graeme Brown of Shelter Scotland outlines the hard work that led up to the pledge by the First Minister
to fund 50,000 affordable homes (including 35,000 for social rent) over the five years of the next parliament.
All of these elections take place
as the result of the 2015 UK General Election continues to reverberate. The Homes for Britain campaign succeeded in raising housing's profile last year but radical and divisive changes to housing policy are well underway in England
as the Conservative government puts home ownership first and sets out a path for social housing that is radically different to the one being pursued in Wales.
The context for all of that is set out by Peter Williams in an article based on his lecture at Cardiff University marking the 100th issue of WHQ. He takes the long view on housing policy from 1990 to 2040 to analyse where we've come on housing in WHQ's lifetime and where we might be going in the next 25 years.
After a vote of a different kind, one certain highlight of 2016 will be the creation of the first tenant and staff mutual in Wales. Nicola Evans explains the background to the birth of a mutual at Merthyr Valleys Homes and what will happen next.
You can find all of this plus extra news and blogs on the new WHQ website. Please go to whq.org.uk to see more.
Jules Birch
Editor, WHQ