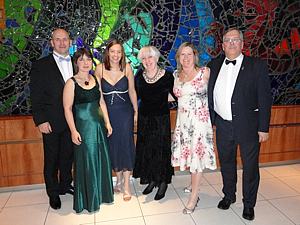 HouseMark is pleased to announce the appointment of Martin Asquith as their new manager in Wales. Martin was previously Head of Community Housing at Bron Afon Community Housing and started work with HouseMark on 4 January this year.
'Moving to HouseMark is a new challenge for me and one that I'm really excited about,' says Martin. 'I'm looking forward to working with colleagues in HouseMark and across the Housing sector so that we can share good practice and make sure that we deliver excellence and value for money services to our customers, wherever they live in Wales.'
Martin has a wealth of experience working within the housing sector, including housing management, income recovery and community development. In 2001 he joined Torfaen County Borough Council as District Housing Manager before project managing the stock transfer process. He transferred to Bron Afon in 2008. Martin enjoys watching most sports and has played rugby, football and cricket in the past.
HouseMark members' success at housing awards
HouseMark members were out in force at the CIH Cymru housing awards in Cardiff at the end of November. Their success rate was pretty high as well – over 80% of the award winners are HouseMark Cymru subscribers which is very impressive. A full list of award winners is included in the CIH Cymru feature in this issue of WHQ.
Unfortunately the unexpected snowfall stopped some of our guests from attending but those that did make it had a great time celebrating the success of the Welsh housing sector.
Picture shows from left to right: Clive Jones – RCT Homes, Elizabeth Lendering – Newydd Housing Association, Clare Robins – RCT Homes, Anne Delaney, Sarah Fox and Alan Crowder of HouseMark.
Feely groggy?
Visitors to HouseMark's stand at the CHC Conference in Cardiff last November may have spotted a new member to the team. The HouseMark Grogg was on display during the exhibition before being raffled off. The proud winner was Wallis George, Chief Executive at Tai Eryri. It's due to take pride of place in his boardroom very soon.