Greg England explains how United Welsh provides affordable housing that is sustainable for residents, the environment and the organisation.
United Welsh delivers a wide range of housing for the people of Wales managing just over 3,600 homes. Key to the organisations development work is the continued aim to build comfortable, secure and well-designed homes that people can afford to rent or buy. Sustainability is playing an important role in this development work.
United Welsh has a strong track record in environmentally friendly design. In 1999, the organisation completed a residential scheme at Dan-y-Bryn, Gilwern. The site offered the opportunity to develop a scheme to the appropriate standard to achieve the BRE – Homes for a Greener World Environmental Award. More recently, the association has looked to incorporate at least two environmentally friendly features into all new development projects. Such features include:
solar panels
sustainable urban drainage systems (SUDS)
sun pipes
highly insulated timber frame construction
Setting an objective like this has been challenging; we need to ensure that the homes that are built remain practical, cost effective and desirable now and in the future.
Silver Street
A good example of the organisations commitment to sustainable development is the Silver Street development near Cross Keys. The project was one of the Welsh Assembly Government's Social Housing Innovation Programme (SHIP) schemes. This programme seeks to develop high quality housing that exceeds the requirements of standard pattern book designs and demonstrates innovation in respect of all aspects of housing procurement. The development makes best use of brown field land and provides two and three bedroom houses and one-bedroom apartments.
Highly sustainable design and construction using simple and efficient principles have been employed in the realisation of the Silver Street development. Particular features of the construction include:
an innovative timber frame solution using a unique on-site 'micro factory' where assembly teams process materials and components to deliver the finished timber frame product cost-effectively
highly insulated 140mm stud timber stud walls, Eco-joist floors and a combination of trussed roofs and engineered timber joist roofs to form room-in-roof spaces
structural components used to their maximum efficiency to minimise waste and provide more habitable space
cost savings by design and construction efficiency which allowed funding to be allocated to provide better space standards and additional value, eg solar hot water heating, space for home working, home networking and IT installations
The design strategy for all the homes groups living spaces around a service core which includes wet areas, kitchens, circulation and services (passive ventilation, solar panels, hot and cold water distribution, heating, electrical and IT services). This core element has the potential to become a product manufactured off-site and delivered as a modular/volumetric element.
Solar panels on every home reduce energy costs for water heating by 50-80%. The solar panels are designed to pre-heat the primary hot water store adding further efficiency to an 'A' efficiency band gas condensing boiler. The heating system is highly responsive and incorporates fully programmable zoned control. These features, in conjunction with a high proportion of low energy light fittings and high performance building fabric achieve a maximum SAP rating of 116. This means that United Welsh can get improved rental income from these homes and that tenants benefit from significantly lower energy costs.
A Sustainable Drainage System is incorporated to take rain water from roofs and hard-standings to a sump, comprised of recycled construction waste, located below the parking area. Use of SUDS will minimise the environmental impact of the development and relieve pressure on existing infrastructure by preventing extreme peak flow into sewers and preventing flooding during heavy rainfall.
Sustainable development and supported housing
Sustainable development also extends to the supported housing element of the organisations work. Within the next few months, United Welsh will begin work on a state-of-the-art day centre facility for people with autism based near Caerphilly. The project is a non-grant funded scheme and will demonstrate a range of sustainable features.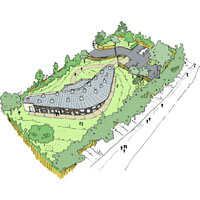 Key design elements include:
a single storey steel frame construction with a through colour render to the northern elevation
vertical strips of timber rain-screen cladding to the southern elevation
a mono-pitch roof clad with a metal, standing seam decking system, with the southern edge over-sailing the envelope to provide solar shading to the glazed elevation
wind-catchers on the roof, part of the natural ventilation strategy, which extract warm air from the rooms below, while also allowing fresh air to enter the building
This £1million project is being procured under a partnering contract and is due to start on site in October 2006 with completion expected around March 2007.
As with general needs housing, United Welsh aims to incorporate energy saving features within all supported housing developments. Such features include solar powered heating, sun pipes, triple glazing, passive ventilation and other features aimed at achieving maximum SAP ratings.
It is important that we continue to build houses that incorporate sustainable features both in the finished product and in the building process. We are determined to get the balance right between incorporating greener methods of building, offering benefits to tenants through things such as lower energy bills, and providing a service that United Welsh can continue to deliver for the long term.
Greg England is Marketing & Communications Manager at United Welsh, email [email protected]