POLICY DEVELOPMENTS IN OTHER PARTS OF THE UK
ENGLAND AND WALES
Energy efficiency plan for private rentals dropped
Prime minister Rishi Sunak scrapped plans to tighten Minimum Energy Efficiency Standards (MEES) in the private rented sector as part a retreat from measures delivering on the government's legally binding commitment to achieve net zero by 2050.
Plans went out to consultation three years ago to compel private landlords in England and Wales to bring their properties up to a minimum of Energy Performance Certificate (EPC) level C by 2025 for new tenancies and 2028 for existing ones. They already have to meet EPC E.
A delay had been widely expected but Sunak instead scrapped the measure completely on the grounds that 'some property owners would've been forced to make expensive upgrades in just two years' time'.
This was part of a wider narrative about Westminster imposing 'significant costs on working people especially those who are already struggling to make ends meet' that saw plans to phase out fossil fuel cars and boilers delayed.
However, the scrapping of MEES means that tenants will continue to pay higher energy bills for more than two million private rented homes that are currently below EPC C.
Savings on bills were estimated at £220 per household in the UK government's own impact assessment and this was conducted before energy prices soared after the invasion of Ukraine.
Landlords have criticised 'more confusion about the overall direction of travel' (see p4) while the opposition Labour party has said it will restore the measure if it wins the next general election.
ENGLAND
Parties set out their housing stall
The party conference season saw Conservative leader Rishi Sunak say next to nothing about housing and Labour leader Keir Starmer proclaim that 'we are the builders' while Lib Dem members resisted an attempt by the leadership to downgrade their target for new homes.
The only homes in the prime minister's speech were thousands of luxury apartments that will be built around Euston station to help finance the extension of HS2 to central London.
On the fringes of the conference, housing secretary Michael Gove promised that the Renters (Reform) Bill abolishing Section 21 evictions would get its second reading before the Autumn.
Keir Starmer proposed a new target for Labour of 1.5 million new homes in England is five years, which is 500,000 more than Sunak's government is likely to achieve and is strikingly similar to the Conservatives' sidelined 2019 manifesto target of 300,000 a year by the mid-2020s.
The Labour leader also announced a range of reforms to the planning system and the green belt as well as a new generation of new towns in support of a target that he said would help to restore 'the dream of home ownership'.
Deputy leader Angela Rayner promised 'the biggest boost to affordable and social housing in a generation' in her speech but this relies on making the Affordable Homes Programme more flexible and stopping developers 'wriggling out' of their obligations to build affordable homes rather than new investment.
Bid to free blocked homes fails
The Westminster government failed in an 11th-hour bid to change rules on nutrient neutrality in rivers to unblock the construction of thousands of new homes.
An amendment to the Levelling Up and Regeneration Bill as it entered its final stages in the House of Lords failed when Labour joined opposition parties and rebel Conservatives in voting against.
Opponents of the amendment accused the government of ignoring its own environmental watchdog and of seeking to instruct planning authorities to ignore evidence of pollution in rivers. Former Tory environment secretary Lord Deben called it 'one of the worst pieces of legislation I have ever seen.'
However, the Conservatives accused Labour leader Keir Starmer of 'flip-flopping from being a builder to a blocker'.
SCOTLAND
Housing Bill will set out rent controls
The Scottish Government promised to create powers for longer-term rent controls in the private rented sector as part of its New Deal for Tenants.
The new Programme for Government announced in September includes a proposed Housing Bill that will set out more details of the powers, create new tenants' rights and introduce new duties aimed at the prevention of homelessness.
Holyrood introduced a temporary rent cap and additional eviction protections in most of the rented sector during the pandemic and these extend until March 2024.
Social justice secretary Shirley-Anne Somerville also promised to work with local government and stakeholders to reduce the number of people in temporary accommodation by preventing homelessness wherever possible and, where homelessness cannot be prevented, acting quickly to move people into settled homes.
A Cladding Remediation Bill will also be introduced 'to help safeguard homeowners and residents by creating a new power to undertake urgent measures to remediate unsafe cladding that presents a risk to life'.
NORTHERN IRELAND
Cladding remediation fund opens
The Department for Communities launched a £33 million fund for the remediation of unsafe cladding on residential buildings.
The fund applies to housing blocks higher than 11 metres where a developer cannot be identified, traced or held responsible. It will be used to remediate or mitigate fire risks associated with exterior cladding.
Applications opened in August and are being processed and delivered through the Westminster government's Cladding Safety Scheme.
WELSH GOVERNMENT
Budgets cut to plug NHS and rail shortfalls
Finance minister Rebecca Evans announced a package of financial measures to mitigate 'extraordinary pressures' on the Welsh Government budget.
She had to find an extra £425 million to make up a shortfall in the Welsh NHS budget and £125 million for Transport for Wales to safeguard services for rail passengers.
In a statement to the Senedd as WHQ went to press in October she said that 'every ministerial portfolio was asked to make a contribution to meeting the pressures that we face on a cross-Government basis'. Local government Revenue Support Grant will be protected to help pay for essential services.
Around £100 million of the shortfall will come from reserves but the rest will be paid for from cuts to departmental budgets, the reprioritisation of spending and asking the UK Government to switch some capital funding to revenue funding in this financial year.
The climate change revenue budget will be increased by £82.6 million but that is within the context of the increase in rail funding and £37.7 million in capital funding will be cut.
A summary of the main changes includes £19 million in capital being released from the Empty Homes scheme via updated forecasts and deferral of activity and funding while £14.5 million will be released from regeneration budgets, which includes £13 million of income.
New WHQS published
The new version of the Welsh Housing Quality Standard (WHQS) was published at the end of October.
Following a lengthy consultation, WHQS sets out the standard that Welsh social landlords will be expected to meet for all their homes.
Decarbonisation and affordable warmth are the key focus, with landlords given more flexibility in the timescales to meet targets to improve the energy efficiency of their homes.
Minister sets out plans to end homelessness
A white paper setting out how the Welsh Government intends to end homelessness in Wales was published on World Homelessness Day in October.
Through legislative reform, the Welsh Government says the risk of homelessness will be prevented at the earliest possible stage and responsibility for identification and prevention will be shared across the Welsh public service.
The proposals are heavily based on the findings of an Independent Expert Review Panel who were asked to review existing legislation and make recommendations to the Welsh Government.
Minister marks first year of TACP
Climate change minister Julie James visited the former Cardiff Gasworks site to mark the first anniversary of the Welsh Government's Transitional Accommodation Capital Programme (TACP).
The Cardiff Gasworks site is just one project to benefit from TACP, which the minister described as a programme to help 'ensure everyone has a place to call their home'.
TACP was originally set up in Summer 2022 to quickly bring forward more good quality longer term accommodation at pace to respond to the increasing pressures on temporary accommodation, including that created by the Ukraine crisis.
In its first year, it provided £76.4 million to local authorities and registered social landlords to bring forward 936 homes.
The project on the gasworks site on Ferry Road, Cardiff aims to construct high-quality modular homes for 'meanwhile use' for over 150 families, with £16.4 million of grant funding. This is ahead of the longer-term use of the Gasworks site which will eventually be developed to provide around 600 permanent homes. The modular units will then be moved to another site.
Fears raised over new building safety regime
Wales Audit raised concerns over the implementation of changes to building control and building safety introduced following the Grenfell Tower fire.
Its report welcomed the changes but said those responsible for implementing them are not well placed to deliver them and are unable to effectively carry out their enhanced roles to ensure buildings in Wales are safe.
There remains uncertainty over how some aspects of the new Building Safety regime will be implemented, it said, with some key decisions yet to be decided on.
The report also raised concerns about staffing challenges and training in the building control and building safety profession and over the financial management of building control within some local authorities.
A Welsh Government spokesperson said: 'Reforming the current system of building control is a priority for us and we welcome the Audit Wales report. The report provides an overview of the state of local authority building control services and is not a review of the Welsh Government's building safety programme.
'We have developed a phased timetable for implementation of the Building Safety Act provisions which apply to Wales. This has been communicated widely to the industry and other stakeholders and work will begin early in 2024.'
New division heralds developments on regulation
Over the summer, Matthew Hall took over a new role as interim deputy director, Housing Strategy and Regulation at Welsh Government.
The new division will develop the data and research capacity across the directorate as well as providing strategy and legislation development support across the full range of housing and regeneration functions. Importantly, the new division also ensures a clear separation of the regulation function from grant award and funding decisions.
A profile of the new division will follow in the next edition of WHQ including some important developments around regulation as well as a preview of the strategy and legislation landscape over the coming months
Consultations
Open consultations of interest to WHQ readers include:
Heat strategy for Wales – responses by 8 November
White paper on ending homelessness in Wales – responses by 16 January
WALES
Caerphilly approves affordable homes plan
Caerphilly's cabinet approved ambitious plans to deliver 1,000 new low carbon affordable homes over the next ten years to meet increasing local need.
The plans are part of the development and governance strategy 'Building Together' that will also establish a project board to oversee the development of the development programme.
Cabinet members also approved plans for Caerphilly County Borough Council to sign up and agree to the key principles outlined in the Design Commission for Wales Placemaking Charter.
Cllr Shayne Cook, cabinet member for housing, said: 'There are currently over 6,300 households seeking housing on the Caerphilly Common Housing Register, including 320 in temporary accommodation.  There is an ever-increasing need for housing nationally and this is likely to rise further, as the cost-of-living crisis impacts more households.'
Plans for eco village revealed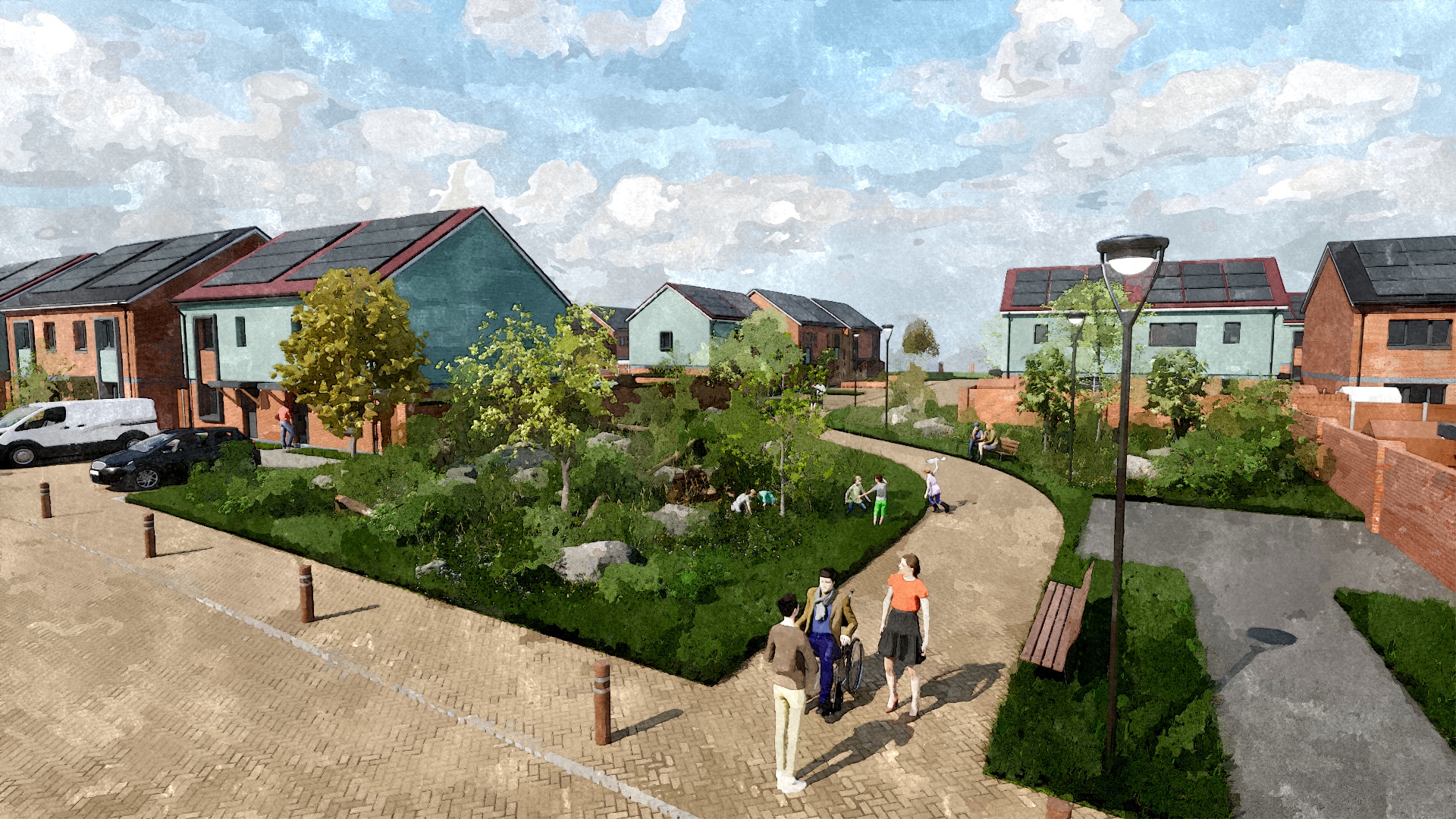 Cartrefi Conwy has given the community a sneak preview of its planned eco village of 130 low carbon homes on a site alongside Towyn Road in Pensarn, near Abergele.
The former Inter Leisure site already has planning permission for housing after it was secured by the previous owners.
Cartrefi conducted public consultation over the summer and anticipates applying for permission to amend the existing permission in the autumn.
If it's given the go-ahead by Conwy County Borough Council planners, it will be Cartrefi's biggest ever housing scheme, with the overall cost topping the £30 million mark.
The properties will be built using a modular design with the timber frames and posi-joists –  a metal web sandwiched between two timber flanges through which cables and pipes can be threaded –  being made by Cartrefi's subsidiary, Creating Enterprise, at its factory in Rhyl.
The plan includes a mix of one-, two-, three- and four-bedroom affordable homes and will help combat the severe shortage of housing in the area.
All 128 properties will be built to Passivhaus standards, with an energy efficient design so that they maintain an almost constant temperature at a very low cost.
Each of the homes will have solar panels on the roof and the properties will have electric car charging points outside as part of Cartrefi's drive towards net zero.
During construction, there will be work experience, training and job opportunities for Cartrefi tenants and local people who are currently unemployed.
Cartrefi Conwy managing director Katie Clubb, the need for the development was underlined by the fact  there are 1,942 on the waiting list for social housing in Conwy.
She said: 'This will be a landmark scheme for Cartrefi Conwy and will be our biggest ever housing development with 100 per cent affordable homes, so this is incredibly exciting.
'It has been made possible thanks to the financial support we've had from the Welsh Government to acquire the land.'
New chair for Grŵp Cynefin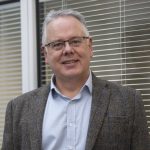 Grŵp Cynefin confirmed Tim Jones as the new chair of its management board.
He succeeded Carys Edwards, who came to the end of her three-year term as chair in September.
A Welsh speaker, who lives in Llanbedr DC, Ruthin, he is currently serving as chair of the board of management of Grŵp Cynefin's subsidiary company, Canllaw. Board of Management.
New chair and board appointments at ClwydAlyn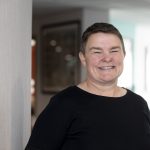 ClwydAlyn has confirmed the appointment of Cris McGuinness as its new chair of the Board and welcomed a further four new members.
Cris McGuiness is currently chief financial officer at leading English housing association Riverside and brings with her many years of senior housing experience. A KPMG trained Chartered Accountant, she has previously held positions at The Guinness Partnership, North Herefordshire Homes and Adactus Housing Group.
She officially took up the role in September, taking over from Stephen Porter who held the role for seven years and was a board member for eight.
ClwydAlyn also welcomed Sally Thomas, Bethan Smith, Tania Silva and Brian Strefford to its Board. They will each join specialist committees in people, assurance and property.
First Housing First service celebrates birthday
Wales' first Housing First service has just celebrated its 10th anniversary on Anglesey.
The Wallich launched its Anglesey Housing First service in April 2013 as what was meant to be just a 12-month pilot but it has now worked with 330 people on the island over the decade.
In July, service users, project partners and staff – past and present – were invited to an informal celebration.
Now based at Park Mount in Llangefni, over some good food, sunny outdoor space and indoor crafts, everyone came together to recognise the relationships built, homes made and lives bettered by Housing First Anglesey.
Jo Parry, Housing First service manager at The Wallich, said: 'It's been a joy to welcome familiar faces from over the years today. One of our very first clients, Alan, walked through the door and I couldn't believe it. He's still in the accommodation we helped him move into and doing really well."
Dan Roebuck, who attended the event on behalf of Isle of Anglesey County Council's housing team, said: 'Congratulations on 10 years and working through some trying times and delivering a great service, looking forward to many more years of positive outcomes.'
Over the years, Anglesey Housing First has been commended by Welsh Government ministers and members of Senedd, supported by the local community, corporate supporters such as Dunelm and ASDA, and featured in media like the North Wales Chronicle and BBC Radio 4.
Valleys to Coast marks 20th birthday with largest investment
Valleys to Coast has announced a £31.5 million investment in its 6,000 homes across Bridgend.
As it celebrates its 20th birthday, the housing association will be making what amounts to its largest ever single investment into its homes with the aim of enhancing its housing stock for its customers.
The investment will provide funds for the development and construction of new homes to increase the availability of affordable and sustainable housing options in Bridgend.
It will also pay for substantial upgrades and improvements to existing properties, to ensure they meet energy efficiency standards and needs.
Alongside this there will also be a comprehensive retrofit program, to enhance the energy efficiency of existing homes, and tailored adaptations will be made to make housing accessible and comfortable for all. Vacant properties will also be refurbished and revitalised.
Valleys to Coast was the first large-scale voluntary transfer of housing from local authorities in Wales in 2003.
Joanne Oak, group chief executive, said: 'We're thrilled to be marking our 20th anniversary by investing in improving our homes for the people who live in them.'
Upgrade starts on district heating system
Newport City Homes has appointed the award-winning firm, Vital Energi, as principal contractor to carry out the replacement programme to upgrade the pipework connecting a district heating system to more than 1,000 homes in Duffryn.
The system experienced a series of leaks in early 2023 which saw significant disruption to heating and hot water supplies. The association has now announced a substantial programme of pipe replacement work to improve performance for the local community.
PUBLICATIONS 10 TO LOOK OUT FOR
1) The right to adequate housing
Welsh Parliament Local Government and Housing Committee, July 2023
senedd.wales/media/mfmlwuqb/cr-ld15943-e.pdf
2) Cracks in the foundations – building safety in Wales
Audit Wales, August 2023
audit.wales/publication/cracks-foundations-building-safety-wales
3) Poverty in Arfon in the 21st century: modern solutions for an old problem in Wales
Bevan Foundation, August 2023
www.bevanfoundation.org/resources/poverty-in-arfon/
4) Adapting to climate change – progress in Wales
Climate Change Committee, September 2023
www.theccc.org.uk/publication/adapting-to-climate-change-progress-in-wales/
5) The missing piece: the case for a public sector master developer
Joseph Rowntree Foundation, September 2023
www.jrf.org.uk/report/missing-piece-case-public-sector-master-developer
6) Make history: ending homelessness with homes – unlocking the potential of England's empty buildings
Crisis, September 2023
www.crisis.org.uk/media/02en2gwp/crisis-make-history-ending-homelessness-with-homes.pdf
7) Why have the volume housebuilders been so profitable?
UK Collaborative Centre for Housing Evidence, September 2023
housingevidence.ac.uk/publications/why-have-the-volume-housebuilders-been-so-profitable/
8) More than money: moving towards a relational approach to retrofitting
Institute for Public Policy Research, September 2023
www.ippr.org/research/publications/more-than-money
9) The community right to buy – how housing acquisitions can regenerate left behind communities, improve standards, and decarbonise homes
New Economics Foundation, September 2023
neweconomics.org/2023/09/the-community-right-to-buy
10) Enabling locally led retrofit – reforms to scale up effective delivery
E3G, July 2023