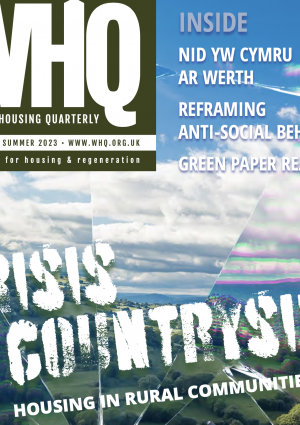 Crisis in the countryside
This issue of WHQ marks a major milestone for the magazine. I'm proud to introduce our first fully bilingual issue, available in Welsh and English in both PDF and online edition format. This is only possible because of the generous support we receive from Welsh Government as well as our subscribers, sponsors and advertisers. To download the Welsh or English edition in PDF format or to read it online, click the links above and below this editorial.
With that very much in mind, the theme of this edition is rural communities and we have a series of articles reflecting on the housing crisis in rural and coastal areas and in Welsh-speaking communities.
At a national level, we hear from climate change minister Julie James on progress so far in tackling problems caused by second homes, holiday lets and empty homes. At a local level, we have interviews with two different cabinet members for housing, Michelle Bateman and Craig ab Iago, about the scale of the housing problems that are playing out in Pembrokeshire and Gwynedd and what they are doing in response.
On the Welsh language, we have an article from Walis George, a member of Cymdeithas yr Iaith, on its campaigning for action on second homes and holiday lets and for longer-term changes to the housing system. Laura Truelove also writes for us on best practice in bilingual communications.
Rural housing enablers play a key role in identifying housing needs in rural areas. David James and Mari Wynn Tudur reflect on their work in Monmouthshire and north west Wales.
Barcud Cyf now works in Ceredigion, Powys, Pembrokeshire and Carmarthenshire following the merger between Tai Ceredigion and Mid-Wales Housing Association in 2020. We hear from chief executive Steve Jones about the importance of community consultation, mixed tenure and local allocations policies.
Finally, homelessness in rural areas throws up particular challenges. We have articles by Carin Tunåker on the key themes identified in new research in England and by Alex Osmond on the adoption of Housing First in rural and semi-rural Wales.
Elsewhere in this issue, we look in detail at green paper on housing adequacy and affordability, with views from tenants, landlords and the Back the Bill campaign. Plus we have articles by Jonathan Clode on reframing the response to anti-social behaviour, Nick Taylor-Williams on preparing for WHQS2023 and Rhea Stevens and Katie Dalton on Housing Support Grant.
We hope this first fully bilingual issue of WHQ will have something for everyone with an interest in Welsh housing. With thanks for your support now and in the future.
Jules Birch, editor, WHQ