POLICY DEVELOPMENTS IN OTHER PARTS OF THE UK
ENGLAND
Clark returns after Gove sacked
Greg Clark was appointed levelling up and housing secretary in the caretaker UK government after outgoing prime minister Boris Johnson sacked his predecessor Michael Gove.
Clark was previously communities secretary under David Cameron between 2015 and 2016 and agreed a voluntary deal with the National Housing Federation on the extension of the Right to Buy to housing association tenants in England. Although this was never implemented beyond a regional pilot scheme, it will now be back in his in-tray after being revived by the Westminster government.
Gove steered the Building Safety Act through parliament in his time as housing secretary and is credited with forcing developers to sign up to a pledge to remediate their buildings. He was sacked after calling on Johnson to resign.
The race to become successor to Johnson as prime minister and leader of the Conservative Party is already underway.
Section 21 to be scrapped
Section 21 no-fault evictions and assured shorthold tenancies will be abolished in England under plans put forward in a white paper from the UK Department for Levelling Up, Housing and Communities (DLUHC).
If enacted, the plans would reverse much of the legal framework for the private rented sector established by the Conservatives in 1988.
As recently as 2016, the Westminster government was moving in the opposite direction and planning to introduce mandatory fixed-term tenancies for all new council tenants.
That proposal was dropped in the wake of the Grenfell Tower fire and the white paper plans will also apply to social housing and see the end of probationary and demoted tenancies.
In future, all tenancies would be periodic tenancies that can be ended by the tenant with two months' notice or by the landlord only with a valid ground for possession.
However, landlords will get new mandatory grounds for possession in cases involving anti-social behaviour or persistent rent arrears or when they want to move into the property themselves.
Ministers also want to see an end to blanket bans on tenants with children or pets or who are on benefits.
SCOTLAND
New steps towards zero carbon
The Scottish Government published new regulations that will cut emissions of all new-build homes by nearly a third.
The new energy standards form part of plans to reduce emissions across Scotland's building stock by more than two thirds by 2030 and key elements include:
improved performance targets which will reduce emissions from new homes by an aggregate of 32 per cent and new non-domestic buildings by an aggregate of 20 per cent.
the introduction of a new energy target for new buildings to set and report on performance of decarbonisation as new buildings are decarbonised
a focus on reducing energy demand, including improved fabric insulation in new homes to reduce heating needs
changes to make connection to low-carbon heating solutions such as heat networks easier
The new standards, which will apply from December 2022, also support plans for all new buildings to have zero emissions heating systems from 2024.
Zero carbon buildings minister Patrick Harvie said: 'These new energy standards represent the next step in ensuring that our buildings are as energy efficient as they can be and in realising the ambitious vision we set out in our Heat in Buildings Strategy.
'From December this year, all new homes and buildings built in Scotland will be warmer, greener and cheaper to heat.'
NORTHERN IRELAND
NIFHA calls for new executive
Housing associations called for the urgent re-establishment of the Northern Ireland Executive to give them more certainty in making investment decisions.
Patrick Thompson, interim chief executive of the Northern Ireland Federation of Housing Associations (NIFHA), told its annual conference that there was 'clear frustration' about 'the stop-start political process' and that a stable government and multi-year budget were needed to help tackle housing need.
Northern Ireland has been without an executive since the Democratic Unionists withdrew in February in protest at the Northern Ireland Protocol.
WELSH GOVERNMENT
New powers to block second homes
New planning restrictions on second homes will be introduced by the end of the summer under proposals laid out by the Welsh Government and Plaid Cymru.
First minister Mark Drakeford and Plaid Cymru leader Adam Price held a joint press conference to lay out a package of measures that also includes a statutory licensing scheme for visitor accommodation and proposals to charge higher land transaction tax on second homes and holiday lets.
The package follows the commitment in the Co-operation Agreement to tackle the issue of second homes affecting communities across Wales and builds on measures already introduced to give councils discretionary power to charge higher council tax rates on second and empty homes.
Measures include:
Changes to planning regulations by the end of the summer. These will introduce three new planning use classes – a primary home, a second home and short-term holiday accommodation. Local planning authorities, where they have evidence, will be able to make amendments to the planning system to require planning permission for change of use from one class to another. Changes to national planning policy will also give local authorities the ability to control the number of second homes and holiday lets in any community.
Plans to introduce a statutory licensing scheme for all visitor accommodation, including short-term holiday lets, making it a requirement to obtain a license. This will help raise standards across the tourism industry.
Following a consultation about varying land transaction tax locally in areas with large numbers of second homes, work started in July with local authorities to develop a national framework so they can request increased land transaction tax rates for second homes and holiday lets to be applied in their local area.
Mark Drakeford said: 'Tourism is vital to our economy but having too many holiday properties and second homes, which are empty for much of the year, does not make for healthy local communities and prices people out of the local housing market.
'There is no single, simple solution to these issues. Any action we take must be fair. We do not want to create any unintended consequences, which could destabilise the wider housing market or make it harder for people to rent or buy.'
Adam Price said: 'The package of purposeful measures that have been developed as a result of the constructive cooperation between Plaid Cymru and the Government in this area will, together, begin to address the injustices in our housing system and make a real difference to people and communities right across our nation.
'The aim is to give everyone "yr hawl i fyw adra"– the ability to live and work in the communities in which they grew up.'
Extra help for soaring fuel costs
Social justice minister Jane Hutt launched a £4 million fuel voucher scheme targeted towards people with pre-payment meters and households not connected to mains gas.
The announcement came as figures show people on pre-payment meters in North Wales have been the hardest hit in the UK by rising standing charges, with costs increasing by 102 per cent.
Standing charges for people on pre-payment meters in South Wales have risen by 94 per cent – the fourth highest in Britain.
The funding will enable the Fuel Bank Foundation to introduce a national voucher scheme, providing direct support to eligible households on pre-payment meters and those not connected to the mains gas network.
Nearly 120,000 people on pre-payment meters will be eligible for approximately 49,000 vouchers to support them during the cost-of-living crisis.
Vouchers will range from £30 in summer months to £49 in winter, with households receiving up to three vouchers over a six-month period.
The £4 million will also include a Heat Fund, which will provide direct support to eligible households living off the gas grid, which are reliant on heating oil and liquid gas. This will help an estimated 2,000 households across Wales.
Jane Hutt said: 'The cost-of-living crisis is having a devastating impact on people in Wales.
'This extra help is for people on pre-payment meters and for those who are not on mains gas or electricity – both ignored by the Chancellor in his latest package.'
New fire safety support scheme launches
Leaseholders in Wales who are facing significant financial hardship over fire safety issues became eligible for a new Welsh Government support scheme from the end of June.
The Leaseholder Support Scheme, the first of its kind in the UK, provides tailored, independent advice to leaseholders in affected homes.
It will initially be targeted at leaseholders who are owner occupiers or who have become displaced residents but applications will be monitored and eligibility kept under review to ensure those who most need support have access.
All leaseholders eligible for the scheme will now receive advice from an independent financial adviser, with the costs fully covered by the Welsh Government.
The advice will support them in making the right choice for them and, if the sale of their property is the right route, the Welsh Government will enable them to sell their property at a fair market value set by an independent valuer.
Properties bought would become a new social home and either rented back to the leaseholder or rented to a household in housing need.
It is not yet clear how many leaseholders could be covered by the scheme but there is no specific financial limit within the overall fire safety support budget of £375 million over the next three years.
Climate change minister Julie James said: 'Addressing fire safety defects in medium and high-rise buildings must go beyond cladding to make these buildings as safe as they can be.
'This has been our premise from the outset and, although it makes identifying, addressing and resolving issues significantly more complex, it is the right approach.
'There are no quick or easy fixes, but we cannot compromise on achieving the right, sustainable solutions.
'Anything less leaves the door open to the risk of further issues arising and it is important to me that, once these issues are resolved, they remain resolved.
'We must do this properly, to get it right now and for the future.'
WALES
Funding boost for community-led housing
The Welsh Government has awarded £540,000 over the next three years to Cwmpas (formerly Wales Co-operative Centre) to continue its growth of the Co-operative and Community-led Housing sector in Wales. The Nationwide Foundation has also agreed to continue with its funding until 2025 with a further investment of £408,539.
The funding will help to scale up the Communities Creating Homes programme delivered by Cwmpas, which has set ambitious targets within its new five-year strategy to double the number of groups taking forward co-operative and community-led housing (CCLH) in Wales – to include 150 new low-carbon homes completed, and a development pipeline for a further 250 homes.
Climate change minister Julie James said: 'I am pleased we have been able to increase funding to the community-led housing sector and continue a joint programme with the Nationwide Foundation. Community-led housing must remain a part of the housing solution in Wales, our support for the sector is as strong now as it was ten years ago and the commitment set out in our Programme for Government reaffirms this.'
Gary Hartin, the Nationwide Foundation's programme manager, said: 'Community-led housing can be a workable alternative method for delivering genuinely affordable housing. It can create homes that local people need in the places where they want them. The conditions for this to happen are strong in Wales and by continuing to fund Communities Creating Homes, we aim to cement the sector's position as well as increasing the supply of decent, affordable homes.'
Jocelle Lovell, director of inclusive communities at Cwmpas, said: 'Co-operative and community-led housing plays an essential role alongside councils, developers and investors to create affordable homes in Wales which meet local community needs and support future generations. The funding from the Welsh Government and the Nationwide Foundation is critical to building on the excellent progress that has already been made in this area.'
Action on empties
Caerphilly County Borough Council has launched an information pack as part of a wider project to address the issue of empty properties. The 'Caerphilly – No Use Empty' pack aims to provide a resource for owners of empty properties and to signpost them to the wide range of support available to help them bring their buildings back into use.
In December 2020, the council's Cabinet gave the green light to establish a dedicated team to deal with empty properties in the county borough. The team has since developed an action plan and is building on the council's previous work in engaging with owners of empty properties and bringing them back into beneficial use. It also powers to take enforcement action in cases where residential properties are causing significant concern.
Cllr Shayne Cook, cabinet member for housing, said: 'The team is already delivering excellent outcomes in bringing empty homes back into use and, in some cases, bringing additional benefits by using them to rehouse local people who would otherwise have found themselves homeless. The information pack is an additional tool that we hope will help to engage more owners of empty properties and make them aware of the help and assistance available to them.'
'Wallpaper' heats homes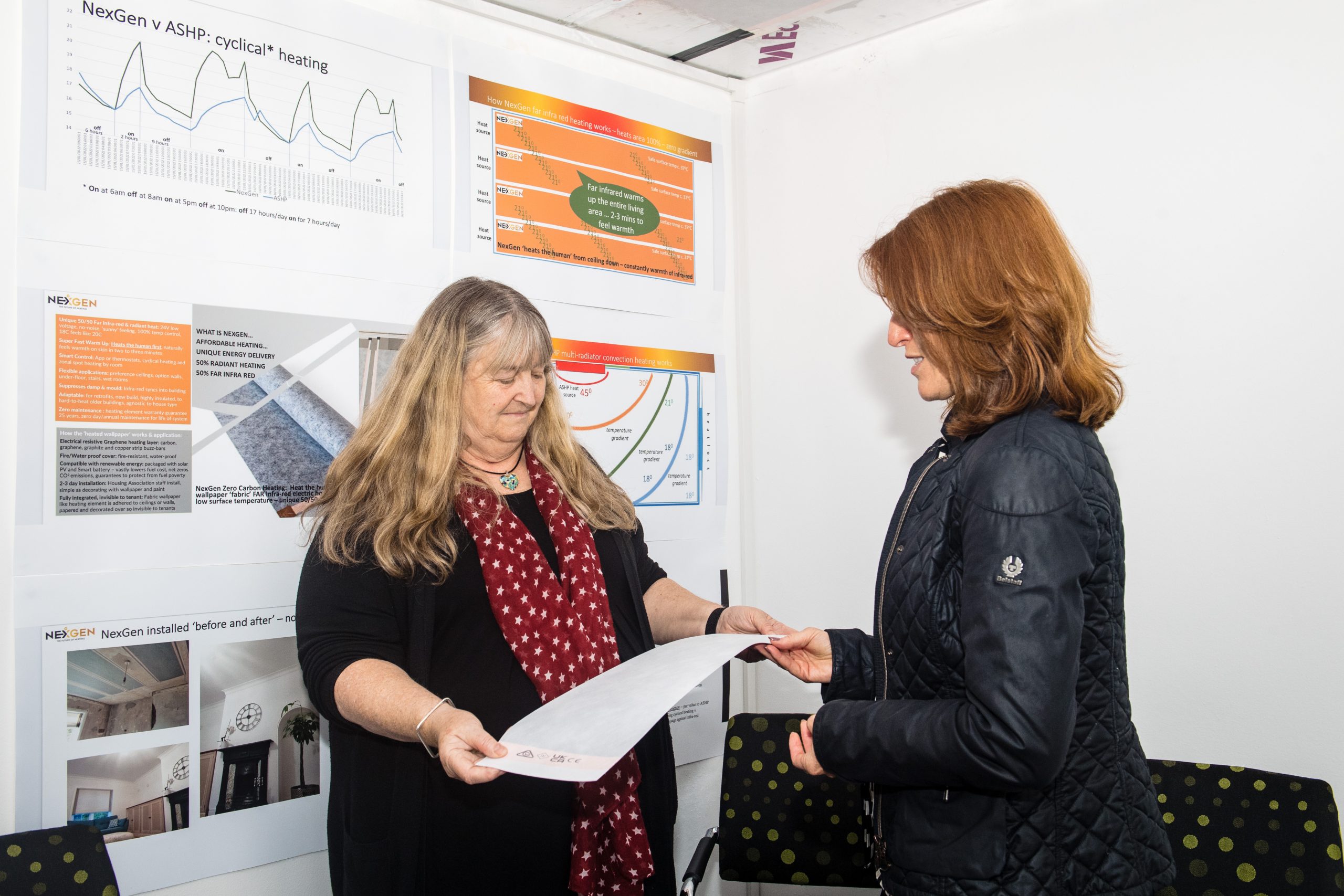 A graphene heating system that looks and feels like traditional wallpaper is one of the new technologies being trialled in social housing in Wales under the Optimised Retrofit Programme.
The system – part of a trial exploring affordable alternatives to radiators and heat pumps to keep residents warm – can be plugged into a domestic socket, and is packaged with solar panels and a smart battery, meaning it cuts emissions while vastly lowering fuel costs.
Installed on walls, ceilings or under floors, the technology is invisible to residents and provides an innovative method to warm individual rooms much more quickly, offering them the chance to manage their energy budgets more effectively.
NexGen's Graphene Infrared Heating is one of a number of innovative trials being carried out by housing association Melin Homes thanks to funding through the Welsh Government's Optimised RetroFit Programme.
On a visit to the project in Tredegar, climate change minister Julie James said: 'Just a little over a year ago, the First Minister put the environment and climate change at the heart of the Welsh Government's priorities and, as we work to build a stronger, greener and fairer Wales, I'm really excited by the prospect innovative products like these could offer in helping us achieve our ambition.'
Melin Homes has collaborated with Swansea University, which verified the performance of the technology. It is now in discussions with a range of other registered social landlords, and local authorities who have shown an interest in the trial of the radiant heat system.
The Welsh Government Department for Economy is also working with Torfaen County Borough Council and NexGen to explore opportunities for the firm to establish a manufacturing centre in the local area.
Paula Kennedy, chief executive of Melin Homes, said: 'We know we have to act now, so we have teamed up with Nexgen and our housing association peers in a bid to find alternatives to heating our homes that will be greener and cheaper for people to use.
'We will continue to work with them and trial new technologies that will help our residents, and residents throughout Wales.  We are also pleased to be a part of the inward investment in setting up a factory and look forward to seeing the opportunities that will bring to Wales.'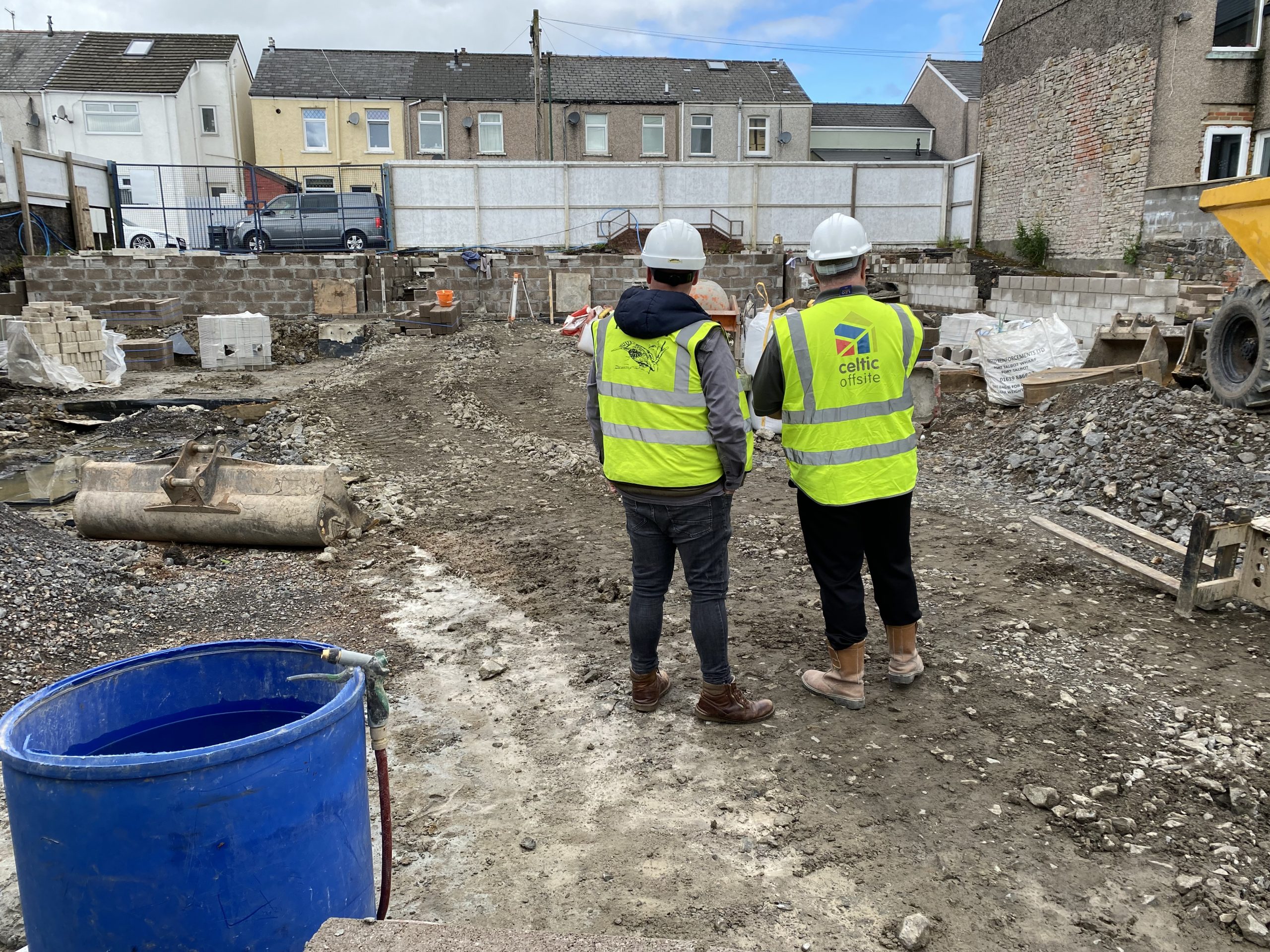 Work is underway to build new homes at the site of the former Brynmawr Clinic in Blaenau Gwent. The small, supported housing scheme will be built by Celtic Offsite, a new social enterprise within the United Welsh Group. The development will be highly insulated and energy efficient, comprising of three apartments with communal areas and a staff office on the ground floor, with a further two apartments, staff space and storage on the first floor. Celtic Offsite will manufacture the timber frame structures for the building, with fitted insulation and windows, from their new factory in Caerphilly. The homes will then be completed on site with contractor Kingfisher.
Consultation papers
Open consultations of interest to WHQ readers include:
Welsh Housing Quality Standard 2023 – responses by August 3
PUBLICATIONS 10 TO LOOK OUT FOR
1) Older people's care in social housing: a manifesto for change
Altair, June 2022
altairltd.co.uk/2022/06/22/a-manifesto-for-change-older-peoples-care-in-social-housing/
2) Offences under the Protection from Eviction Act 1977 in England and Wales
Safer Renting, June 2022
3) Net zero and the housing challenge
Building Back Britain Commission, May 2022
buildingbackbritain.com/our-research/paper-two-net-zero-and-the-housing-challenge/
4) Evidence review of home adaptations in the UK and other OECD countries
UK Collaborative Centre for Housing Evidence, May 2022
housingevidence.ac.uk/publications/evidence-review-of-home-adaptations-in-the-uk-and-other-oecd-countries/
5) Rising to the climate change challenge: the role of housing and planning within local councils
Association for Public Service Excellence and Town and Country Planning Association, May 2022
tcpa.org.uk/rising-to-the-climate-change-challenge-the-role-of-housing-and-planning-within-local-councils/
6) RentBetter, Wave 2 – Final report
RentBetter/Indigo House Group, June 2022
rentbetter.indigohousegroup.com/findings/
7) Climate crisis/housing crisis: how can social landlords reconcile safety and energy saving?
Centre for Analysis of Social Exclusion Research at LSE, March 2022
sticerd.lse.ac.uk/CASE/_NEW/PUBLICATIONS/abstract/?index=9162
8) World Cities Report 2022 – Envisaging the future of cities
UN Habitat, July 2022
9) Not heating, eating or meeting bills – managing a cost of living crisis on a low income
Joseph Rowntree Foundation, June 2022
www.jrf.org.uk/report/not-heating-eating-or-meeting-bills-managing-cost-living-crisis-low-income
20) Unlocking the door; a road map for supporting non-UK national homelessness
Homeless Link, June 2022
homeless.org.uk/news/new-report-roadmap-for-tackling-non-uk-national-homelessness