UNITED KINGDOM
Pressure mounts over benefit increases
Temporary increases in universal credit and local housing allowance rates are still due to end in April unless the UK Government commits extra funding.
The measures were conspicuously missing from a spending review unveiled by chancellor Rishi Sunak at the end of November, raising fears that vital support could be withdrawn just as the furlough scheme ends.
Mr Sunak introduced the £20 a week increase in universal credit and restoration of local housing allowance to the 30th percentile in his Budget in March 2020 for 2020/21.
The LHA increase restores housing benefit for private tenants back to the position before it was frozen for four years in 2016.
However, Spending Review background documents revealed that under current plans LHA will be frozen again from April.
The UK Government is already coming under intense pressure to extend the increase in universal credit, with footballer Marcus Rashford joining anti-poverty campaigners.
ENGLAND
Residents' voices must be heard, says Westminster
The Westminster government published plans to strengthen consumer regulation and make social landlords more accountable to tenants.
Two years on from a green paper that was a response to issues raised by the Grenfell Tower fire in 2017, the Charter for Social Housing Residents includes proposals to make it easier for tenants to complain to the housing ombudsman and introduce independent inspection of landlords.
Housing secretary Robert Jenrick said: 'We are delivering on the commitment we made to the Grenfell community that, never again, would the voices of residents go unheard. This white paper will bring transformational change for social housing residents, giving them a much stronger voice and, in doing so, re-focusing the sector on its social mission.'
SCOTLAND
Funding boost for affordable homes
Communities secretary Alieen Campbell added an additional £200 million to the affordable homes programme ahead of the Scottish Budget in January.
The interim funding available for the Affordable Housing Supply Programme in 2021-22 has been increased from £300 million to £500 million.
Ms Campbell said: 'By significantly increasing the funding able to be committed now, we are building on our record £3.5 billion commitment over this Parliament and our plans for further capital investment laid out recently in our draft Infrastructure Investment Plan. This will help the economy and the construction sector to recover from the pandemic while ensuring we maintain momentum in the delivery of social and affordable homes to those who need them.'
NORTHERN IRELAND
Minister returns and sets out her plans
Communities minister Deidre Hargey returned to her role as communities minister after a period of illness and set out her key priorities for 2021.
They include progressing the development of Casement Park in Belfast, what she described as the biggest transformational housing reform in a generation and ensuring that the social security system delivers for people most in need.
She said: 'My goals remain the same and I am committed to delivering for people and families. My department will continue to work together with key stakeholders, including grassroots organisations for a fair and inclusive society by transforming support for communities, people and places to improve lives and deliver generational change.'
PUBLICATIONS 10 TO LOOK OUT FOR
1) Poverty in Wales 2020
Joseph Rowntree Foundation, November 2020
www.jrf.org.uk/report/poverty-wales-2020
2) Transforming the valleys: a manifesto for resilience
Bevan Foundation, December 2020
www.bevanfoundation.org/publications/transforming-the-valleys-a-manifesto-for-resillience/
3) From locking up to locking down – the past, present and future of Welsh living standards
Resolution Foundation, November 2020
www.resolutionfoundation.org/publications/from-locking-down-to-levelling-up/
4) Building back better? Priorities for Reconstruction after the Coronavirus Pandemic
Wales Centre for Public Policy, November 2020
www.wcpp.org.uk/publication/building-back-better-priorities-for-reconstruction-after-the-coronavirus-pandemic/
5) The impact of COVID-19 on people facing homelessness and service provision across Great Britain
Crisis, November 2020
www.crisis.org.uk/ending-homelessness/homelessness-knowledge-hub/services-and-interventions/the-impact-of-covid-19-on-people-facing-homelessness-and-service-provision-across-great-britain-2020/
6) Delivering design value: The housing design quality conundrum
UK Collaborative Centre for Housing Evidence, December 2020
housingevidence.ac.uk/publications/delivering-design-value-the-housing-design-quality-conundrum/
7) Thinking outside the box – exploring innovations in affordable home ownership
UK Collaborative Centre for Housing Evidence, November 2020
housingevidence.ac.uk/publications/thinking-outside-the-box-publication/
8) Housing with Pride –  A knowledge exchange project to increase LGBTQ+  resident inclusivity in the social housing sector
UK Collaborative Centre for Housing Evidence, November 2020
housingevidence.ac.uk/publications/housing-with-pride
9) Journeys in the shadow private rented sector
Safer Renting/Cambridge House, September 2020
10) A sector together – the social housing sector and Covid-19
HACT, December 2020
WELSH GOVERNMENT
Draft Budget boost for social housing
Investment in affordable and social housing will grow to £200 million next year, stimulating jobs and training while providing 3,500 additional new homes, according to plans unveiled by finance minister Rebecca Evans..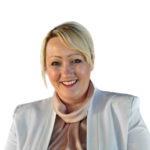 The plans are part of a draft Welsh Budget she says will protect the economy, build a greener future and create change for a more equal future. The detailed plans show that there will be an extra £36.8 million for social housing and an extra £40 million for the Housing Support Grant in 2021/22.
Social housing investment will be supported by a 1 per cent increase in the higher residential rates of Land Transaction Tax. Raising £13 million, Ms Evans said this would mean moderately higher taxes paid on the purchase of additional properties, such as second homes and buy to let investments, will support new social housing and jobs to help Wales recover.
A targeted tax reduction will also help businesses recovering from the worst of the pandemic. Most businesses purchasing non-residential properties costing less than £225,000 won't pay any Land Transaction Tax, as the threshold is raised by 50 per cent. Together these changes will generate around £13 million per year for investment in social housing priorities.
Homelessness Prevention Grant will rise by £4 million to £21.9 million in 2021/22 while the £40 million increase in Housing Support Grant is presented as building on temporary measures during the pandemic to 'deliver transformational change to achieve our aim of preventing homelessness'.
There is also extra money for building safety, with Welsh Government saying: 'We remain clearly of the view that individual leaseholders should not have to pay for defects and deficiencies in build quality where there is a clear failure to build to standards, and we will continue to press developers to meet their moral obligations and remediate these buildings.'
This will amount to £32 million in 2021/22 (£20 million general capital and £12 million financial transactions capital) to help address building safety concerns. The draft Budget says 'this investment will provide a solid foundation through remediating building defects, and supporting the installation of sprinklers and evacuation alert systems in a number of affected high rise buildings'.
White paper sets out building safety plans
Housing Minister Julie James set out extensive reforms she said would give Wales the most comprehensive building safety regime in the UK and provide residents with a stronger voice.
Proposals in the Building Safety White Paper cover all multi-occupied residential buildings, from a house converted into two flats, to a high-rise apartment block.
The White Paper sets out major reforms to the way we design, build, manage and live in properties so that safety is observed at all stage of a building's lifecycle, whilst proposing clear lines of accountability for building owners and managers as well as a stronger regulatory system.
It also includes:
Clear lines of accountability, creating dutyholders with the appropriate knowledge and expertise, who will be legally responsible for safety and reducing fire risk throughout the lifecycle of the building
An enhanced programme of checks during construction to support evidence of compliance
The creation of two risk categories, with a 'Golden Thread' of up to date information about design, construction and ongoing maintenance required for all buildings of 18 metres or over
A duty for building to contain the capacity to contain a fire where it originates for long enough to allow it to be extinguished.
A wholly new means for identifying and reducing risks of fire in blocks of flats. This will be easier for landlords and others to understand and apply, and more effective in reducing risks to residents
A process for residents to raise building safety concerns
A single process for escalating concerns to the regulator.
Julie James said:
'In the wake of the tragedy at Grenfell Tower, the Welsh Government has already taken action to make buildings safer for residents.
'It's always been clear, however, that far more fundamental changes were needed to improve building safety in the round.
'These proposals, if passed into law in the next Senedd term, will create a new and much improved regime which puts the safety of residents first.'
New chair for Regulatory Board
Housing minister Julie James appointed Deep Sagar as the new independent chair of the Regulatory Board for Wales (RBW) from the start of January.
This follows an open public appointment process in accordance with the Governance Code on Public Appointments.
The Regulatory Board for Wales advises the Welsh Government on housing policy and regulation and examines the regulatory performance and activity of the Welsh Government and registered social landlords.
As the new chair Deep Sagar will provide leadership and strategic direction to the board, act as a spokesperson for the RBW and provide advice to the Minister on the health and performance of the housing association sector.
Consultation papers
Open consultations of interest to WHQ readers include:
Building Regulations Part L and F Review – Stage 2A
Responses by February 17
Housing Revenue Account Manual
Responses by February 22.
Building safety white paper
Responses by April 12
Consultations are available at gov.wales/consultations
WALES
Call to address flooring in new lets
Social landlords in Wales are being urged to tackle the lack of flooring provision in newly-let accommodation following new research into its impact on tenants.
Currently, it is common practice for landlords to let accommodation without providing furnishings, including carpets or alternative floor coverings.
However, research undertaken jointly by TPAS Cymru and Tai Pawb reveals the impact on tenants of living without flooring.
The report, 'FLOORED', addresses issues such as a lack of warmth, safety and sound in their homes, health issues including breathing difficulties and depression. Responses from tenants with children highlighted safety issues with hard concrete or wooden flooring – including splinters – and an increase in loneliness and isolation in not feeling able to invite friends to visit.
Elizabeth Taylor, policy and engagement officer at TPAS Cymru, said: 'Social housing aims to provide safe and affordable homes for people on low incomes, yet standard practice is to hand over homes with concrete floors and problematic floorboards. This often leads to people on low income being driven to take out high interest loans to cover the costs on something as basic as flooring; something that most of us take for granted.'
Partnership delivers independent living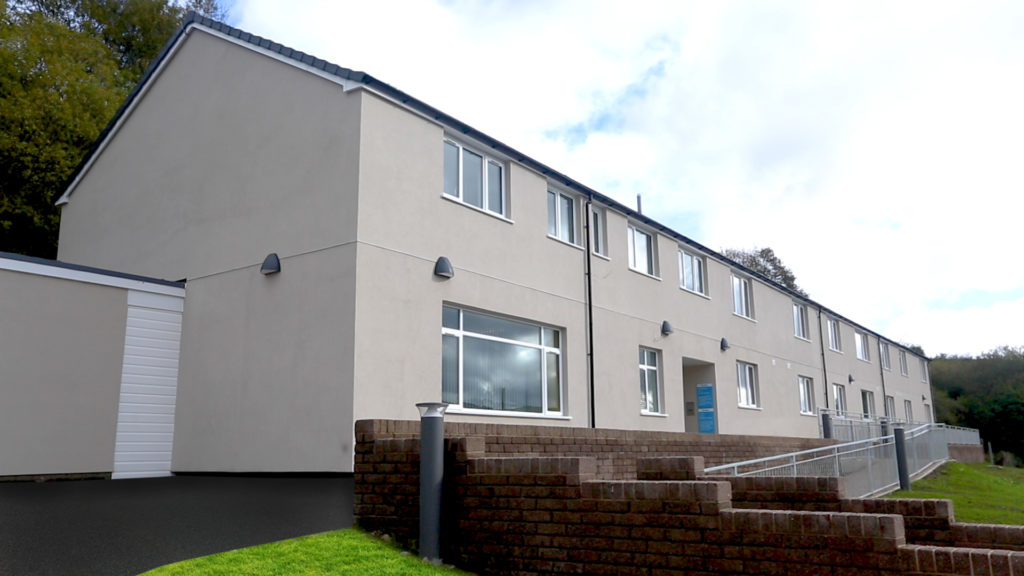 Regeneration of an empty building in Treorchy will soon provide much-needed independent living for adults with learning disabilities.
Trivallis has worked in partnership with Rhondda Cynon Taf Council and contractor R&M Williams, to create 12 one-bed flats as part of the £1.5 million Crown Avenue investment.
The council, Trivallis and Cartrefi Cymru will jointly manage the placement of individuals into the accommodation through a robust and reliable assessment process – which engages individuals, families and professionals to ensure the best and most appropriate outcomes are achieved.
They will continue to receive support from the council and Trivallis, while Cartrefi Cymru will provide the commissioned care and support.
Tenants move in to new homes in Barry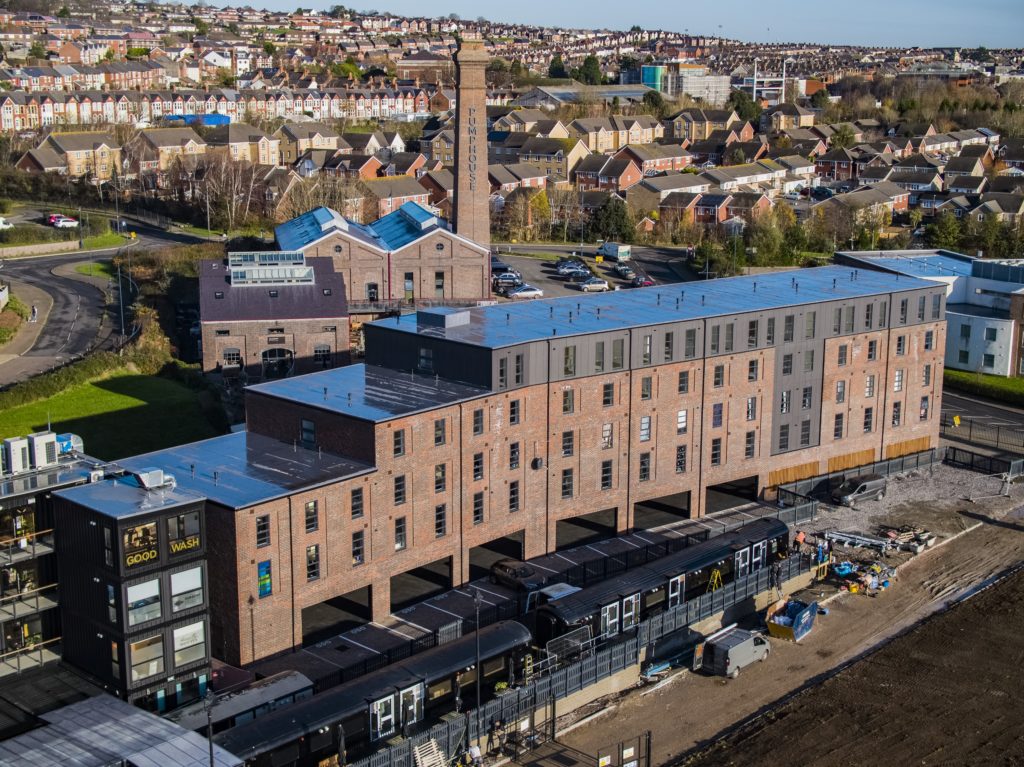 The first Newydd Housing Association tenants moved in to new flats at the award-winning Goodsheds regeneration project in Barry in December, just 21 months after planning permission was received from the Vale of Glamorgan Council.
The 24 social rented and 18 market rented one and two bedroom flats were built by Jehu Group as part of a project that celebrated double success at this year's Ystadau Cymru 2020 Awards, gaining the overall 'winner of winners' award.
Delivered in partnership with DS Properties (Goodsheds) Ltd and the Vale of Glamorgan Council, the development is one of three Newydd schemes that has received Welsh Government Innovative Housing Programme funding.
MHA appoints non-execs to board
Monmouthshire Housing Association (MHA) has announced the appointment of four non-executive directors (NED's) to its Board, bringing experience from the public and private sectors.
Hannah Vickers is CEO for the Association for Consultancy and Engineering Group (ACE) and is a civil engineer focused on infrastructure, major projects and the built environment.
Cael Sendell-Price currently works for Buckinghamshire Council as head of strategic procurement, supporting a procured annual budget of over £460 million.
John Miller has an extensive ICT career spanning multiple industries including pharmaceutical, education, software development, consulting engineering and oil and gas.
Alan Soper has held numerous senior positions across the transport, waste, facilities management and property management sectors. His last post was managing director of Ian Williams.