Change is happening and local people are leading the way. Casey Edwards reports on inspirational thinking that emerged from an online festival of community-led housing.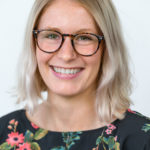 2020 was a tough year. People lost loved ones, businesses lost everything, communities are fighting to survive. Despite all the trauma, one thing is clear, we are resilient, resourceful, and can make change happen overnight.
Empowering and enabling communities is a key feature of the Communities Creating Homes programme. We work with local groups, community organisations and key housing stakeholders to develop community-led approaches to housing. We work with a range of projects. From small groups developing low impact living units and friends buying property to share, right through to community organisations taking on large assets and housing associations developing in partnership with the community. It's not about us providing these community-led homes, it is about local people having a leading and lasting role in creating homes that they can afford and that suits their needs.
More than housing
The groups and organisations that we work with have proposals to deliver 290 affordable homes across Wales. These will come in a variety of forms: housing co-operatives, cohousing, self-build, community land trusts, plus many more. Recently, more and more groups are coming to us with a desire to not only provide homes, but to also improve the places in which they live and build community resilience. They want to develop community hubs, provide space for start-up enterprises, bring redundant buildings back into use or transform entire high streets. Community-led housing is so much more than just housing.
How many times have we heard that the high street is dead, or an estate needs regenerating, or of the closure of more services and facilities in rural communities? Too many I'm sure, and yet the same approaches are often applied. As the old saying goes, doing the same thing over and over again won't change the results. It's time for a different approach. Let's work with local people to create their own sustainable and resilient communities. Our community-led housing groups, along with others I'm sure, are ready and willing to take action to bring life back to their communities.
In September 2020 we held our very first CLH Fest. An online festival over three days to talk about all things community-led housing, with a particular emphasis on its role in regenerating communities and spaces. We wanted to show the power of community-led organisations that are taking over assets, transforming their high streets, creating housing, and bringing life back to their rural communities.
During the three-day virtual festival we were joined by a range of speakers from across the UK, each one a champion for community-led approaches. From community improvement districts in Scotland and community organising in Hastings, to asset transfers in the Valleys and shopping locally in Ceredigion. One thing was clear, change is happening, and local people are leading the way.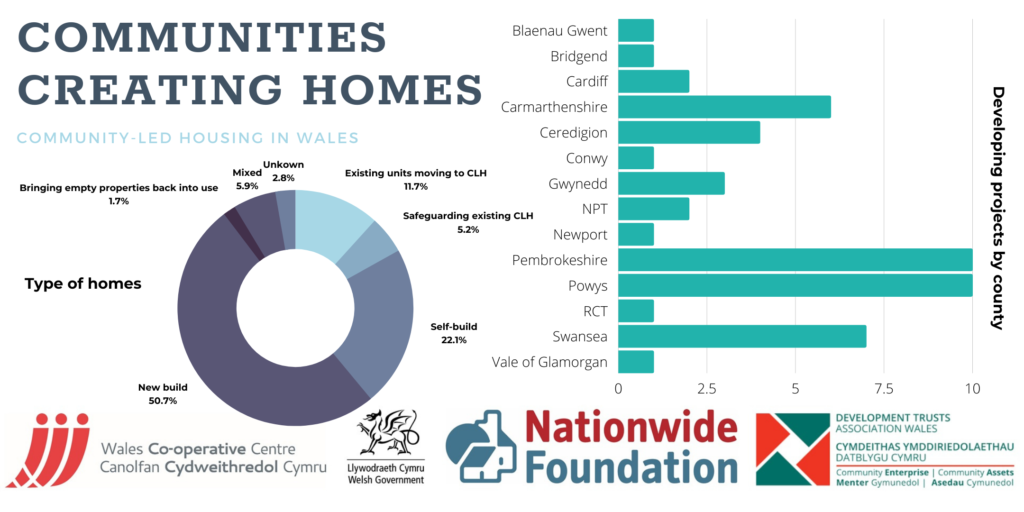 Five top takeaways from CLHFest20
Bottom-up is best
Traditional community regeneration has been about physical improvements, led by the 'professionals' with little input from the community. But people are connected to places. Residents should have the opportunity to voice how they want to see their community reimagined. We heard from the Heart of Hastings Community Land Trust. It has used community organising techniques to work with local people to deliver several projects in Hastings, including affordable housing, creative spaces, and workspace. It's down to the community to come up with the solutions to problems in their areas and organise themselves to make it happen.
Creativity is key
Never underestimate the power of the arts and creative industries. The Midsteeple Quarter project, a large-scale regeneration project led by the community in Dumfries, was initiated by a group of artists who took over a shop in the heart of the town. They used this space to encourage local people to come and talk about the future of the town in a creative way. Gradually a consensus was decided on and a vision formed. They are now in the process of talking over an entire high street and transforming it into affordable housing, business and retail units, co-working and community space.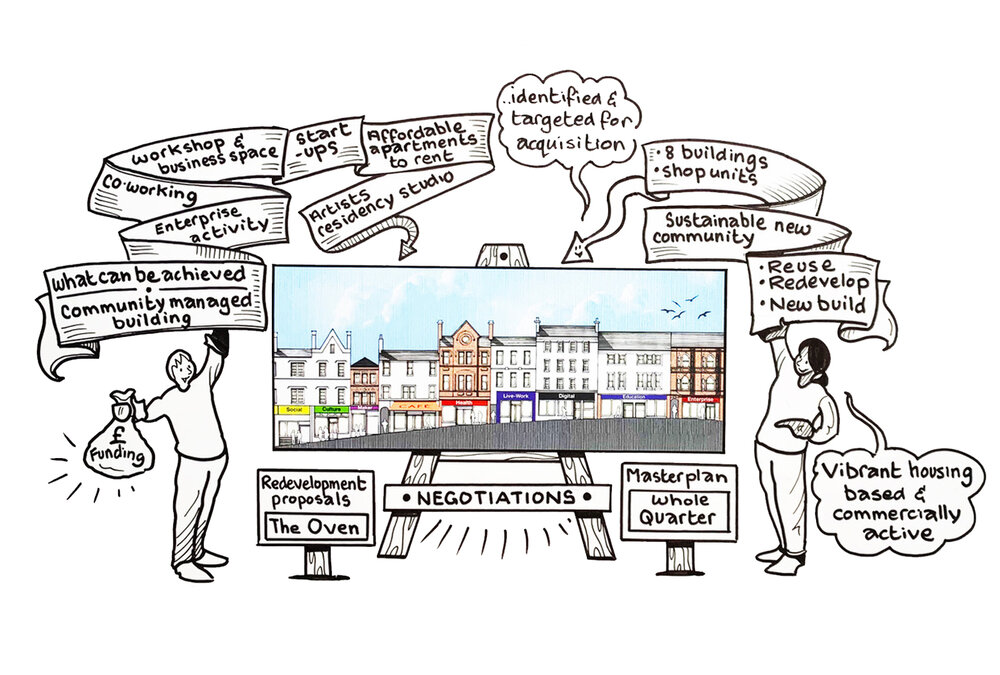 Collaboration, co-operation, and communication
I'm sure that we've all heard of a BID (Business Improvement Districts if not), and while there are some really great examples of successful BIDs in Wales, others haven't quite taken off, but do they just have to be for businesses? We heard about Community Improvement Districts (CIDs) in Scotland that work under the same legislation as BIDs, but includes local business, community anchor organisations and local people that develop and deliver a vision for the area and lobby for change. Is there room for CIDs in Wales?
Housing is integral
Housing is integral to the resilience and sustainability of communities, particularly rural communities. Without enough good quality, affordable homes in the right places, you don't have the people to have a pint in the local, coach the local football team, open the community shop. Housing is the glue in the foundational economy.
Don't panic
High streets aren't dead, communities aren't deprived, and rural villages are not unsustainable. They are changing, diversifying, transforming. This won't happen overnight, but there needs to be a shift on who leads this change.
You can watch all the webinars from CLHFest20 via our Communities Creating Homes Youtube channel.
We want to see a shift of power in Wales, more power to communities and local people to choose what happens in their area. We want to continue the positive conversations that were started at CLH Fest, particularly with those that feel that they can support and develop these approaches with the communities that they serve. It's not just about handing over responsibility to communities to deliver homes and services, but it is about developing a collaborative approach. Community power is not about dismissing the voices of those in institutional positions, but it is about putting the community at the head of the table and working in partnership to deliver change that meets the needs of the local people.
Are you ready to help unlock this community leadership and put local people at the heart of the debate about the future of their area? We want to see community anchor organisations, housing associations, local authorities, voluntary and third sector bodies having these conversations with their communities and supporting them to develop community-led initiatives to improve their area. Let's bring people together to shape their future.
To follow the stories of local people across Wales delivering housing and more, led by and for the community sign up to our newsletter via [email protected].
While the pandemic has caused a lot of despair it has also brought with it some positives. For me working from home has allowed me the opportunity to 'go to' events that I would usually never have been able to make and 'meet' people that I would not usually get to. I've had the chance to explore the role of communities in regenerating the places in which they live and spoken with a number of key stakeholders working in this field across Wales and the UK. I've been pleased to see that so much is happening, and there seems to be a universal voice in Wales that is crying out for greater community leadership and a desire to support and help communities to take control of what happens in their areas.
The other positive of the year was seeing how communities have united to provide support to those that needed it most, delivering food, checking in on neighbours, setting up WhatsApp groups and buying local. It proved that communities don't need traditional institutions to set up these initiatives. They have the capacity and capability to make change happen overnight. For me, it has becoming increasingly clear that, in a post-Covid world, that the time has come for community-led approaches, for housing, for regeneration, for change.
For more information on the Communities Creating Homes programme, get in touch via [email protected].
Casey Edwards is community-led housing project advisor at Wales Co-operative Centre