POLICY DEVELOPMENTS IN OTHER PARTS OF THE UK
Thousands more hit by benefit cap
An ominous surge in households subject to the benefit cap sent warning signals about the impact of Coronavirus on renters.
Figures published by the Department for Work and Pensions in August showed that the number of capped households almost doubled between February and May to 154,.000.
But the number of families capped for the first time rose by an incredible 500 per cent from 14,000 to 84,000.
Westminster has so far resisted demands to increase the cap.
ENGLAND & WALES
Four-week extension to evictions ban
The evictions ban in England and Wales was extended by four weeks to September 20 following discussions between Westminster housing secretary Robert Jenrick and the judiciary.
The announcement was made two days before the ban was due to end on August 23 and also included for England only a six-month notice period for all evictions except those involving anti-social behaviour, domestic abuse and more than six months' of arrears until at least the end of March.
ENGLAND
White paper proposes radical planning shake-up
England's 'outdated' planning system will be overhauled to deliver more new homes while providing a 'fast track to beauty'.
The government in Westminster believes that the planning system takes too long and is too complex to deliver the homes the country need.
A white paper published in August proposes a new zonal system in which land will be designated for growth or renewal, with development speeded up, or protection, for areas like the Green Belt.
The plans also involve a new Infrastructure Fund that would combine Section 106 contributions to affordable housing and the Community Infrastructure Levy.
And, in a separate announcement, First Homes will be available for sale to key workers and first-time buyers at a 30 per cent discount. This will be funded from planning contributions with the discount remaining in perpetuity.
Sunak finds billions for home owners
Chancellor Rishi Sunak used his Summer Statement to cut stamp duty and introduce a new grant for energy efficiency work in a boost for the housing market and construction industry.
The starting rate for stamp duty was increased from £125,000 to £500,000 at a cost of £3.8 billion, in a move the Treasury says will generate additional spending by buyers.
The £2 billion Green Homes Grant will fund two thirds of the cost of energy efficiency work of up to £5,000 for most home owners and landlords and all of the cost up to £10,000 for low-income owners.
SCOTLAND
Holyrood acts on evictions and housing market
Coronavirus measures introduced by the Scottish Government included extensions of the evictions ban and Help to Buy and a cut in Land and Buildings Transaction Tax (LBTT).
The ban on evictions of private and social renters had been due to end in September but, in a move welcomed by housing campaigners, it will now run until March 2021.
Equity loans via Help to Buy (Scotland) will now be available for another 12 months, with the scheme running to March 2022.
The cut in LBTT followed the cut in stamp duty in England but the consequential funding will be used differently in Scotland.
The threshold at which LBTT starts to be paid rose from £145,000 to £250,000 from July and will remain in place until the end of March 2021.
At the same time the Scottish Government injected an extra £50m into its First Home Fund, which provides first-time buyers with up to £25,000 to buy a property.
NORTHERN IRELAND
Evictions ban extended
Stormont followed Scotland's lead and extended the evictions ban in Northern Ireland by six months to the end of March 2021.
The Private Tenancies (Coronavirus Modifications) Act requires landlords to give tenants a 12-week notice to quit period before seeking a court order to begin proceedings to evict and therefore reduce the possibility of tenants in the private rented sector becoming homeless.
WELSH GOVERNMENT
£40m for phase 2 homelessness work
Housing minister Julie James confirmed funding of up to £50 million to support projects to keep people in their homes during the pandemic and end homelessness.
In a statement in August, she allocated £40 million for phase 2 of the work to follow the initial £10 million for phase 1 announced in March.
Phase 2 focuses on a longer term approach to transform services, innovate and build accommodation, with the ambition of ensuring everyone who was provided with emergency accommodation during the pandemic has a clear route to permanent housing and providing high quality accommodation for those who are threatened with homelessness in the future.
Other elements of the support package include £1.4 million for debt advice and a new Tenant Saver Loan Scheme offering help for tenants who were not in significant rent arrears before March.
• See Julie James interview, pp14-17
Tax cut for home buyers comes with extra funding for social housing
Finance minister Rebecca Evans announced a cut in Land Transaction Tax and an increase in funding for social housing in the Welsh version of the cut in stamp duty in England.
The starting threshold for land transaction tax will increase from £180,000 to £250,000 for the residential main rates when from Monday 27 July to March 31, 2021.
Unlike in England, the tax cut will not apply to purchases on additional properties including buy to let and second homes.
And savings made by these differences will release £30m of extra funding to support construction of new social housing.
New fund to decarbonise existing social homes
A new programme worth up to £9.5 million will fund energy efficiency measures on up to 1,000 existing homes owned by housing associations and local authorities.
The Optimised Retrofit Programme is part of the Innovative Housing Programme and will test different approaches to reaching the goal of carbon neutrality.
The scheme was announced by housing minister Julie James on a visit to Craig Cefn Parc in Swansea, where the council is improving six 1970s bungalows.
Minister backs plan to tackle asylum seeker destitution
The Nation of Sanctuary Plan should be promoted across the housing and homelessness sectors to improve support for people with No Recourse to Public Funds, recommends a feasibility study for Welsh Government.
The plan was launched in January 2019 to mitigate destitution amongst asylum seekers. No Recourse to Public Funds means people who cannot access mainstream housing or benefits because of their immigration status.
The report says the plan provides a framework and rallying call for action in Wales but is not widely known outside asylum and refugee agencies. However, housing associations and church networks expressed their commitment to supporting its objectives.
It calls for a two-year plan starting in 2020/21 to create more bedspaces, developing existing capacity in Cardiff and Swansea and new provision in Newport and Wrexham.
And there should be support for existing shared housing provision and development of new provision for refused asylum seekers. This should be for both refused asylum seekers and refugees in housing who are able to pay rent.
Provision should include robust safeguarding arrangements and effective links to immigration advice and representation.
While seeking to influence Home Office policies, Welsh Government should also estbalish effective cross- sector partnership working and mutual accountability for coordination and effective use of resources to increase the number of bedspaces.
Deputy minister and chief whip Jane Hutt said that the plight of people with No Recourse to Public Funds had been further highlighted during the Covid-19 pandemic and Welsh Government had encouraged local authorities to provide accommodation to anyone who needed it, regardless of immigration status.
She said: 'We intend to implement each of these recommendations, to continue our work towards becoming a Nation of Sanctuary.'
Providing Accommodation Services for Refused Asylum Seekers in Wales by Heather Petch and Tamsin Stirling
is available at gov.wales/sites/default/ files/publications/2020-08/feasibility- study.pdf
Consultation papers
Open consultations of interest to WHQ readers include:
Mandatory quality standards for new homes – responses by November 1
WALES
A first for Housing First
A scheme in Conwy and Denbighshire became the first to achieve Housing First Wales accreditation.
Conwy and Denbighshire Housing First across the two counties, which work in strong partnership to deliver the right support to people who need it, wherever they happen to be.
The internationally acclaimed Housing First model, praised for its effectiveness, has become a focus
of Welsh Government homelessness policy over the past few years, with 'trailblazer' funding leading to the establishment of several Housing First schemes across Wales.
Housing First is a recovery- oriented approach that moves people experiencing homelessness into independent, permanent housing
as quickly as possible – rather than waiting for them to be 'housing ready'.
Central to the success of the model is maintaining fidelity to the Housing First principles, which have been developed internationally and adapted specifically for the Welsh context.
As a result, Cymorth Cymru, which runs the Housing First Network in
Wales, has developed the UK's first accreditation process. Funded by the Welsh Government, this consists of a robust, in-depth process, including a thorough review of the scheme's policies and interviews with staff, Housing First tenants and other stakeholders. The findings are considered by a panel of independent experts who decide whether to award the accreditation.
John Puzey set to retire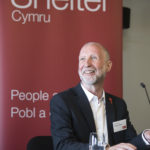 John Puzey will stand down as the director of Shelter Cymru this Autumn after 30 years at the helm of the housing and homelessness charity.
John came to what was then Welsh Housing Aid with a vision to ensure that everyone in Wales would have access to housing advice. From early beginnings in the 80s with advice surgeries in five local authority areas, he will leave Shelter Cymru providing all-Wales coverage of housing advice, advising and supporting some 20,000 people a year.
Leading the tributes, Shayne Hembrow, chair of Shelter Cymru, said: 'John's passion for reducing homelessness, for the right to a decent, affordable and secure home and for pushing housing to the top of the political agenda has been second to none. His leadership and commitment have made Shelter Cymru a crucial player in the housing sector. He leaves an impressive legacy'.
Mark Drakeford, First Minister of Wales, said: 'I have known John over thirty years, and in all that time he has been a tireless campaigner for the rights of people to decent accommodation. Under his leadership Shelter Cymru has become a hugely respected and highly effective organisation. It has been a privilege to have worked with him.'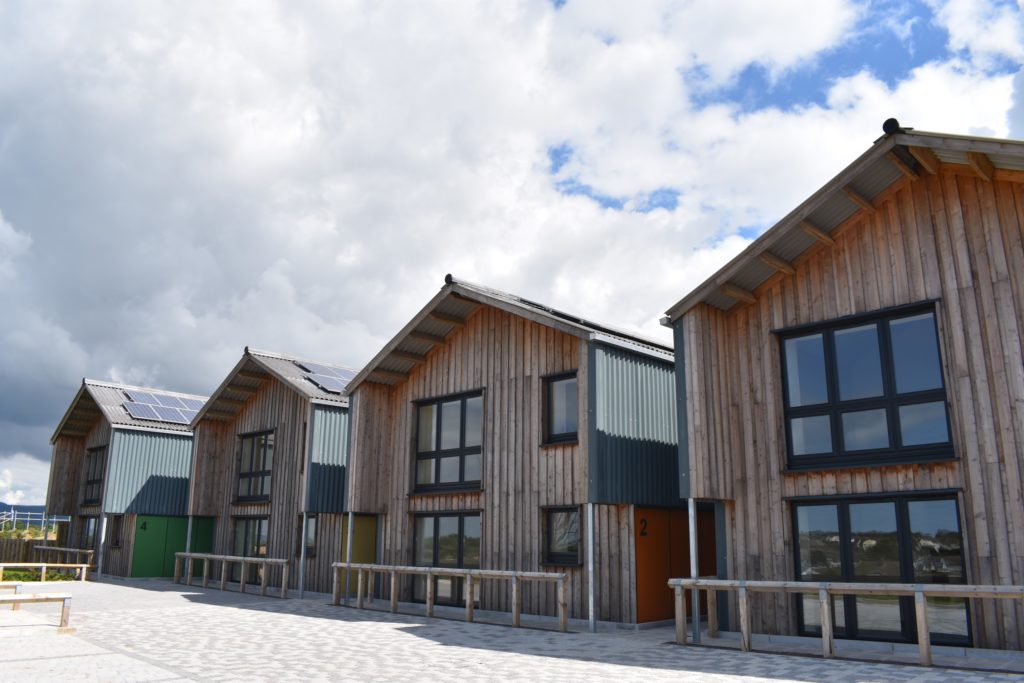 The first Valleys to Coast tenants have moved into four brand new low-carbon homes whose innovative design won the Grand Designs' Self-Build on a Shoestring competition.
Valleys to Coast partnered with pentan Architects, who designed the concept, to deliver the new 'Barnhaus' properties in north Cornelly in Bridgend, having been awarded the funding to help build them as part of the innovative Housing programme.
Constructed with a combination of steel and timber frames which can be erected in a single day, the new 'Ski lodge-style' properties also use straw bales and recycled materials for insulation, as well as using roof-mounted solar panels to reduce electrical usage.