Reducing rough sleeping in the short term is not enough, says Jon Sparkes. Now we have to focus on providing homes and helping people stay in those homes.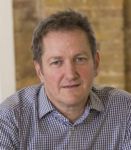 Over recent months extraordinary work during the lockdown has moved more than 2,200 people in Wales who were sleeping on our streets or in accommodation with shared facilities from immediate risk and into safe emergency accommodation. In no small part this was thanks to many staff and volunteers in frontline services, working long hours in intense situations, and putting all they had into keeping people sleeping rough and those in inadequate temporary accommodation safe.
We've also heard so many good examples of networks and partnerships coming together. I've also been impressed at the Welsh Government's decisive and proactive leadership, setting clear outcomes with funding attached. Of course, there will be a chance to review how things have gone but we're surely in a better place than before with thousands of people moving away from the street or inadequate accommodation.
We cannot go back to the Wales that existed before the pandemic. With further Coronavirus waves possible, and the economic impact still to be fully felt, more people could become homeless and more pushed to the brink by the pressures building up in their lives. The human cost would be devastating if this were allowed to happen. That's why Welsh Government and partners need to work together again to agree the steps needed to prevent the recession resulting in an increase in homelessness.
The Homelessness Action Group that I chaired spoke to hundreds of people in frontline roles and people with lived experience of homelessness in the months leading up to the pandemic, and there was firm consensus for change. Having got through the initial pandemic response we must not let down the staff and volunteers in services or people experiencing homelessness. Making change will need leadership from government and, crucially, a plan that we can all deliver together. Such a plan should also draw on the work of the Action Group, which considered all aspects of ending homelessness in Wales.
There is cross-party political agreement about what needs to happen next. The minister for housing and local government, Julie James, committed to coming up with a plan to deliver the Action Group's recommendations. Plaid Cymru has adopted a manifesto commitment to have a plan to end homelessness. And the Welsh Conservatives have a ten-point plan to tackle homelessness in Wales, based on housing as a basic human right. With such political consensus and leadership there is a real opportunity to tackle and end homelessness for good.
When the minister invited me to chair the Action Group the questions that she asked showed she was ambitious and the timescale for the work showed the pace needed. Now, with the evidence the Action Group has put together – from research, the experiences of people working and living in the face of homelessness, and on what policies work – there is a vision that we can work to deliver.
The Action Group's report in March 2020 showed how homelessness in its many forms could be made rare, brief and non-recurrent in Wales if we take the right steps in partnership. Making homelessness rare means preventing it, if possible. Making homelessness brief and non-recurrent is about responding quickly when homelessness cannot be prevented but ending it so that homelessness is only a one-off experience. Homelessness is not inevitable; we know what needs to be done to prevent it, and we know what needs to be done to end it.
We're at risk of a public health crisis turning into an economic one, which will be felt widely but with those more exposed feeling greater pressure and risk of homelessness. The Welsh Government has taken targeted steps to identify and help some groups, such as renters facing eviction. The Action Group recommendations show how the Welsh Government can go further to ensure that homelessness is rarer, further targeted help for anyone at risk, and a crisis safety net.
Immediate decisions are needed so that people have somewhere safe to stay temporarily. But the only way to make homelessness brief and non-recurring is to provide enough permanent homes and adequate support to help people keep their home. The Welsh Government's phase 2 work mentions the need to change how we support people experiencing homelessness now. We need to start this formal change and drastically reduce our reliance on temporary and emergency accommodation. This can't be done overnight, but this needs to be a Government priority. We mustn't be drawn into solutions that only reduce rough sleeping in the short term; we have to focus on providing homes and helping people stay in those homes.
The Action Group also made some recommendations on partnerships and the importance of involving people working in front-facing services and people who have experienced homelessness. I've also have seen first-hand in my work in Scotland and England, as well as in Wales, just how important it is for national and local government to jointly own the plan to end homelessness. With tweaks to existing partnerships we can ensure all partners support and challenge each other as we deliver a government action plan to, so that we see a Wales where the basic human need for a home is met for all and for good.
Jon Sparkes is chief executive of Crisis