UK
Homeless deaths up by a quarter in five years
Almost 600 homeless people died on the streets or in hostels in England and Wales in 2017, according to figures released by the Office for National Statistics (ONS). The 597 deaths in 12 months represents an increase of 24 per cent over the last five years.
The ONS identified deaths of homeless people from death registration records where the recorded place of residence included terms such as no fixed abode, hostel or night shelter or the address of a known homeless hostel or project.
Men made up 84 per cent of the deaths in 2017, with an average age at death of 44, compared to 42
for women. London and the North West of England had the highest mortality rate for homeless people but Wales had fewer deaths than any of the regions of England. Over half of all deaths were found to be due
to drug poisoning, liver disease or suicide. However, the ONS found little evidence of a seasonal pattern.
Lindsay Cordery-Bruce, chief executive of The Wallich, said:
'This shows that this issue goes beyond giving people blankets and a pair of socks. Homelessness is not a Christmas issue, or a winter issue, and people are not only dying because it's cold. People are dying year-round for a multitude of preventable reasons.

'The causes of these tragic deaths strongly highlight the need for a trauma informed, psychological approach
to supporting vulnerable people and an emphasis on harm reduction, not criminalisation. This is a time for kindness and compassion, not judgement.'
Rudd delays Universal Credit vote
Work and pensions secretary Amber Rudd scrapped a House of Commons vote on putting three million existing benefit claimants on to Universal Credit,  although the managed migration
was in any case not due to start until 2020. The minister instead asked MPs to approve a pilot project for 10,000 claimants to see how the new system works.
Her officials denied that she had been forced into the move by fear of defeat in the vote and insisted that she had chosen to 'take ownership' of the controversial project. The move follows criticism from all-party Commons committees and the National Audit Office and backbench Conservatives. However, prime minister Theresa May insisted that the new system will be fully 'rolled out' by 2023 as originally planned.
ENGLAND
Call for millions of new social homes
An independent Social Housing Commission convened by Shelter called for 3.1 million new social homes over the next 20 years and a radical overhaul of tenants' rights.
The 16 independent commissioners, drawn from across society and the political spectrum, called for social housing to be offered to many more people with a programme including 1.27 million homes for those in the greatest housing need, 1.17 million for 'trapped' private renters who cannot afford to buy and 790,000 for older private renters facing high housing costs and insecurity in retirement.
Analysis by Capital Economics suggests the headline cost of the programme would be £10.7 billion a year in the construction phase but that two-thirds of this would be recouped in housing benefit savings and increased tax receipts. The investment would have fully paid for itself after 39 years.
The commission also called for a new housing regulator with increased powers, speedier investigation of complaints and a new national tenants' organisation.
SCOTLAND
Action plan on homelessness
The Scottish government says a shift towards rapid rehousing will see homeless people housed in long-term and settled accommodation solutions that meets their needs as quickly as possible. The Ending Homelessness Together Action Plan published in November set out measures for national and local government and the third sector who provide frontline services.
People who are living in temporary accommodation or at risk of homelessness are already being supported quickly into permanent homes through investment of £23.5 million, which is part of the £50 million Ending Homelessness Together Fund.
Communities secretary Aileen Campbell said:
'Everyone needs a safe, warm place to call home. It's more than a place to live it's where we feel secure, have roots and a sense of belonging.

'The causes of homelessness can be complex and that's why all services need to be joined up. Working together we can end homelessness for good.'
NORTHERN IRELAND
CIH calls for mixed tenure development
All new housing schemes in Northern Ireland should have a mix of private and social housing, according to a new report from the Chartered Institute of Housing. rethinking social housing northern ireland said that people value social housing and what it offers but do not want to see large, single-tenure social housing estates being built.
The report also recommends that:
• New affordable housing options are developed for lower-income people who are paying high market rents
• The house sales scheme – where tenants can buy their social home – is ended to protect social housing supply.
WELSH GOVERNMENT
Drakeford reshuffles team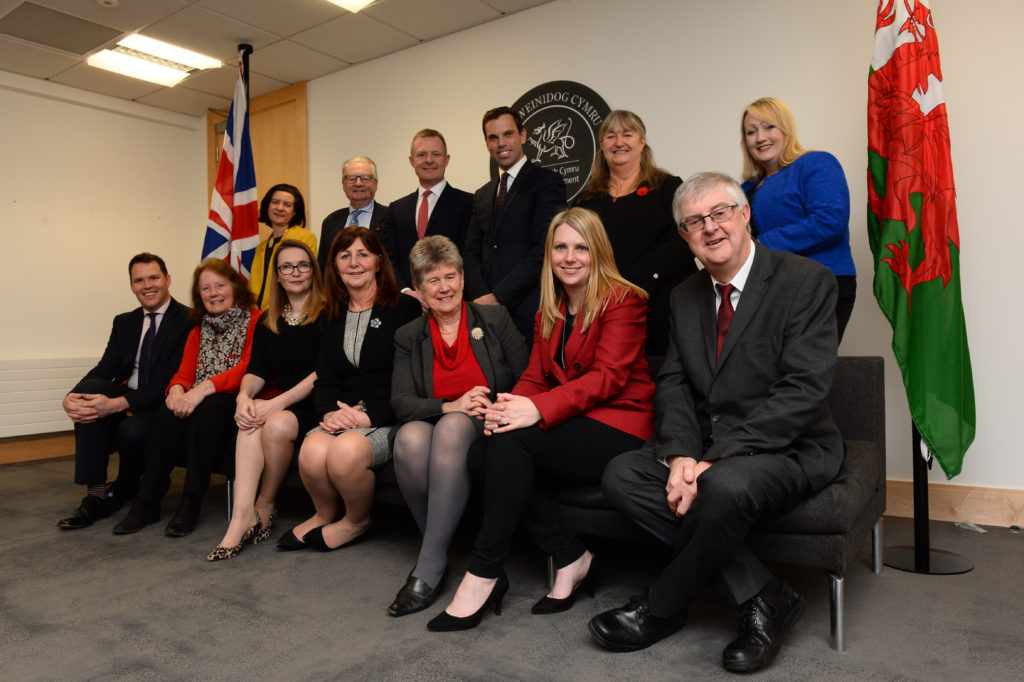 Housing got cabinet status and new ministers after a reshuffle by new first minister Mark Drakeford.
Julie James became minister for housing and local government and a member of the cabinet with Hannah Blythyn as deputy minister for housing and local government.
Former housing and regeneration minister Rebecca Evans got a big promotion, replacing Mark Drakeford as finance secretary and also becoming trefnydd (leader of the house).
Julie James is AM for Swansea West and was previously leader of the house and chief whip. Before she was elected in 2011, she was a leading environmental and constitutional lawyer and worked in local government in Wales and England. Her Welsh Government profile lists her as a committed green campaigner and environmentalist.
Hannah Blythyn was elected as AM for Delyn in 2016, succeeding Sandy Mewies, and was previously minister for environment. She lists housing as a particular policy interest on her Assembly profile.
Direct representation of housing at the Cabinet table was one of ten pledges on housing in Mark Drakeford's leadership manifesto.
Another eye-catching promise was to legislate to provide greater security for private renters.
His other pledges were to:
Encourage the development of modular housing, building the manufacturing capacity to do so, here in Wales and remove constraints on local council housing building.
Press ahead with plans for a vacant land tax, to tackle land banking and release land
for housing and regeneration. Use financial transaction capital to bring forward supplies of land in the right places for housing.
Deliver legislation to ban tenant fees in the private rented sector.
Align housing and planning responsibilities, allowing councils to work together more flexibly across boundaries to provide housing for local populations.
Work with Local Health Boards to utilise land in their ownership for social care and housing.
Provide a place for housing associations on Regional Partnership Boards, to raise the profile of housing in health and social care and secure the investments needed for the future.
Strengthen CPO powers to enable acquisition of land and redundant buildings.
Examine the case for a 'new land agency' to undertake land assembly for public purposes in Wales.
As part of his '21st century socialism' the new First Minister also promised support for the foundational economy in Wales, with action on procurement to boost capacity. This will include action to empower small housebuilders 'to enter the market and where necessary deliver a new generation of social housing' and a programme of home retrofit delivered by SMEs 'developing local skills and making us warmer, healthier and wealthier'.
He promised action on social care, including potential new tax powers explored in the Holtham report's proposals for a new social care insurance fund for Wales.
He said he would retain the current 22 Welsh local authorities but act to support any voluntary merger proposal that come forward and accelerate regional working between authorities.
He also promised new, binding targets for local authorities on looked after children.
The new Cabinet in full
First Minister – Mark Drakeford
Health Minister – Vaughan Gething
International Relations and Welsh Language Minister – Eluned Morgan
Economy and Transport Minister – Ken Skates
Housing and Local Government Minister – Julie James
Finance Minister – Rebecca Evans
Education Minister – Kirsty Williams
Environment, Energy and Rural Affairs Minister – Lesley Griffiths
Counsel General and Brexit Minister – Jeremy Miles
Deputy ministers
Chief Whip – Jane Hutt
Deputy Health Minister – Julie Morgan
Deputy Culture, Sport and Tourism Minister – Lord Elis-Thomas
Deputy Economy and Transport Minister – Lee Waters
Deputy Housing and Local Government Minister – Hannah Blythyn.
Social rents to rise by rate of inflation
Council and housing association rent increases will be restricted to the rate of inflation for 2019/20, Welsh Government told landlords in a letter in December.
The decision limits rent rises for next year to the 2.4 per cent increase in the Consumer Price Index (CPI) in September 2018 after several years of increases set at CPI plus 1.5 per cent.
The letter makes clear that only landlords whose average weekly rent is below their target rent band will have discretion to add £2 a week to the increase – those whose average rents are within or above their target rent band will be only be able to increase tenants' rents by 2.4 per cent.
The decision only applies for 2019/20. Rent increases after that will depend on the outcome of an Affordable Housing Supply Review charged with giving certainty to social landlords and balancing the need for continued development with affordability for tenants and expected in April 2019.
Writing in this issue of WHQ (see p9), Lynn Pamment, the chair of the review says: 'There are a wide variety of views
as to what a reformed rent policy could or should look like. What is apparent, however, is that there is tenant support for continuation of a rent policy and for affordability for tenants to be reflected in the policy. Longer term certainty in the rent policy will allow greater certainty in planning for the future by associations and local authorities.'
Landlords argue that their capacity to deliver new
homes depends on increases in rents. They expressed disappointment with this year's CPI-only increase and warned of cuts in services and standards. However, there was widespread disquiet about the 4.5 per cent increase faced by tenants in April 2018 and wider issues of affordability.
New projects to prevent youth homelessness
Outgoing First Minister Carwyn Jones set out how £10 million in funding will be used to support Welsh Government's commitment to end youth homelessness by 2027.
The funding announced in November includes:
£3.7 million for the Youth Support Grant to strengthen services to prevent youth homelessness and tackle its root causes
£4.8 million for an Innovation Fund to develop new housing approaches for young people, which could include support for young people leaving care
£250,000 for targeted communications and engagement programmes: to improve awareness, understanding and take-up of the services available
£250,000 for tenancy support work with Shelter Cymru and its existing helpline to ensure young people have better access to information, advice and support services to help them sustain tenancies
£1 million to double the St David's Day Fund which already provides practical financial support to care leavers in their move towards adulthood and independence.
Welsh homes more energy efficient
A significant increase in the energy efficiency and environmental performance of Welsh housing was revealed in the Welsh Housing Conditions Survey 2017/18.
Results released in December showed that the average Standard Assessment Procedure (SAP) rating across all tenures increased by 11 SAP points from 50 in 2008 to 61 in 2017/18 – the equivalent of Energy Performance Certificate Band D.
The biggest improvement came in the private rented sector, with a rise of 13 SAP points.
Funding to tackle rough sleeping
Housing and local government minister announced £1.3 million of funding to tackle rough sleeping in Wales this winter just before Christmas.
The package includes £25,000 for every local authority in Wales to assist with winter pressures and specific funding for Cardiff, Wrexham, Newport and Swansea as the four areas with the most complex rough sleeping issues.
Consultation papers
Open consultations of interest to WHQ readers include:
Draft national violence against women, domestic abuse and sexual violence indicators – responses by March 29
WALES
Double housebuilding, say Welsh Conservatives
A new housing strategy from the Welsh Conservatives calls for a programme to build 12,000 new homes a year during the next Assembly term and 100,000 over the next 10 years.
housing a nation also calls for 20 per cent of new homes to be delivered by offsite construction by 2030, the scrapping of Land Transaction Tax on properties up to £250,000 and the reintroduction of a 'reformed right to buy' with 100 per cent of receipts reinivested in social housing.
Latest Welsh Government figures show there were 5,922 housing starts and 6,043 completions in the year to September, both 15 per cent down on the previous year.
Shadow housing secretary David Melding said:
'This is a vision of momentous ambition, one which puts forward a set of comprehensive ideas to tackle the housing crisis.

'Housing was once seen to be one of the most important areas of public policy, with the same emphasis and priority as healthcare. This paper will restore that importance so that we can build our way out of this crisis once and for all.'
Associations collaborate to support North Wales Growth Deal
A group of six local housing associations formed a joint venture to accelerate development of new affordable homes in support of delivery of the North Wales Growth Deal.
The Growth Deal is the North Wales region's commitment to working collaboratively to facilitate and accelerate economic growth. The deal aims to use government funding to channel nearly £700m worth of public and private money into a series of projects aimed at boosting the North's economy and creating thousands of jobs.
Chief executives from the six housing associations operating across North Wales, including Grŵp Cynefin, Pennaf, Cartrefi Conwy, Cartrefi Cymuneddol Gwynedd, Wales and West Housing and North Wales Housing are voluntarily collaborating with colleagues from the six local authorities. The group is considering how they can proactively work together to develop more homes by unlocking stalled strategic sites across North Wales, which have previously been allocated in a development plan or where planning permission has been granted.
Helena Kirk, chief executive of North Wales Housing, said:
'This ground breaking level of collaboration between all of the regional associations has not been developed or delivered in Wales to date.'
Former housing and regeneration minister Rebecca Evans said:
'This is an exciting opportunity to create more affordable housing for people in North Wales. By collaborating, this venture has the potential to be greater than the sum of its parts, and we will be looking to offer to assist its development.'
The group's plans for the future are being developed to fit in with Welsh Government and local authority priorities.
New chief execs for three associations
It was another quarter of change at the top of Welsh housing associations with the appointment of three new chief executives.
Chris O'Meara retired as chief executive of Cadwyn at Christmas (see p8 for her reflections on her long career in housing) and will be replaced by Kath Palmer, currently executive director of place, policy and stakeholder engagement at Hafod. She will join in March, with finance director Sam Daniels acting chief executive in the meantime
Michelle Reid will be moving from Cynon Taf to become chief executive of Methryr Valleys Homes when Mike Owen retires in April. The board of Cynon Taf will be discussing its plans as well as recruiting a new chief executive.
Hayley Selway will become chief executive of Cardiff Community in the next few months, taking over from interim chief executive Stephen Cook. She is currently executive director people and places at Taff.