Lynda Thorne tells Jules Birch about Cardiff's plans to build thousands of new council homes.
It's a reflection of how much 'council housing' has changed in this century that WHQ's conversation with Lynda Thorne, cabinet member for homes and communities at Cardiff City Council, begins and ends with Universal Credit.
She is proud of the work the council is doing through its advice hubs and its fund to help tenants who are struggling with debt. 'But the pressure that families must be under is immense. Having that huge debt hanging over your head with no light at the end of the tunnel with any extra money coming it must just be awful. I can't imagine how people feel. It's bad enough when you struggle sometimes you think you know there's a way that at some time in the future things might get better.'
But we are here to talk about better news: the prospects for council housing in this centenary year.
Her connections with council housing in Cardiff go back to before she was born. Her parents lived with her grandmother in a house in Ely, the estate built by the city council between the wars.
'They shared it, they had three boys and I was on the way,' she says. 'So we were very lucky to get offered a brand
new three bedroom house in Llandaff North. They moved in November and I was born in the January. So they were really lucky and it was lovely because there were fields all around. We were the first ones to move in to the street.'
CONTRASTING CONDITIONS
The house was 'magnificent' – three radiators, an upstairs bathroom and a garden – and the contrast with conditions elsewhere in the city was clear. 'When I met my husband who lived in Grangetown in a private rented house that they'd rented all of his life they'd bring the tin bath in and go outside for the toilet. My God we were living in the lap of luxury!'
As cabinet member for housing and communities, she is now responsible for council housing across the city.
In the Caerau and Ely of the present day, that means balancing the desperate need for homes with broader community issues.
'It's still an area where we've seen the least right to buy so we get the most available properties. Some parts have a reputation and I guess my concern is that our policy and rightly so is about housing those in greatest need but at the same time what we're doing is putting those with the greatest need all in one area.

'There are much broader issues in that the secondary school in that area was failing. We've just built a new school so we've got new opportunity but in a way it feels like you're setting that school up to fail before you start. But when you've got over 300 families in temporary accommodation making them a priority is something we have to do. And I don't know how to address it except by trying to get more council houses built as quickly as possible.'
Cardiff's Labour council was elected in 2017 with a promise to deliver 1,000 new council homes by 2022. That was increased to 2,000 early last year and she is now starting to look beyond even that in the wake of the borrowing cap being lifted.
'We can take the target to 3,000 and that's why it's even more important them quicker. The timetable is to build at least 1,000 by 2022 and to have the other sites identified and with outline planning permission. When we originally planned it that was before they'd lifted the cap but now the intention is to try to speed up that programme but continue to identify sites as well.'
So will lifting the cap really make that much difference? 'Absolutely, yes. Officers believe we could have met the 2,000 anyway without the cap being lifted. It was just really giving the commitment to getting them built within a timescale.'
But building again on this scale means finding the land and looking at how homes get built as well as how many.
'Our intention to look at factory built timber framed housing. In Cardiff over the decades we've never had all our eggs in one basket so we have lots of different types of housing and so we do need to test it out and trial it. But if it works we've identified sites for 2,200 and if we can get it to work it means we can really speed up the housebuilding programme from 20 months to 20 weeks which means we can actually start to make some impression.

'When you think we've got 8,000 on the waiting list and at least 300 or 400 families in temporary accommodation even the 2,000 is a bit like a drop in the ocean really. We need a programme like they had after the war, we really do. That's why we got to look at the factory built as well because we might struggle to get enough builders to be able to do the work.'
On top of the target for permanent homes, she is also looking at development for meanwhile use following a visit to a development of modular homes in South London last year. Land has been identified that will not be developed for five years. 'The intention is to do these three sites as a trial and now we've identified those sites we can see how that works and then if that it is good enough that you know we can actually introduce that programme as well so we can speed up.'
Put all that together and you have a programme that might just make a difference.
'Councils do need to be able to show they've made a commitment but for me it's not about the politics. It's just awful because homelessness is growing and we've got families living in temporary accommodation when they don't know if they're going to be there for three weeks, three months, 18 months. All of us like to have some idea of timescale and there can't be anything worse than not knowing. So that's why I'm excited about the meanwhile use and the timber frame because it buys us that time to maybe even pass the 3,000 and get to 4 or 5,000. At least you can think you can start to make an impression on the housing situation.'
CARDIFF LIVING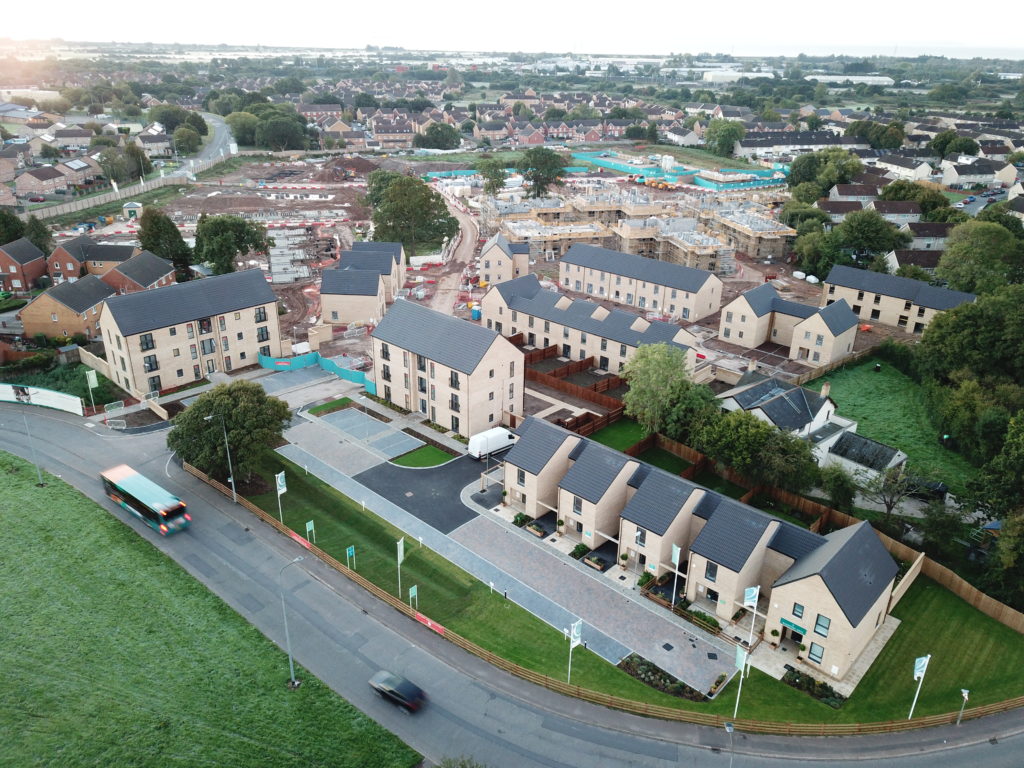 Cardiff Living's development at Silvervale park, with private homes in the foreground and council homes in the middle
Some of the council homes will come via the Cardiff Living partnership with Wates Residential, a 10-year programme to build 1,500 homes on 40 sites across the city, of which 40 per cent will affordable. Though it took time to get off the ground, the results are now coming through in a mix of low-cost home ownership and council housing.
'What I love about the scheme is if you look at Silvervale in St Mellons you would be really hard pressed to see which are the council and which are the private and even when you get inside the council are a larger size specification.'
'The nice thing about Cardiff Living is that it actually does provide mixed estates because you know that as much as there is a huge crisis in the social rented they're also is a bit of a crisis for young people who want to get into home ownership and that puts pressure on the private rented sector in Cardiff. The apartments in St Mellons start at around £130,000 or £140,000 which means they are affordable for many young people people so you're addressing two needs at the same time.'
Cardiff will also continue to work in partnership with housing associations and Cllr Thorne cites an Innovative Housing Programme-funded scheme with Cadwyn that will see meanwhile use containers built at the top of Bute Street.
'We just need to try it see if it works – and if it does Welsh Government and health both have a number of sites which they do not intend to build on for the next five years and what we need to do is to take advantage of those sites because that will help while we're waiting to build the target. The meanwhile use sites will be helpful while we're trying to meet those extended targets.'
However, even with the borrowing cap scrapped and all that optimism about extended targets, she is still frustrated about the time it takes to get things done, especially in the procurement process.
'That was part of the issue with setting up Cardiff Living. It just seems to me that it takes so long to do anything when there are issues that we need to address now rather than in five years – and in the five years we were trying to set that up the problems got worse. The public don't understand it and as a politician I can't understand it.'
Her frustration is the flipside of her call to get more homes built more quickly. As the conversation moves back to Universal Credit, the need for council housing has never been clearer.
Full online access to WHQ is available to subscribers. A subscription also includes the print magazine plus full access to our archive of past issues. To find out more go here.