CIH Cymru has revealed the winners in the 2018 Welsh Housing Awards.
Recognised at the ceremony were organisations and inspiring people from across the breadth of the Welsh housing sector.
Every shortlisted project from the Welsh Housing Awards is published in the Good Practice Compendium, which is available to all and free to download. The document helps to share the lessons learned by each entrant on their good practice journey.
CIH Cymru director, Matt Dicks, said:
'The Welsh Housing Awards are about recognising and celebrating the commitment of our housing community in delivering a safe, affordable and sustainable place to call home for everyone in Wales – homes that meet both need and aspiration.

'If nothing else CIH Cymru is the home of professional standards for the housing sector in Wales and a central part of that is highlighting good practice – that's what the Welsh Housing Awards celebrate.'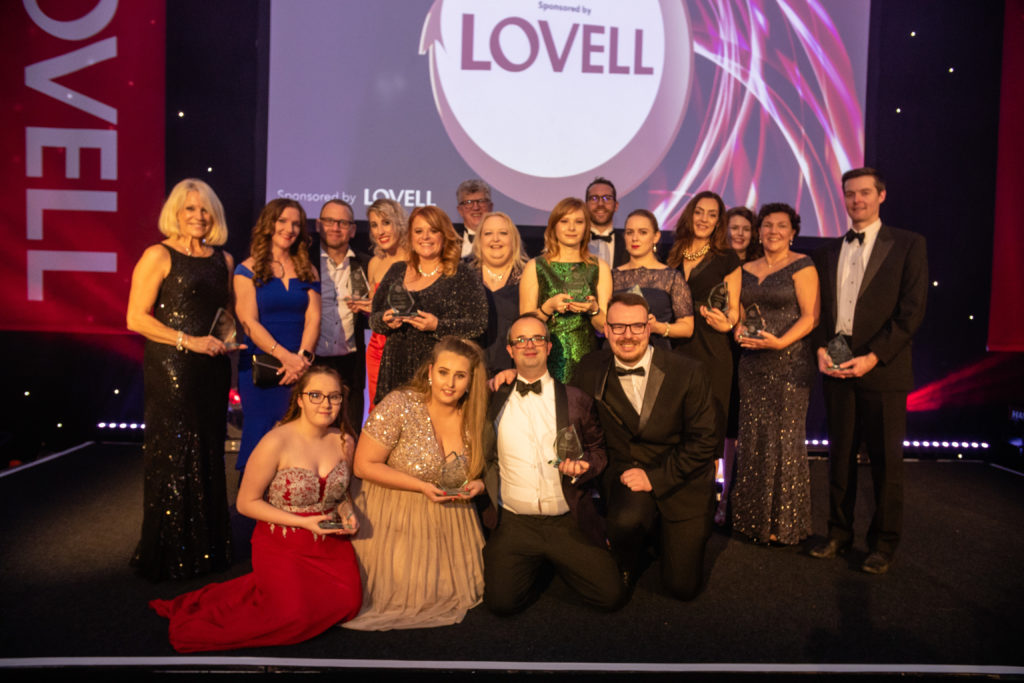 The 2018 Welsh Housing Awards winners were:
New small development award – sponsored by WHQ
Winner:
Trem-y-Cwm, Trivallis with Morganstone
The development provides much needed, high quality, affordable homes for a specific age group with the new scheme being designed for over 60s. Within the immediate locality there is no similar accommodation, and therefore this scheme meets a gap in the market. It hosts new community spaces including a wellbeing room, meeting rooms and a rooftop terrace which can be accessed and utilised by the local community and small businesses.
Shortlisted:
Ty Ryan, First Choice Housing Association with Wrexham County Council, the Ministry of Defence, Community Self-Build Agency (CSBA) and Williams Homes (Bala) Ltd.
Library Court, Rhydyfelin, Jehu Group with Trivallis
Llys Awen, Coastal Housing Group with Pobl Care and Support
New large development award – sponsored by Blake Morgan
Winner:
Chiltern Close, Llanishen, Cardiff, Wales and West Housing with Cardiff Council and Welsh Government
Chiltern Close is a £10 million development of 82 apartments on a vacant brownfield site in one of Cardiff's most popular residential suburbs Llanishen. Aimed at over 55's age group, and those with accessibility needs, it has been designed to create a close-knit community of apartments and promote social inclusion. Due for completion in early 2020.
Shortlisted:
Urban Quarter, Coastal Housing Group with R&M Williams Ltd, Holder Mathias Architects and Provelio Ltd
Silverdale Park – Cardiff Living – Cardiff City Council and Wates Residential Partnership, Wates Residential and Cardiff Council
Community focussed contractor award – sponsored by BRC
Winner:
Railway Close, ENGIE with Merthyr Tydfil Housing Association
The Railway Close development in Walters Terrace consists of 23 homes; a mixture of flats and family houses for affordable rent. The scheme includes seven homes especially adapted to meet the mobility needs of residents. Community benefits include over 250 hours of community and charity work in Aberfanm fundraising for the Aberfan Memorial Fund ad  hosting a ball in aid of Hafan Cymru.
Shortlisted:
Mi-Space & Swansea City AFC Community Trust, Mi-Space with Swansea City AFC Community Trust and Traumatic Brain Injury Service Morriston Hospital
Maelfa Regeneration Scheme, Jehu with Cardiff Community Housing Association
Creating a Community in Canton, Lovell with Tirion, Cadwyn Housing Association and Principality Building Society
Cardiff Living – Supporting Sustainable Communities, Wates Residential South with Cardiff Council
New ideas and approaches award – Tyfu Tai Cymru
Winner:
Open Doors, Tai Pawb with Residential Landlords Association
The two worked together to jointly apply for a Big Lottery Fund grant to create a project that would aim to reduce inequality and discrimination in the private rented sector. The Open Doors project was the result of this bid, and has been up and running since July 2017. Open Doors is working with both tenants and landlords to address some of the issues, by ensuring that everyone is aware of their rights and responsibilities.
Shortlisted:
Review Together, Review Together with South Wales PCC, Welsh Government, Trivallis and Cardiff Council
Wake Up to Housing, Pobl Group with Bron Afon, Llamau, NCH, Melin, CRISIS, Pobl Care and Support
Porth y Gymuned, Ceredigion County Council with Hywel Dda University Health Board and CAVO
Valuing equality and diversity award – sponsored by Pobl
Winner:
QED – Quality in Equality and Diversity, Tai Pawb with Melin Homes
Tai Pawb recognised that RSLs were keen to improve their performance on equality and diversity but didn't always know which areas to focus on or what constituted good practice, and so created QED (Quality in Equality and Diversity) in partnership with Melin. QED is a new quality mark which is transforming the Welsh social housing sector and setting a new standard of excellence in equality and diversity.
Shortlisted:
Dads Can, Monmouthshire Housing Association
NuLife Furniture, Cadwyn Housing Association
'We all Matter' – Tenant Panel Inclusion project, Linc-Cymru with Linc-Cymru Tenant Panel
Building safer communities award
Winner:
Go Girls … 'Every 30 Seconds' … Working to Create CSE Hostile Communities, Bron Afon Community Housing with Pobl Group
Go Girls is a social action group for change for young women, aged 15 to 25, empowering them to be the best they can be, building confidence and resilience. It is a partnership project with Bron Afon and Charter Housing with three themes; safer relationships, equality and diversity plus health and wellbeing. The girls have focused on child sexual exploitation, sharing experiences, learning from each other with a legacy of a strong support network.
Shortlisted:
Compassionate Approaches to ASB, Trivallis
Free From Fear Web Portal, Pobl Group, Bron Afon Community Housing, Pobl Group, Melin Homes, Monmouthshire Housing Association, Newport City Homes, United Welsh Housing Association, Caerphilly County Borough Council, Tai Calon Community Housing Linc Cymru, Newport City Council and the Welsh Governments Regional DA Team, The South Wales Police Crime Commissioners Office partnership  (which includes social housing providers Valleys to Coast, Vale of Glamorgan County Council, and Trivallis) Gwent Police and Crime Commissioners Office.
Tackling Loan Sharks, Tai Tarian with Coastal Housing and Wales Illegal Money Lending Unit
Working with other sectors award  – sponsored by Resource
Winner:
Autism in Social Housing, Mi-Space with Autside
Mi-Space felt that Autside, a provider of specialist advice on Autism, was the perfect partner to analyse its working methods and prepare a training module for its workforce on how to better deliver their services in the homes of residents with Autism and other related conditions.
Shortlisted:
Fit & Fed, Merthyr Tydfil Housing Association with Street Games Wales, Cwm Taf Health Board, Voluntry Action Merthyr Tydfil, Interlink, Merthyr Tydfil CBC, RCT CBC, 3G's youth project, The Willows Youth Forum, Pant and Dowlais Boys and Girls Club, Treharris Boys and Girls Club, The Gellideg Foundation and Think Family – MIA (Multiple intervention Assistance) & Barnardo's
Parenting Support Nightingale House, Cadwyn Housing Association with Flying Start.
Empowering and involving communities award – sponsored by United Living
Winner:
Loftus Village Association Housing Co-op, Pobl Group and Loftus Village Association
LVA is a vibrant and inspirational housing project that has empowered 19 individuals and families to work together to create a thriving new community in East Newport. LVA is Newport's first and only housing co-operative and the only shared ownership/multi-tenure co-op in the UK is one of three pioneer co-operative housing schemes started with the support of Welsh Government.
Shortlisted:
Saving the Terrace, Family Housing Association with Tenants Living at Hazel Court
The feeling is mutual, Bron Afon Community Housing
Customer and digital services task and finish group, Newport City Homes.
Customer excellence award – sponsored by Monmouthshire Housing
Winner:
It's all about the base – our customer base, Cartrefi Conwy
In August 2014, with a new customer service manager and customer service team, Cartrefi Conwy began focusing on raising its profile with all colleagues. Since then every aspect of customers' experience has been improved including how they handled complaints and compliments, responded to repairs, managed improvement works, understood their daily life and wellbeing and interacted with them.
Shortlisted:
Connecting Linc, Linc Cymru
Customer insight strategy, Valleys to Coast with Energise Learning and Development Ltd, Mustard Research Limited, Greenstone Data Solutions Ltd and Institute of Customer Service.
Housing champion(s) award – sponsored by Mi-Space
Winner:
Gina Jones, Phoenix Centre (Denbighshire Housing owned building but run by the 'Marsh Community Association')
Shortlisted:
Taff Housing TRA food co-op volunteers, Taff Housing Association
Wesley Ford, Newport City Homes
Justine Harlow, Linc-Cymru.
Innovation in Communications Award – sponsored by Taff Housing
Winner:
Be Like Bob – get ready for Universal Credit, United Welsh
United Welsh created an easy-to-follow campaign to help tenants prepare for the changes brought by welfare reform. It categorised information into three key areas: banking; getting online and budgeting. As the first letters of the three areas; Banking, getting online and budgeting spell BOB they created a mascot …. Bob!
Shortlisted
Nudging your way to channel shift, Cartrefi Conwy with Collaborative Change
Supporting future generations award – sponsored by Wales & West Housing
Winner:
Working with Afon Youth, using co-productive principles, Bron Afon has developed the Own2Feet Living Housing Strategy for Young People, recognising that the dual strand of housing supply and appropriate support is vital to deliver young people's housing solutions.
Shortlisted:
Growing Together, Pobl Group with Big Lottery Fund and Gingerbread
Health Impact and Economic Value of Meeting WHQs, Carmarthenshire County Council with Swansea University Medical School
PRS award
Winner:
Calon Residential Living, Cadwyn Housing Association with Cardiff County Council, Merthyr Tydfil Council Borough and Blaenau Gwent County Borough Council
An innovative housing solution utilising its experience in the private rented sector, Calon created a tailor-made service for the local authority.  Cadwyn set up a self-funding model, partnering with RSLs and private landlords to lease properties. The social rents buffered the private rents paid on open market.
Shortlisted:
Adore Cardiff, Taff Housing Association
Seraph Property Management
HAWS Letting Agency, Cartrefi Conwy and Conwy Council.
CIH Members choice award
Winner:
Customer and Digital services task & finish group, Newport City Homes
The Customer Services task and finish group was set up to assist NCH in developing truly customer focused service standards that put residents at the heart of
its services and activities.
Outstanding contribution to housing in Wales – sponsored by ENGIE
Winner:
Mike Owen, chief executive, Merthyr Valleys Homes