STOP PRESS OCTOBER 26
This issue of WHQ went to press before significant new developments affecting the LHA cap in the UK and the Supporting People programme in Wales. This Policy Update has itself been updated to reflect them.
LHA cap scrapped for supported and social housing
There were sighs of relief across Wales and the UK after the Westminster government decided it will not go ahead with plans to impose a local housing allowance (LHA) cap on supported and social housing.
Theresa May revealed the decision at prime minister's questions on Tuesday and announced that the government's response to the consultation on future funding of supported housing will be published next Tuesday. The prime minister said:
'We will not apply the Local Housing Allowance cap to supported housing – indeed we will not be implementing it in the wider social housing sector, and the full details will be made available when we publish our response to the consultation. This is something we have been looking at very closely over the past year… and I can confirm that we will be publishing our response to that on Tuesday 31 October.
'It will look at a range of issues: we need to ensure the funding model is right so that all providers of supported housing can access funding effectively. We need to look at issues such as significant increases in service charges that have taken place recently, making sure that we are looking at cost control in the sector. But I can also say that we will not apply the Local Housing Allowance cap to supported housing – indeed we will not implementing it in the wider social housing sector, and the full details will be made available when we publish our response to the consultation.'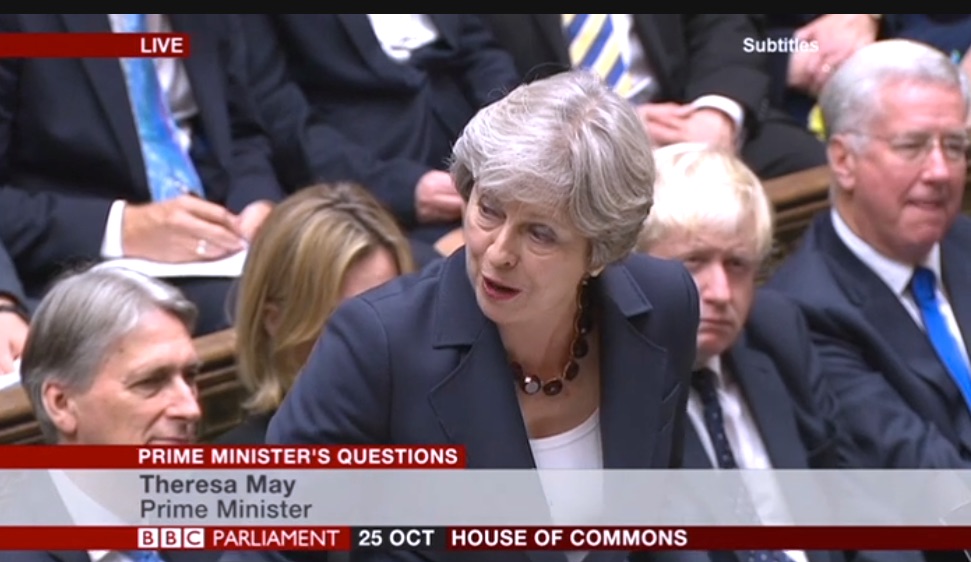 While full judgement will await the fine print of the consultation and the UK Budget on November 22, the announcement was widely welcomed in Wales and beyond. (It was also predicted by Paul Langley in a blog here on Monday).
Ministers had been expected to u-turn on the supported housing plans in the face of overwhelming evidence about the impact on development plans and knock-on costs for health and social care.
Wales was set to be worst hit by the plans to use the LHA cap for social housing because of its low LHA rates. Only yesterday, Community Housing Cymru had published analysis showing the devastating impact of the LHA on social housing.
Stuart Ropke, chief executive of CHC, said:
'We are delighted that the Prime Minister has announced today that the LHA cap will not be applied to the social housing sector. The report we published yesterday demonstrated that the policy was flawed and completely unworkable, and would have made social housing unaffordable for those who need it most. We now await further details, particularly the further announcement on supported housing on 31st October.'
Matt Dicks, director of the Chartered Institute of Housing Cymru, said:
'The plan to cap social rents at Local Housing Allowance rates is something our members have been gravely concerned about. These plans threatened the affordability and viability of social housing in some of the most deprived areas of Wales. Today's announcement by the Prime Minister that the cap will not apply in supported housing or the broader social housing sector is strongly welcomed. The Government has clearly listened to the wide collection of expert voices within the housing profession who have for some time highlighted the short-comings of this policy direction.

'Whilst we await further detail, we hope that today's decision is the starting point through which the UK government also takes a step-back to consider how the negative impacts of the current roll-out of Universal Credit can be eased and mitigated fully.'
However, the good news from Westminster followed some worrying news from Cardiff Bay on Tuesday as the Welsh Government's draft budget showed that Supporting People will disappear as a separate budget line from 2019/20. Instead it will be merged with other grant schemes including Flying Start, Families First, Communities First and an employability scheme and the figures appeared to indicate a cut in 2019/20.
Cymorth Cymru director Katie Dalton said:
'I am furious that the Supporting People budget line has disappeared from the 2019/20 Welsh Government budget just three weeks after we were told that this funding would be protected for the next two years. We are extremely concerned that this budget, which specifically focuses on homelessness and housing-related support has merged with several programmes that have no direct relation to housing or homelessness prevention.

'This decision is both baffling and dangerous at a time when Welsh Government and third sector statistics show that homelessness and rough sleeping is rapidly increasing across Wales. Politicians should be making sure that Programmes like Supporting People remain ring-fenced and focused on housing-related support that alleviates homelessness, rather than risking the dilution or even disappearance of these funds in future.'
POLICY DEVELOPMENTS IN OTHER PARTS OF THE UK
UK
No delay to universal credit
Ministers resisted pressures from the opposition, charities and some of their own backbenchers to press ahead with the accelerated roll-out of universal credit full service.
The Department for Work and Pensions (DWP) confirmed plans to introduce it in 45 job centres across the UK in October to follow 29 in July.
Universal credit is already available across the country to single jobseekers but the new roll-out extends it to all new claimants, including families and people who cannot work.
Work and pensions secretary David Gauke pledged to push ahead at the Conservative conference but he also announced new guidance to ensure that an advance payment will be offered to anyone who needs it and will be paid within five working days.
Citizens Advice, which has called the roll-out 'a disaster waiting to happen', welcomed the move but said 'we will continue to closely monitor the effect of universal credit on issues such as debt and rent arrears as the roll-out continues'.
ENGLAND
May puts housing centre stage at conference

Prime minister Theresa May vowed 
to put housing at the heart of her premiership as the government announced an extra £10 billion for Help to Buy equity loans and £2 billion for affordable housing.
The government also confirmed a new rent formula for social housing that will see rents rise again from 2020 after four years of rent cuts to save money on the housing benefit bill.
The new money for Help to Buy was announced in the early stages of the Conservative party conference in Manchester. It doubles the budget for the scheme and ministers said it would help an extra 135,000 households to buy a new-build home by 2021.
The extra £2 billion to increase the Affordable Homes Programme from £7.1 billion to £9.1 billion was announced by the prime minister during her leader's speech to the conference.
The government said this would enable 'a new generation of council and housing association homes' and that landlords would be allowed to bid to build homes for social rent in areas of acute affordability pressure.
This is the first time that the Westminster government has funded social rent since 2010 and ministers said it could deliver an extra 25,000 homes in the course of this parliament.
Social rents will be allowed to rise by CPI plus 1 per cent per year for five years from 2020. This was also the formula that applied until 2016, when the government imposed a 1 per cent a year cut instead.
No grant for fire safety
Communities secretary Sajid Javid confirmed that no new government grant will be available for measures to improve the safety of tower blocks.
The Westminster government said repeatedly in the wake of the Grenfell Tower fire that where work is essential to the fire safety of a building 'we will ensure that lack of financial resources will not prevent them going ahead'.
Questioned by the Westminster Communities and Local Government Committee, Javid said 31 local authorities in England had asked for help with paying for safety work such as retrofitting sprinklers and that his department was in detailed discussions with six of them.
But he made clear that there would be no grant. The money would either have to come from permission to borrow more from councils' Housing Revenue Accounts or a one-off transfer from their General Fund.
The communities secretary also said that out of 203 households who need rehousing after the fire, 50 have accepted permanent homes and 10 have moved in.
The authorities have set targets that families should be living in temporary or permanent accommodation by Christmas and have permanent new homes within a year of the fire.
SCOTLAND
Action on homelessness and rough sleeping

Housing minister Kevin Stewart announced the formation of a new action group and a £50 million 'Ending Homelessness Together' fund.
The group will identify changes needed to end rough sleeping and transform the use of temporary accommodation in Scotland.
Chaired by John Sparkes, chief executive of Crisis, members include representatives from housing and homelessness organisations, the church, law centres and academia.
The fund will back the commitment and fund homelessness prevention initiatives over the next five years.
NORTHERN IRELAND
Allocations changes proposed

The Department for Communities launched a public consultation on proposals it said would improve the way social housing is allocated.
Proposals for changes to the Northern Ireland Housing Executive's Housing Selection Scheme include:
a greater choice of areas for all applicants;
a reduction from three to two in the number of reasonable offers;
the removal of intimidation points and temporary (interim) accommodation points;
more emphasis on time waiting by placing applicants in bands based on similar level of need; and
specialist properties, such
as wheelchair accessible accommodation, should be allocated by a separate process.
The consultation runs until December 21.
WELSH GOVERNMENT
Draft budget boost for housing and homelessness
Extra funding for Supporting People and tackling homelessness, more money for affordable homes and reform of tax on home sales all featured in finance secretary Mark Drakeford's draft budget.
The details of the draft budget for 2018/19 and 2019/20 were announced following agreement between Welsh Government and Plaid Cymru.
An extra £10 million will be allocated for Supporting People in each of the next two years, maintaining funding at 2017/18 levels, and there will also be an extra £10 million to tackle homelessness in each of the next two years.
Capital plans over the three years to 2019/20 include the release of £340 million as part of Welsh Government's £1.4 billion investment towards
its commitment to build 20,000 affordable homes.
In the first budget where Wales was able to use its tax and borrowing powers, the minister also announced details of the new land transaction tax (LTT) that will replace stamp duty in Wales from April 2018.
The new rates will see the average first-time buyer paying no tax
and buyers of homes worth up to £400,000 paying the same or less than they did before.
However, Professor Drakeford warned that continuing austerity from the UK government would mean cuts of 7 per cent to the Welsh Government budget between 2010 and the end of the decade and that further unallocated cuts were still in the pipeline for 2019/20.
New tax rates revealed
Wales will get its first taxes for almost 800 years when land transaction tax (LTT) and landfill disposals tax (LDT) replace stamp duty land tax and landfill tax in April 2018.
The new rates for LTT mean that Wales will have the highest starting threshold in the UK for the tax on housing transactions. Buyers of homes worth £150,000 or less will pay no tax.
The tax will start at 2.5 per cent on homes sold for £150,000 to £250,000 and then rise by 2.5 percentage points at thresholds of £250,000, £400,000 and £750,000 before peaking at 12 per cent on homes worth over £1.5 million.
Welsh Government says that nine out of ten home buyers in Wales will either pay the same or less tax than before.
The LDT will remain consistent with landfill tax for the first two years and the unauthorised disposals rate will be set at 150 per cent of the standard rate.
Finance secretary Mark Drakeford said: 'These new progressive rates and bands for land transaction tax and landfill disposals tax will make a real difference to people's lives;
help change behaviours and deliver improvements to communities across Wales. We are being bold but balanced and leading the way in creating a fair and progressive tax system.'
He also announced a shortlist of four more ideas for new taxes under powers contained in the Wales Act 2014.
The ideas to be explored further are a vacant land tax, disposable plastic tax, a tourism tax and a levy to support social care.
More homes meet WHQS
The proportion of social homes meeting the Welsh Housing Quality Standard (WHQS) rose to 86 per cent at the end of March 2017, an increase of seven percentage points on last year, according to official statistics.
Levels of compliance improved across all social housing, with 66 per cent of local authority stock and 99 per cent of registered social landlord stock meeting WHQS. Both these figures include "acceptable fails", which are only possible for individual elements rather than buildings as a whole.
The WHQS aims to ensure all homes provided by local authorities and housing associations are safe and secure and offer modern amenities.
The Welsh Government provides £108 million each year to help all social landlords meet the WHQS by 2020. Communities and children secretary
Carl Sargeant said: 'The Welsh Housing Quality Standard will ensure that more than 220,000 households
in Wales have a home that is safe, warm and secure. It is also vital to us achieving many of our other goals as
a Government including improving
the nation's health and well being. Investment in improving and building homes also has huge potential to create jobs and training opportunities in our communities and help us build a prosperous society.'
Extra £30m in loans for small builders

Communities and children secretary Carl Sargeant announced an extra £30 million for the Wales Property Development Fund.
The loan fund enables small and medium-sized enterprises to access affordable finance with the aim of helping them build more homes.
Run by Finance Wales it helps construction companies that are unable to access affordable finance from traditional sources to get projects off the ground.
Carl Sargeant explained: 'SME house builders were hit particularly hard by the global economic crisis and continue to be affected. I hope the expansion of the Property Development Fund will have a significant impact in helping SMEs who are building homes, and encouraging more local companies to become developers. We have a challenging target of delivering 20,000 affordable homes over this term of government. In working to meet our target, I want as many homes as possible to be delivered by SMEs, creating new capacity in this sector.'
Consultation papers
Open consultation papers of interest to WHQ readers include:
Enabling Gypsies, Roma and Travellers
– Responses by December 21
Renting Homes (Wales) Act 2016 – Fitness for human habitation – Responses by January 12, 2018
Consultations are online at consultations.gov.wales
WALES
Hapi wins the lottery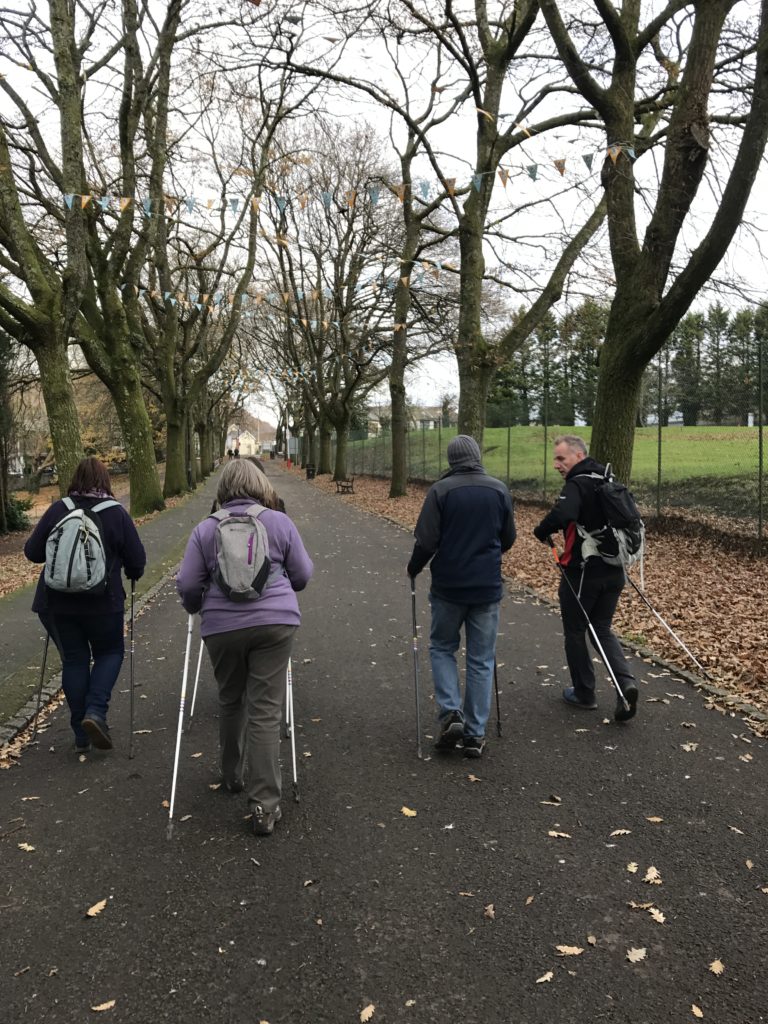 Newydd Housing Association has received £769,000 from the Big Lottery People and Places Fund to extend its health and wellbeing project across Rhondda Cynon Taff.
The hapi (healthy, aspiring, prosperous and inclusive) project began as a pilot in 2015 when £238,000 was received from the same fund to help more than 800 people improve their health and wellbeing in Rhydyfelin and Hawthorn.
Now, two years later and after exceeding its targets by working with over 1,400 people, the project will provide a holistic service for participants by filling gaps in existing health and wellbeing services, and referring participants onto local provision where necessary.
Following the successful Big Lottery Fund bid, the team will continue to be based at Newydd's Community Hub
in Rhydyfelin and additional support will now also be offered to residents
in Tonteg, Beddau, Llantrisant and the Cynon Valley over the next five years. Activities to be delivered include healthy eating initiatives, physical activities, employment training, volunteering opportunities and emotional wellbeing workshops on stress management and confidence building.
Highlighting the importance of
the People and Places programme, Rona Aldrich, Wales committee member for the Big Lottery Fund, said: 'Programmes like People and Places are making a difference to the lives of so many people in communities across Wales. It delivers on our promise to use National Lottery funding to regenerate and revitalise communities, tackle disadvantage head on and leave a lasting legacy.'
Paul Roberts, chief executive of Newydd said: 'I am ecstatic that this project has been extended, many people have told us that hapi has made a huge difference to their lives, so the fact that we can now offer support to 5,500 people over the next five years is brilliant. We will be recruiting for more staff in the coming months and look forward to hitting the ground running once more.'
New funding for
 skills training

Lovell aims to create 40 apprenticeships and 140 work experience placements in South Wales and the South West of England through a national industry training initiative.
The firm has been awarded National Skills Academy for Construction (NSAfC) status by the Construction Industry Training Board (CITB) in recognition of its expertise in delivering construction skills and training in local communities. Over the next four years Lovell will receive funding for a new project skills co-ordinator who will help manage training at its housing developments across South Wales and the South West.
Four new apprentices have already benefited from the academy status, through a joint Skills Academy
and the Prince's Trust 'Get into Construction' programme designed to help local unemployed people find employment. The four trainees have been recruited at The Mill, Canton, a £100 million housing development
in West Cardiff. One will train as an apprentice with Lovell while three will undertake apprenticeships with the company's subcontractor partners. Each apprentice has also been given £150 for tools by local charity Action in Caerau and Ely (ACE).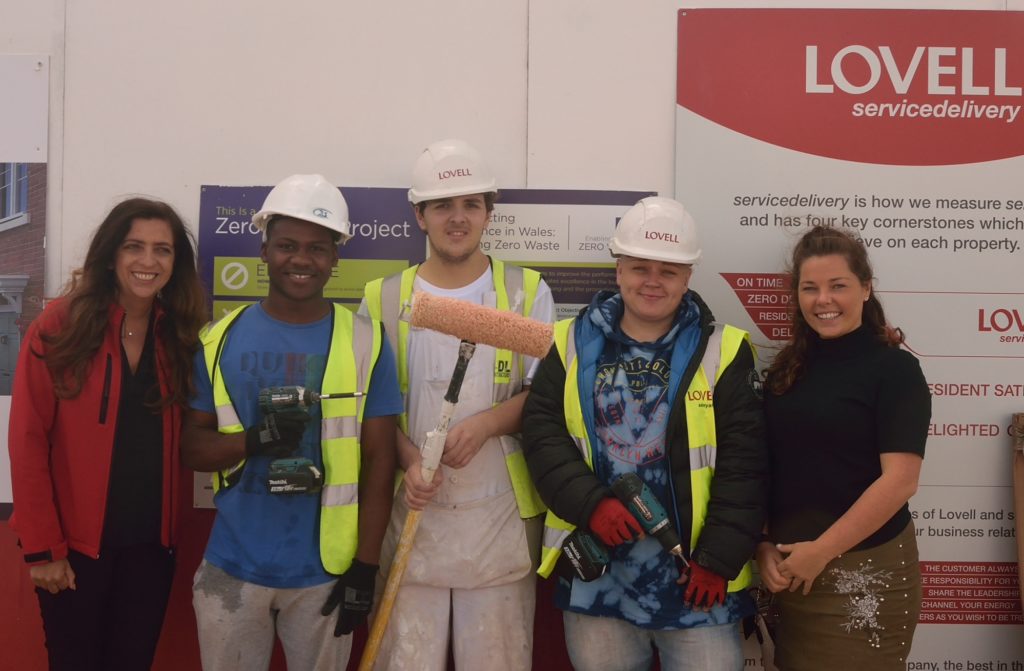 Pictured left to right at The Mill
are: Lovell National Skills Academy co-ordinator Nicola Murray; Elija Chilekwa, apprentice with Lovell subcontractor JLS Electrical; Liam Douglas, apprentice with Lovell subcontractor QDL Contractors; Lovell apprentice Lizzie Williams; and Maisey Andrew of ACE.
PUBLICATIONS: 10 TO LOOK OUT FOR
1) Homelessness projections: Core homelessness in Great Britain (2017)
Crisis, August 2017
www.crisis.org.uk/ending-homelessness/homelessness-knowledge-hub/types-of-homelessness/homelessness-projections-core-homelessness-in-great-britain-2017/
2) The Development and Implementation of Part 2 of the Housing (Wales) Act 2014: Lessons for policy and practice in Wales
Public Policy Institute for Wales, July 2017
ppiw.org.uk/ppiw-report-publication-the-development-and-implementation-of-part-2-of-the-housing-wales-act-2014-lessons-for-policy-and-practice-in-wales/
3) Home Affront: housing across the generations
Resolution Foundation, September 2017
www.resolutionfoundation.org/publications/home-affront-housing-across-the-generations/
4) Inquiry into Regulatory Oversight of Housing Associations
Public Accounts Committee, Welsh Assembly, August 2017
www.assembly.wales/laid documents/cr-ld11151/cr-ld11151-e.pdf
5) After Brexit: Regional Economic Policy in Wales
Bevan Foundation and Welsh Local Government Association, October 2017
www.bevanfoundation.org/news/2017/10/joint-call-devolution-shared-prosperity-fund-wales/
6) Shared Services in Local Government
Public Policy Institute for Wales, September 2017
ppiw.org.uk/ppiw-report-publication-shared-services-in-local-government/
7) Building Bridges: A guide to better partnership working between local authorities and housing associations
Chartered Institute of Housing, September 2017
www.cih.org/publication-free/display/vpathDCR/templatedata/cih/publication-free/data/Building_Bridges_Full_Report
8) Universal Credit and Debt
Citizens Advice, September 2017
www.citizensadvice.org.uk/about-us/policy/policy-research-topics/debt-and-money-policy-research/universal-credit-and-debt/
9) Poverty, Evictions and Forced Moves
Joseph Rowntree Foundation, July 2017
www.jrf.org.uk/report/poverty-evictions-and-forced-moves
10) Welsh Government Budgetary Trade-Offs: Looking forward to 2021/22
Wales Public Services 2025 and Wales Governance Centre, September 2017
www.walespublicservices2025.org.uk/2017/09/21/welsh-government-budgetary-trade-offs-looking-forward-to-2021-22/